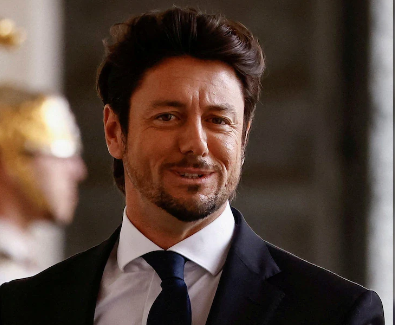 Italy's Prime Minister Giorgia Meloni has announced her separation from partner Andrea Giambruno after a decade-long relationship. Giambruno, a television journalist, has faced criticism recently for his sexist remarks.
READ: "Unveiling the Terrifying Truth: Expert Reveals Shocking Secrets About Impending Bay Area Earthquake!"
Giambruno serves as the presenter of a news program on Mediaset. Video excerpts from one of his recent off-air broadcasts show him using inappropriate language, making suggestive gestures, and seemingly making advances toward a female colleague. "Why didn't I meet you before?" he asks her.
Giorgia Meloni
In another recording, he is heard allegedly suggesting to female colleagues that they could advance their careers through participating in group sex. "Do you know that (name redacted) and I are having an affair? All of Mediaset knows it, and now you do too," he tells the woman off-camera.
"We're looking for a third person, as we do threesomes. Foursomes too. Would you like to be part of our working group?" he adds.
Last month, Meloni stated that she should not be judged based on Giambruno's remarks and that she would refrain from addressing questions about his behavior in the future.
Meloni and Giambruno first met in a TV studio in 2014 and share a seven-year-old daughter.
The announcement of their separation coincides with the 46-year-old prime minister's first year in office, leading a right-wing coalition government that staunchly upholds the traditional family as one of its fundamental policies.
"My nearly decade-long relationship with Andrea Giambruno concludes here," Meloni wrote on her social media accounts.
"Our paths have diverged for some time, and the moment has arrived to acknowledge it," she added.