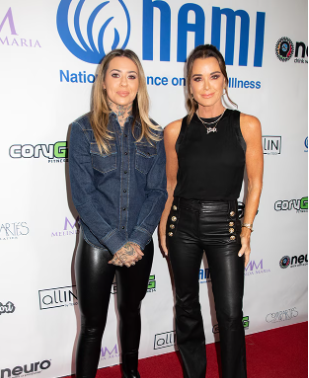 Kyle Richards is once again addressing speculations regarding her friendship with Morgan Wade. Despite previous denials of romance rumors involving her and the country singer, The Real Housewives of Beverly Hills star has now explained that their recent trip to France was strictly business.
During a September 25 interview on Amazing Live, Kyle clarified, "We were in Paris shooting the documentary that you guys probably heard about online. There's just so many things out there online. I'm like, 'Why do people just make things up, invent things about the trip?' They see that there's a camera there, and they completely ignore that there's a camera there and act like we were I don't even know what. I'm like, 'There were cameras there! Just get your act together.' But yes, it was a great shoot."
READ:Aquaman: From Sea to Success – DC's Watery Hero Rises
Kyle went on to mention that the trip documented the European leg of Morgan's tour, stating, "It was all great. It was just a fun, fun girls trip."
Kyle Richards
Kyle Richards has spoken out for the first time about her estranged husband, Mauricio Umansky, joining the new season of Dancing With the Stars, despite their recent marriage troubles. She expressed her support for him and confirmed that she will be there with their children to cheer him on.
"Yes, I will be there cheering Mauricio on with my girls," the reality star shared. Kyle and Mauricio share children Alexia, 27, Sophia, 23, and Portia, 15, along with Kyle's daughter Farrah, 34, from a previous marriage with Mauricio. She believes he will do great on the show and mentioned his excitement about the opportunity.
Earlier this summer, reports emerged suggesting that Kyle and Mauricio were divorcing after 27 years of marriage. The couple addressed these split rumors in a joint Instagram statement on July 3, stating that any claims of divorce were untrue. They acknowledged that they had faced a challenging year in their marriage but emphasized their mutual love and respect for each other, with no wrongdoing on either side.
Since their separation, Kyle and Morgan Wade have developed a close bond, though they have consistently denied any romantic involvement. In fact, in August, they playfully poked fun at dating rumors by appearing as love interests in Morgan's "Fall in Love With Me" music video.
Morgan explained, "I've done several music videos, and every time there's someone in it, they always assume we're dating or something's going on. If you go on the Internet, you'll see people are obsessed with us being friends." Kyle added, "Well, if they're gonna talk, you might as well give them something to talk about."