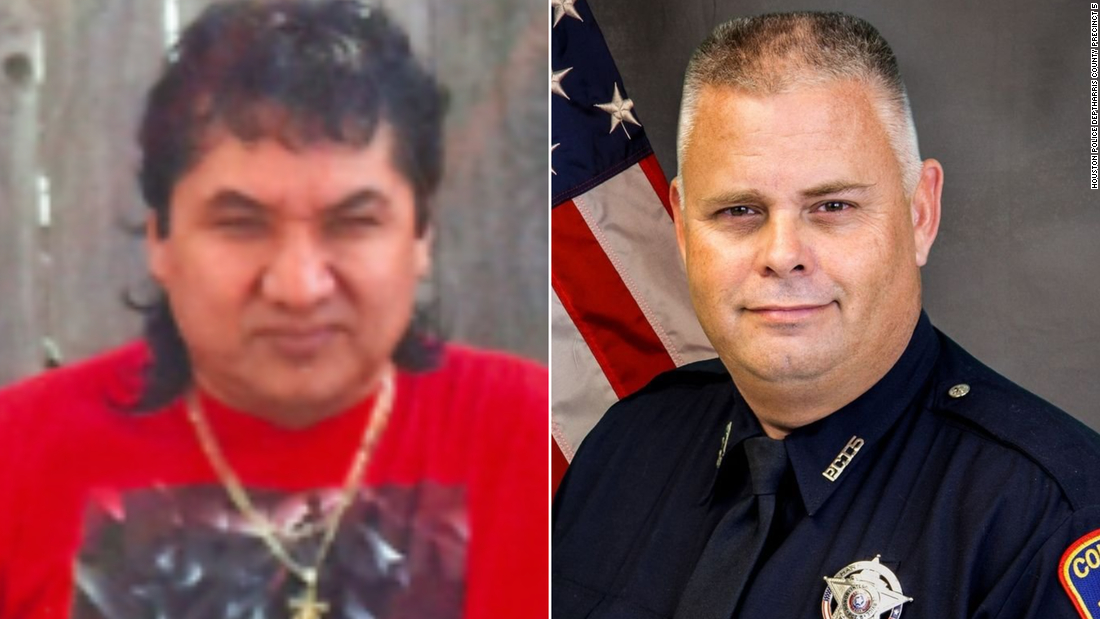 Oscar Rosales, 51, was wanted in the Sunday death of Harris County Constable Precinct 5 Corporal Charles Galloway, police said.
Rosales was taken into custody by Mexican authorities in Ciudad Acuña, across the border from Del Rio, Texas, according to Val Verde County Sheriff Joe Frank Martinez.
At about 11:30 a.m. CT, Mexican law enforcement transferred Rosales to US authorities through the Del Rio Port of Entry, Martinez said. The US law enforcement agencies that assisted with the transfer included members of the Val Verde County Sheriff's Office, the Texas Department of Public Safety and the US Marshals Service, Martinez said.
Rosales was in the custody of the sheriff's office in Val Verde County, west of San Antonio along the US-Mexico border, Martinez said.
Rosales appeared before a magistrate judge in Val Verde County on Wednesday and bail was set at $2 million, according to court documents obtained by CNN through an information request.
Rosales is from El Salvador and not a US citizen, according to the documents. A handwritten note states that the "defendants rights were read in Spanish."
The documents show Rosales was arrested for the "capital murder" of a "Police/Fireman," which is a first degree felony. Documents show a handwritten note that says Rosales is 50, despite Houston police reporting he is 51.
Capital murder charges were filed against Rosales earlier this week when HPD announced detectives had recovered video evidence of Rosales shooting and killing the corporal during a traffic stop. It was not immediately clear whether he has an attorney.
Galloway, 47, made the traffic stop on a newer-model, white Toyota Avalon just after midnight on Sunday when the shooting occurred, Houston Police Chief Troy Finner said.
Witnesses said the suspect got out of his vehicle, fired at the corporal multiple times, and then drove off, he said. A witness told police an "assault-type weapon" was used, the police chief said.
"This is senseless. It makes no sense whatsoever," Finner said.
Harris County District Attorney Kim Ogg said earlier that once apprehended her office would be asking the judge to hold Rosales without bail.
Two of Rosales' family members are in custody and have been charged with tampering with evidence, Ogg added. That evidence was the Toyota Avalon that was recovered by authorities, Finner said.
Galloway was a 12-year veteran and a field training officer, Harris County Precinct 5 Constable Ted Heap said Sunday.
CNN's Melissa Alonso, Jennifer Henderson and Eric Levenson contributed to this report.
Share this news on your Fb,Twitter and Whatsapp