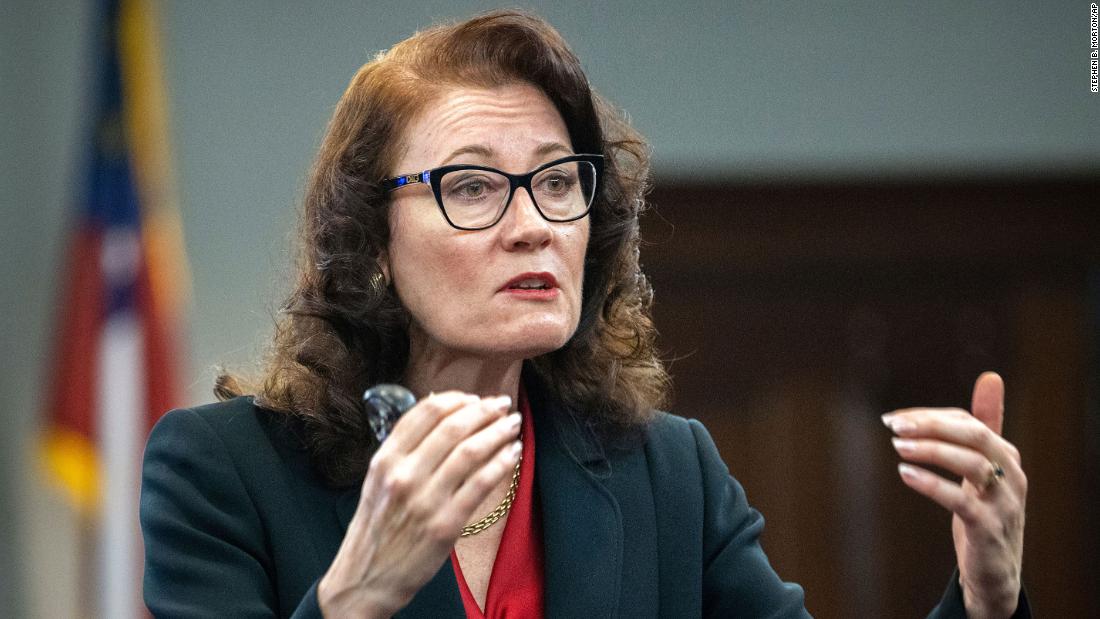 Prosecutor Linda Dunikoski delivered her rebuttal early Tuesday, emphasizing to the jury Arbery was accused of no crime and the defendants told police they knew of no crime he'd committed. She had almost two hours remaining after delivering the first part of her closing arguments ahead of defense counsel.
Dunikoski seized on the defense notion that the McMichaels were scared — and their Glynn County, Georgia' s Satilla Shores neighborhood had been living in fear — because of crime in the area. That the armed men decided to chase Arbery for five minutes in their trucks is evidence alone they weren't frightened, she said.
They had alternatives — including never chasing Arbery or calling police — but instead they chose to pursue Arbery even after he repeatedly eluded them, said Dunikoski. They committed aggravated assault with their trucks — and the McMichaels, with their guns — while trying to falsely imprison Arbery, she said. During the course of these felonies, Dunikoski said, they killed Arbery.
"If you take that out would he be alive?" she asked the jury. "It's real simple. The answer is you can't take out any of these crimes. If you take out any one of these crimes that they committed and he's still alive. All of the underlying felonies played a substantial and necessary part in causing the death of Ahmaud Arbery."
Claims that they were protecting their neighborhood appear spurious, Dunikoski said, when you consider the property owner never accused Arbery of any crime — aside from entering the property without incident — and nothing had been stolen there in the months prior to Arbery's fatal shooting. Dunikoski has also said the defendants can't claim self-defense when Arbery, unarmed and on foot, tried for five minutes to elude three men, two of them armed, chasing him in a pair of pickup trucks.
She asked the jury: Why, if this was about stopping crime, did the McMichaels never mention a specific crime or citizen's arrest to the police at the scene?
Following Dunikoski's rebuttal, Judge Timothy Walmsley gave jurors instructions and said, for Bryan, he'd permit them to consider simple assault, reckless conduct or reckless driving in lieu of aggravated assault with a truck. The jury, composed of nine White women, two White men and a Black man (with two White women and a White man as alternates), began deliberating shortly thereafter.
The jury spent over six hours deliberating on day one. Walmsley checked in on jurors twice to see if a verdict was imminent, with the foreperson reporting they had not returned one. Court adjourned around 6:30 p.m. ET and day two of deliberations will begin Wednesday at 8 a.m.
Judge denies motion for mistrial
Travis McMichael testified he never saw Arbery armed, never heard Arbery threaten him and Arbery showed no interest in conversing with McMichael.
The men acted on "assumptions and driveway decisions," Dunikoski has said, and they had no immediate knowledge Arbery committed a crime, a key factor in claiming citizen's arrest.
The defense moved for a mistrial, saying Dunkioski's misstated the state's now-defunct citizen's arrest law. Walmsley denied the motion.
The men have pleaded not guilty. If convicted, they face maximum sentences of life in prison without parole.
Family objects to comments from defense attorney
"Turning Ahmaud Arbery into a victim after the choices that he made does not reflect the reality of what brought Ahmaud Arbery to Satilla Shores in his khaki shorts with no socks to cover his long, dirty toenails," Hogue said.
Arbery's mother, Wanda Cooper-Jones, almost tripped leaving the courtroom, saying, "I gotta get out of here."
Arbery was never charged with any crimes in the neighborhood. The owner of the property never said Arbery committed a crime, just that he was caught on camera at the site.
Race has been a key focus. Arbery is Black, and 11 of the 12 jurors are White. Ben Crump, an attorney for Arbery's father, suggested race played a factor in the killing.
"They had dozens of other people who visited the home. Nobody chased them. Nobody said that they burglarized the home. Why is that?" Crump asked Monday.
It was a point important to Dunikoski's rebuttal. Arbery had been to the under-construction property multiple times, she said, but he never stole anything.
Responding to defense implications Arbery could've been responsible for items stolen from a boat in 2019, Dunikoski noted property owner Larry English told police he had no idea who stole the items, the items may have been stolen at another location and he suspected subcontractors might be responsible.
Video from December 2020, showing Arbery inside the home looking around and nothing more, also appears to provide counterpoint to the argument Arbery was never known to jog in Satilla Shores. In the video, Arbery exits the home empty-handed toward the street and breaks into a jog, disappearing from view as he runs down Satilla Drive.
"What's Mr. Arbery doing? More importantly, what's Mr. Arbery not doing?" she asked the jury in reference to the video.
If Arbery committed a crime, Dunikoski said, it was criminal trespass, or maybe prowling or loitering, all misdemeanors — none meeting the prerequisite for citizen's arrest. The McMichaels told police they didn't know if Arbery had been in English's house, she reminded jurors.
"If the (McMichaels and Bryan) were not conducting a lawful citizen's arrest, you do not have to consider … self-defense because if it's not a lawful citizen's arrest — that they were the first unjustified aggressors and they were committing felonies against Mr. Arbery, and therefore they don't get to claim self-defense."
During jury instructions, Walmsley told jurors in a citizen's arrest, the person making the arrest must have witnessed the crime with her or his own senses or the perpetrator must've admitted a crime. It is not legal to make a citizen's arrest based on "unsupported statements of others alone," and the person making the arrest — either after the crime, or in the case of a felony, during an escape — must exact the arrest immediately, the judge said.
Lawyers: Defendants just protecting neighborhood
"Travis McMichael spent almost a decade of his life learning about duty and responsibility," his attorney Jason Sheffield said Monday, referring to McMichael's time in the US Coast Guard. "He received extensive training on how to make a decision that will ultimately impact his beliefs."
Dunikoski countered Travis McMichael didn't follow his training and couldn't have been adhering to de-escalation techniques when he chased Arbery — his armed father cursing at Arbery from his truck bed — and then exited his truck with a shotgun.
"These are real experiences with real people who were very scared, and so they took it upon themselves to do something about it — got cameras, called the police, notify each other, citizens' watch, neighborhood watch," he said.
Hogue told the jury they needed only to consider two questions.
"Did Greg McMichael have reasonable and probable grounds of suspicion to believe that Ahmaud Arbery had committed a burglary … and did he have reasonable and probable grounds to believe that Ahmaud Arbery was escaping or attempting to escape yet again?" she said.
"He did not know and could not know that Arbery would be shot. By that time, sadly, there was nothing that Roddie Bryan could do to prevent this tragedy. He didn't shoot anyone. At the time of the shooting, he was some distance back. He was armed only with his cell phone," Gough said.
"Ladies and gentlemen, without Roddie Bryan, there is no case," he said.
In her closing, Dunikoski emphasized everyone is responsible. Because all three men committed felonies before Travis McMichael shot Arbery, they are parties to the crime, she said.
"Under the law in Georgia, it's as if they were all holding the gun together," she said.
CNN's Alta Spells, Travis Caldwell, Angela Barajas, Martin Savidge, Jade Gordon, Theresa Waldrop and Christina Maxouris contributed to this report.
Share this news on your Fb,Twitter and Whatsapp