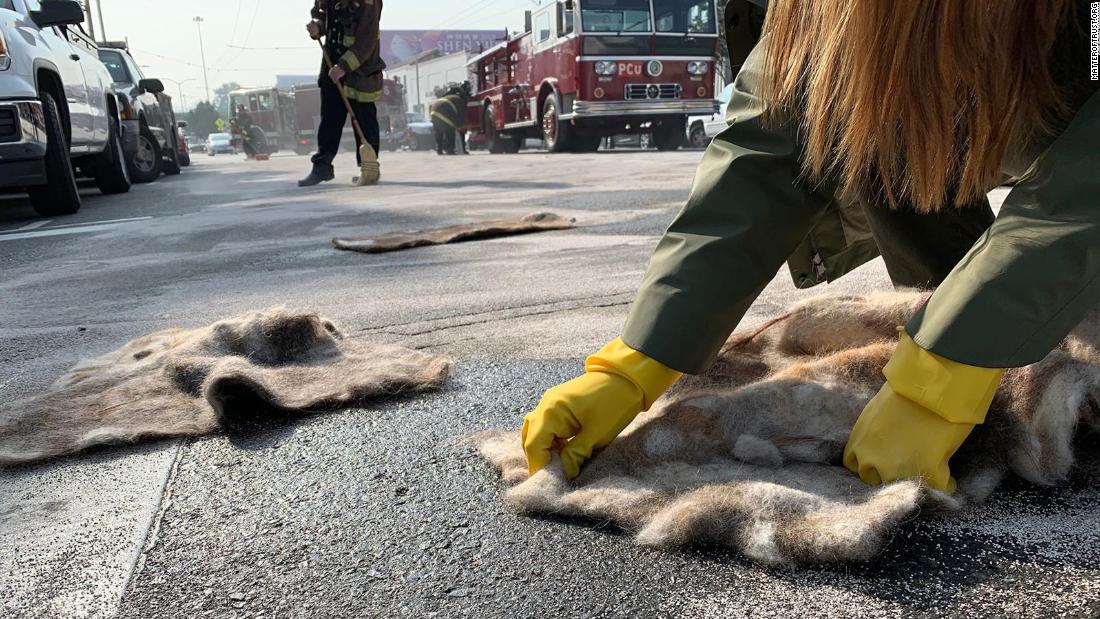 With her San-Francisco-based non-profit organization Matter of Trust, Gautier turns donated hair into mats used to soak up oil spills on land, and booms (long tubes) used for spills at sea.
A standard way to clean up oil from land is to use mats made from polypropylene. But polypropylene is a non-biodegradable plastic, and producing it ultimately means more drilling for oil.
Hair, by contrast, is an environmentally friendly resource that can soak up
around five times its weight in oil
, according to Matter of Trust, and though it doesn't quite grow on trees, it is abundant. "There are around 900,000 licensed hair salons in the US," says Gautier. "They can each easily cut a pound or so of hair a week."
"Our project is to divert this from landfill," she adds. "It makes much more sense to use a renewable natural resource to clean up oil spills than it does to drill more oil to use to clean up."
A hair-raising issue
Oil spills can contaminate drinking water, endanger public health, harm plants and wildlife, and damage the economy.
According to Gautier, the spills that hit the headlines only make up 5% of global oil contamination. More common, but still damaging to the environment, are leaks from road vehicles and natural seeps from underground and up from the sea floor.
From grass roots to hair roots
Every day, salons, pet groomers, and individuals send hair cuttings to Matter of Trust's San Francisco warehouse. The packages are checked for contaminants such a debris, dirt or lice, then the hair is separated, spread over a frame, and run through a custom-built felting machine to make the mats.
It takes 500 grams of hair to create a two-foot square, one-inch thick mat, which can collect up to 1.5 gallons (5.6 liters) of oil.
Most of Matter of Trust's clean-up work is on land, either dealing with terrestrial spills or the coastal damage caused by marine spills. It says around half of its products are bought by organizations such as the US Air Force and governmental departments, while other half are donated, often to Matter of Trust clean-up volunteers.
Hair, everywhere
Megan Murray, an environmental biologist and associate head of the school of life sciences at the University of Technology Sydney, Australia, develops sustainable technologies to tackle oil spills. Her research includes human hair sorbents — materials that can be used to recover a liquid.
She says that a major problem with how we currently respond to oil spills is that the polypropylene products that are commonly used end up in landfill.
"You've got a problem that was in a vulnerable environment just being moved to another environment, and now you've got another part of the world that's got contamination in it," she explains.
Murray's research indicates that as well as being biodegradable, human hair is often just as effective as polypropylene, and in some circumstances even better.
"The hair mats are very good at terrestrial spills," says Murray but adds that when crude oil is spilled on beach sand, it is very difficult to absorb it using any of the materials she has tested, including human hair and polypropylene.
Another advantage of hair is that it costs less than conventional materials and is "globally accessible as a recycled material," she says. "That's really exciting because it's a material that's likely to be beneficial for communities that aren't able to buy the more expensive mainstream products."
Murray cautions that hair mats are not a perfect solution, because they are single use, and can only be disposed of by incineration or by composting into soil which then isn't suitable for growing food. She is now researching methods to extract the oil from a used hair mat, meaning both can be reused.
"Anyone can make a hair mat"
Matter of Trust is expanding its network of local partner hubs, which produce mats with locally sourced hair in 17 countries across the globe, including Finland, Japan, Chile, and Rwanda. Gautier says individual hubs keep profits above a small contribution to keeping the wider project going.
Gautier is pleased to see the movement growing. "Anyone can make a hair mat," she says. "It creates green jobs, it cleans water, it reduces waste in landfill, and it's promoting renewable resources."
Share this news on your Fb,Twitter and Whatsapp