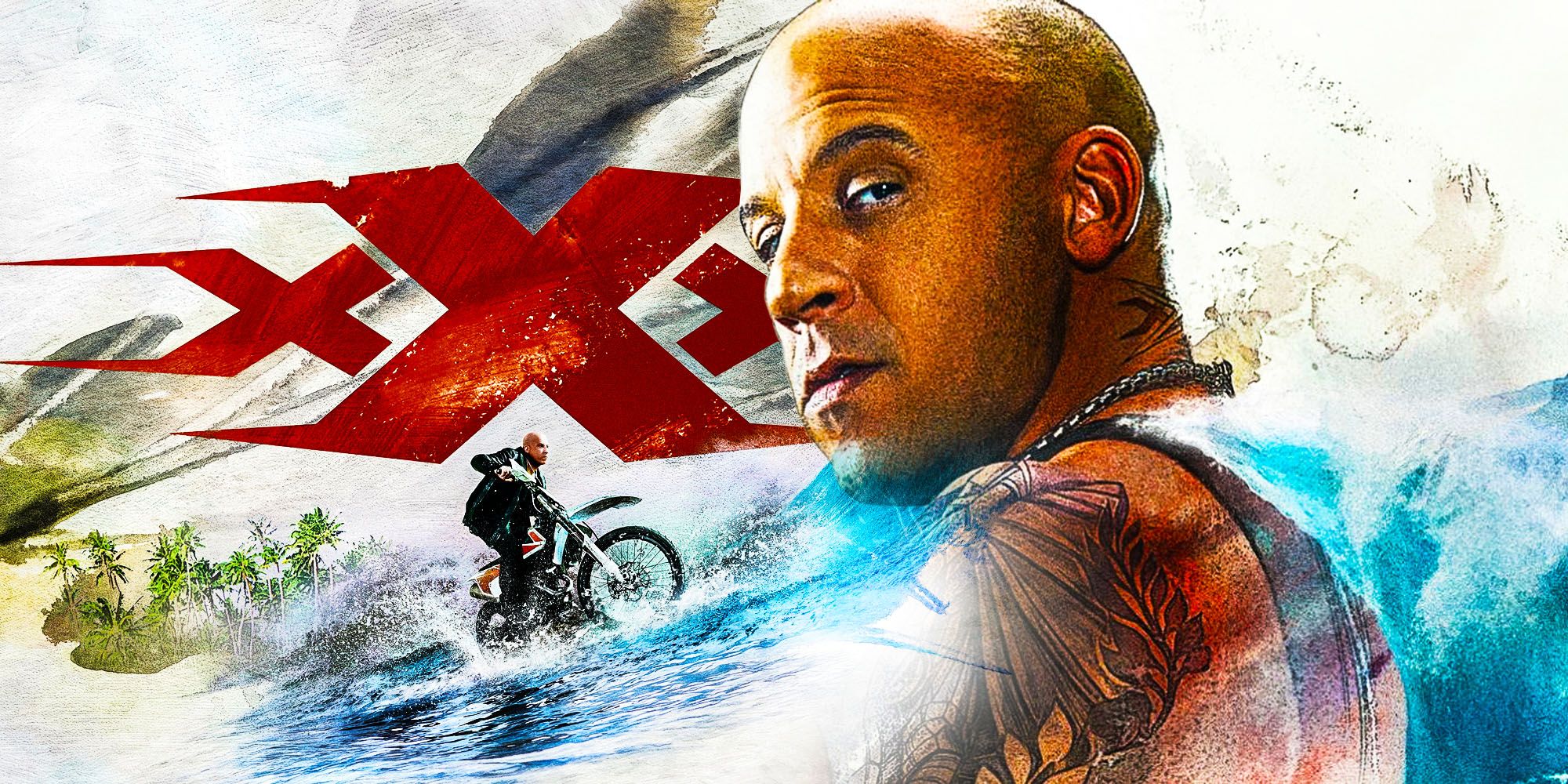 Vin Diesel is set to reprise the role of Xander Cage in xXx 4, and here's everything we know about the blockbuster action/adventure sequel so far.  While it seems unlikely Diesel will ever win an Oscar for his acting, it's hard not to give him credit for the career he's been able to create. If Diesel's only claim to fame was playing Dom Toretto in one of the most successful franchises of all time, that would be enough, but he also voices Groot in the MCU, plays badass antihero Richard Riddick in the Chronicles of Riddick franchise, and of course, takes things to the extreme as Xander Cage in the xXx movies.
Xander Cage, like many of Diesel's characters, exudes cool, with the actor's natural charisma on full display. An extreme sports athlete and all-around adrenaline junkie, Cage is enlisted by secretive NSA agent Augustus Gibbons (Samuel L. Jackson) to embark on an important spy mission. 2002 saw the release of the first xXx movie, a box office smash that fully solidified Diesel as an A-lister, one year after The Fast and the Furious also broke the bank. If xXx 4 is still going to happen there's no doubt that Vin Diesel will reprise his titular role as Xander Cage.
Related: xXx Film Series Ranked, Worst To Best
While xXx: State of the Union took a tumble due to lack of Diesel, xXx: The Return of Xander Cage proved the budding franchise still had life left in it. Obviously, audiences needed a break after xXx 2, as the third installment of the franchise was made over a decade later than the sequel. Fans will be happy to know that if Diesel has his way, Cage will be back again for xXx 4. Here's every xXx 4 update and any news regarding the sequel as well as information about the ongoing legal battle.
Click here to watch xXx 4: Everything We Know So Far on YouTube.
Will Vin Diesel's xXx 4 Actually Happen?
xXx 4 was officially confirmed as being in development in fall 2018, but unfortunately for fans, things have been slow going since. Production was delayed from its planned 2019 start to accommodate other projects starring Vin Diesel and then was delayed again due to Coronavirus. Things were thrown into further chaos by a lawsuit filed in 2021, which saw one company behind xXx 4 actually sue another for alleged fraud. With the generally slow speed of the legal system, xXx 4 may not have an actual release date for some time.
The first xXx movie was released in August of 2002. While Vin Diesel was praised for his performance in the role of Xander Cage, the film itself didn't do exceptionally well among critics, picking up only mixed reviews. But there was enough in xXx's box office to warrant more from the franchise: ultimately the spy actioner raked in $44.5 million in its opening weekend and grossed $277 million worldwide. xXx: State of the Union opened in April of 2005. Unfortunately, Vin Diesel's absence was felt in the film as his portrayal of the spy Xander Cage was what made the series great. The xXx sequel only made $12.7 million at the box office during its opening weekend. xXx: State of the Union managed to do $71 million worldwide, a far cry from its predecessor. Finally, the third movie in the Xander Cage franchise,  xXx: Return of Xander Cage (aka xXx 3), did better than the second movie box office-wise. The third film was made over a decade later than the second (2017) and managed to make $20.1 million on its opening weekend, grossing $346 million worldwide, offering exactly why a fourth Xander Cage movie was greenlit initially.
xXx 4 Story Details
Story details concerning xXx 4 are scarce, although returning director D.J. Caruso did say back around the time of The Return of Xander Cage's release that he wanted the next entry to see Cage and Augustus Gibbons "watching the watchers," presumably targeting corrupt governmental authorities. Both men are still colleagues as of that film's end, so this route is certainly possible. Caruso does have a particular story in mind for Diesel's Xander Cage in xXx 4. According to Express the director also mentioned that some of the story details were partially Samuel L. Jackson's (Augustus Gibbons) idea: "I think there's a bigger 'they're' at play that we talked about. […] We also talked about, particularly with the political climate as it is now, not that we're such a hugely political movie, but Sam [Jackson] talks about how we need someone to watch the watchers…". 
Related: xXx Has A Villain Problem (How To Fix It)
This provides an interesting new angle into the story of Xander Cage, possibly making the narrative itself a little more relevant and therefore a little more down-to-earth. The xXx series isn't political in any sense, despite the many conspiracies and world leaders Cage must take down. However, adding this new element could only deepen Cage's storyline and raise the stakes for the character. xXx: Return of Xander Cage's ending definitely sets up this idea for the possible xXx 4 as the movie concludes with Xander rejoining the program and ready for a new mission which involves watching the watchers. And, as Caruso further explains: "And then, if we can expand on that, what would the world leaders do if they know that these were the people watching the watchers?".
xXx 4's Legal Battle Explained: Why There's No Release Date
Despite xXx 4 being announced, audiences were curious as to why updates have been scant and the progress seems to be inching by. The Covid-19 pandemic did play a large factor in delays for xXx 4's release date, however, the real reason the Xander Cage sequel has yet to be released is because of a major lawsuit surrounding the xXx franchise. A Chinese company named Weying Galaxy is currently in a legal dispute with the production company The H Collective, Revolution Studios, and Vin Diesel himself. Revolution Studios is partially responsible for the xXx franchise and at some point, Weying Galaxy had the opportunity to buy the rights for any subsequent xXx sequels, like xXx 4. At the same time, The H Collective claimed they also had the rights to the xXx sequels, and even entered into a partnership with Weying Galaxy to make xXx 4 a joint project. That being said, The H Collective allegedly didn't have the rights at the time. As well, the value of rights is in question based on the approvals that Vin Diesel has over the xXx franchise as a whole. All in all, it's just complicated enough of a mess that it doesn't seem like xXx 4 will start filming, much less receive a release date, anytime soon.
xXx 4 Cast
Vin Diesel will of course be back as Xander Cage, presuming xXx 4 will actually happen, and one assumes it's basically a lock that Samuel L. Jackson will be back as Gibbons. Bollywood actress Deepika Padukone will also be back as Serena Unger, as confirmed by Diesel in 2019. Chinese actor/pop star Jay Chou was also announced as part of xXx 4's cast back in 2018, as was Chinese martial artist/actor Zoe Zhang. Details on Chou and Zhang's roles are unavailable. This all comes with the caveat though that after a years-long delay, and now a contentious fraud lawsuit holding production back, it's possible that one or more of these actors will opt to exit. Regardless xXx 4 will feature Vin Diesel as Xander Cage, which is all audiences can really ask for at this point.
Next: Donnie Yen Should Front A xXx Spinoff Franchise
Why Ben Affleck & Ana De Armas' New Movie Was Buried By Disney
About The Author
Share this news on your Fb,Twitter and Whatsapp