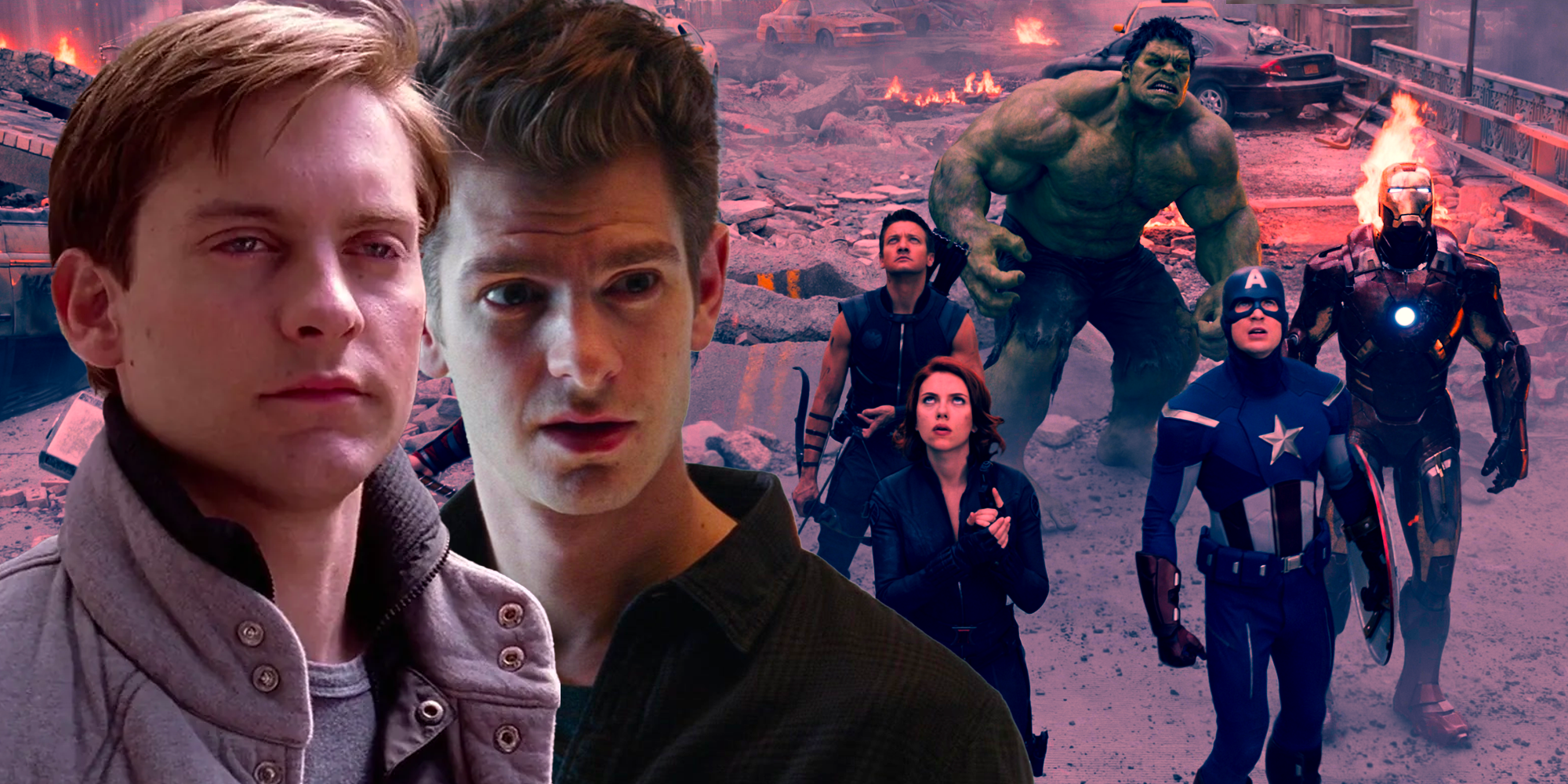 Tom Holland's Spider-Man teamed with The Avengers, but why didn't Tobey Maguire and Andrew Garfield's Spider-Man universes feature other heroes?
Warning: SPOILERS for Spider-Man: No Way Home.
Tom Holland's Peter Parker truly began his superhero career when he joined The Avengers, but there are a few reasons why Tobey Maguire and Andrew Garfield's Spider-Man universes never had Avengers of their own. Spider-Man: No Way Home sees Tom Holland, Tobey Maguire, and Andrew Garfield's Peter Parkers comparing universes, heroes, and villains, with the early Spider-Men having no idea what The Avengers are. Superhero comics clearly exist in Tobey Maguire's Spider-Man universe as he mentions Superman, but he never really had any alternate heroes to team up with during his web-swinging career.
Tobey Maguire's Spider-Man led the screen from 2002-2007, with Sam Raimi's trilogy following Peter Parker against Green Goblin, Doc Ock, Sandman, and Venom—although, quite understandably only three of those four enemies appeared in No Way Home. When Sony decided to reboot the Spider-Man movies with Andrew Garfield in 2012 and 2014, Peter Parker took on a similar array of villains, but these movies all shared one major difference from Tom Holland's: they fought alone, with no mention of other helpful heroes. Sam Raimi's Spider-Man 2 had J. Jonah Jameson name-drop Doctor Strange as a hero, but nothing ever came from it. Other heroes clearly existed in the universe, but Tobey Maguire and Andrew Garfield's Spider-Men curiously never saw nor teamed up with one, which is contrary to Holland's Parker almost exclusively operating under The Avengers.
Related: What If Tobey Maguire Had Been The MCU's First Spider-Man
The most significant reason as to why Tobey Maguire and Andrew Garfield's Spider-Man universes never had Avengers is that Sony didn't have the rights to them. When Sony bought the rights for Spider-Man in 1999, The Avengers and the MCU were over a decade away. Also, Sony only has the rights for Marvel's Spider-Man characters and trying to include any other comic heroes would have likely resulted in a complicated legal mess. In terms of contracts, Sony had no right to include the Avengers, as they either had yet to be purchased or were under Disney's jurisdiction. It wasn't until Sony and Disney joined forces for Captain America: Civil War that Spider-Man's MCU debut was possible, and thus became mutually beneficial for both companies. Sony got to benefit from the MCU's vast connections and relationships of heroes while Disney got to benefit from the massive draw and popularity of Spider-Man.
Sony bought the rights for Marvel's Spider-Man long before Kevin Feige began to formulate the MCU and the Avengers, so there wasn't a significant pull for them to join forces quite yet. Sony purchased Spider-Man's movie rights because the hero is arguably the most popular of Marvel's characters, and was rightly a cash cow for the company. Tobey Maguire's Spider-Man movies succeeded on nothing more than the title hero and his own comics villains, which is the exact formula that Sony repeated for Andrew Garfield's The Amazing Spider-Man movies. This all changed when the MCU began and the pressure to include Spider-Man grew.
The Avengers and The Amazing Spider-Man 2 both debuted in 2012, but while The Avengers soared at the box office, Andrew Garfield's film was a disappointment. In response, Sony agreed to lend its character to the MCU and benefit from the massive success of Disney's universe, but the problem was that Disney wanted to start fresh with Peter Parker. So, Andrew Garfield's universe technically could have had Avengers if Disney chose to bring his hero into the MCU instead of starting the story over and casting Tom Holland.
It seems that the MCU was already eager to introduce Spider-Man before Tom Holland's Peter Parker, as an original concept for Manhattan's skyline in The Avengers would have included Oscorp Tower. This likely would have made Andrew Maguire's Spider-Man MCU canon, but it was too time-consuming and was thus scrapped. With the name drop of Doctor Strange and the deleted Oscorp Easter egg, it seems Maguire and Garfield's Spider-Man universes could have met other heroes, but likely were never destined to work with them as Avengers. By not being part of a universe in which other Marvel heroes join together, Maguire and Garfield's Parkers are also better separated from the specific qualities of the MCU.
Next: When Spider-Man Movies Almost Crossed Over With The Avengers Before Homecoming
Doctor Strange in the Multiverse of Madness (2022)Release date: May 06, 2022
Thor: Love and Thunder (2022)Release date: Jul 08, 2022
Black Panther: Wakanda Forever/Black Panther 2 (2022)Release date: Nov 11, 2022
The Marvels/Captain Marvel 2 (2023)Release date: Feb 17, 2023
Guardians of the Galaxy Vol. 3 (2023)Release date: May 05, 2023
Ant-Man and the Wasp: Quantumania (2023)Release date: Jul 28, 2023
Snyder's Star Wars Clone Can Avoid What Killed The Sequel Trilogy
About The Author
Share this news on your Fb,Twitter and Whatsapp