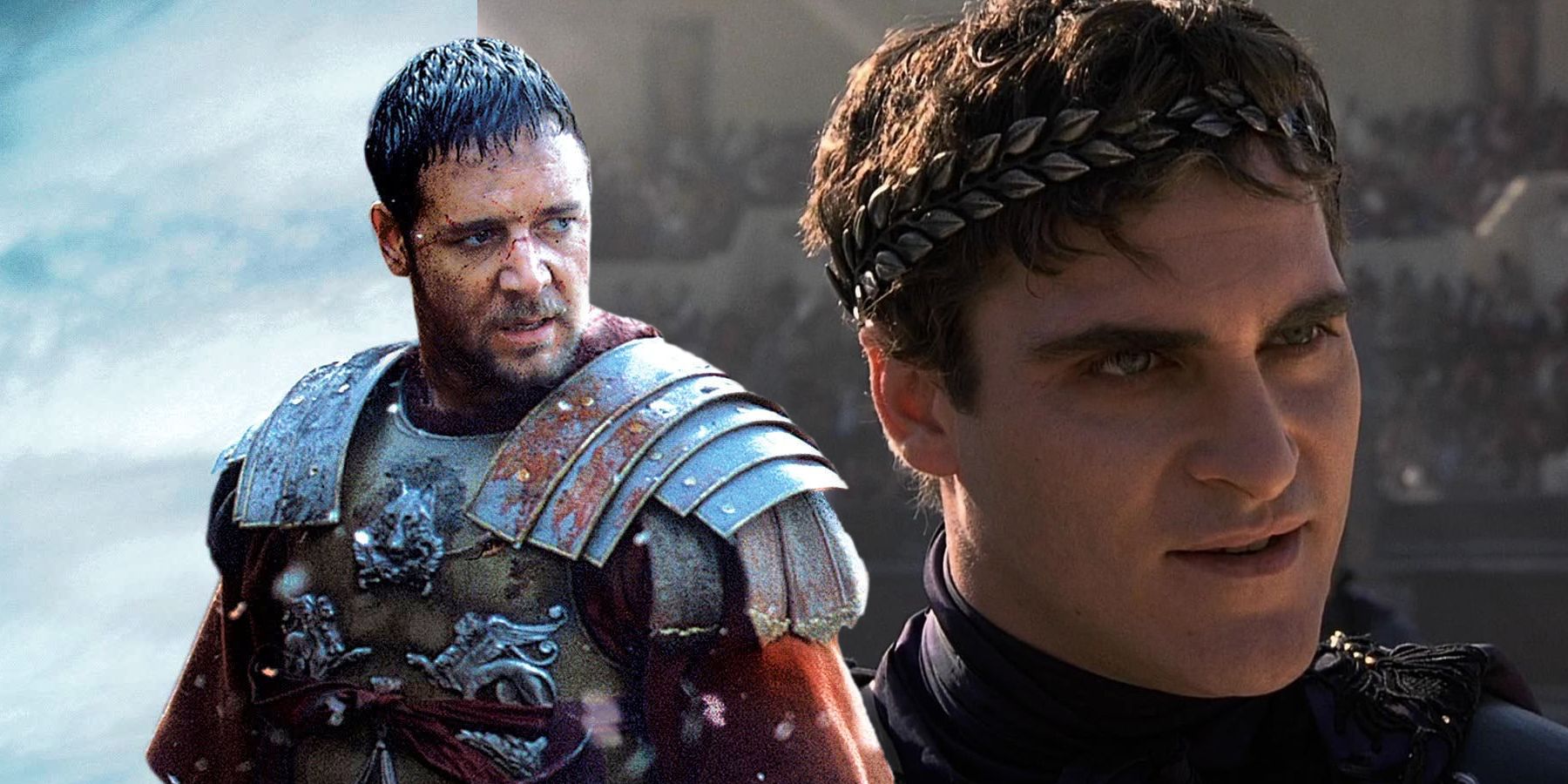 Gladiator's final showdown between Maximus and Commodus isn't very long, albeit for some good reasons – here's why the final fight's brevity works.
The final fight of Ridley Scott's Gladiator is relatively short, but it works very well for the movie's somewhat historically accurate story. Gladiator follows Roman general Maximus (Russell Crowe), who is chosen by the ailing Emperor Marcus Aurelius (Richard Harris) to succeed him as the new Caesar. This doesn't sit well with Commodus (Joaquin Phoenix), the son of Marcus, who murders his father and orders Maximus executed.
Unfortunately, Maximus' wife and son are crucified before he can save them, and Maximus is sold into slavery. Becoming a formidable gladiator known as "The Spaniard," Maximus and his fellow gladiators are brought to compete in the Roman Colosseum games. Maximus vows revenge on Commodus, and his popularity among the Roman populace prevents Commodus from having him executed.
RELATED: Russell Crowe Hated Gladiator's Best Line (& Tried To Improvise It Better)
The movie culminates with Commodus facing Maximus one-on-one in the Colosseum. Commodus even stabs Maximus in the back before the fight to ensure his victory. However, even while fighting mortally wounded, The Gladiator's Maximus gains the upper hand early on and disarms Commodus before killing him. Compared to Gladiator's many grand action scenes, the final fight with Commodus lasts less than three minutes. While that might seem like too short of a resolution for Maximus' vendetta with Commodus, the truth is that it was always bound to end that way.
Early in Gladiator, Commodus is shown engaging in sword training in the bitter winter cold while shirtless. He's obviously no slouch as a swordsman, but he's also never shown fighting against committed opponents either. On the other hand, Maximus is, in his own words, general of the Felix Legions. Maximus was also clearly able to easily adapt to competing as a gladiator. His reputation as the Spaniard preceded him to Rome all the way from Zucchabar. Even his trainer and former gladiator himself Proximo (Oliver Reed) at one point tells Maximus that his victories are coming too swiftly and that the key to winning his freedom is to "win the crowd." In a nutshell, Maximus was just about the most formidable warrior Rome had to offer.
Of course, Maximus wasn't fighting at the top of his game due to his aforementioned stab wound. Still, he still vastly outclassed Commodus as a warrior. Even fighting unarmed, Maximus left Commodus barely able to stand after several punches to the face. Commodus also was far less adept with a dagger than a sword. This made it easier for Maximus to close the gap and turn the blade on Commodus, who by that point managed to do very little aside from flailing feeble punches before being stabbed in the throat.
Gladiator's scope and epic battle scenes might seem to suggest a much bigger struggle for Maximus in the final battle with Commodus. However, the fact of the matter is that of the many adversaries Maximus faces in Gladiator, Commodus was easily the least formidable. The undoing of Commodus was ultimately in his hubris to not realize how strong an opponent Maximus was even while dying. Commodus might have been a decent swordsman and ruthless manipulator to become Emperor of Rome. Nevertheless, in head-to-head combat with Maximus, Commodus never stood a chance.
NEXT: How Maximus Returns In Gladiator 2: Every Theory (& What Scott's Revealed)
16 & Pregnant: Jordan Cashmyer Dies Tragically At Age 26
About The Author
Share this news on your Fb,Twitter and Whatsapp