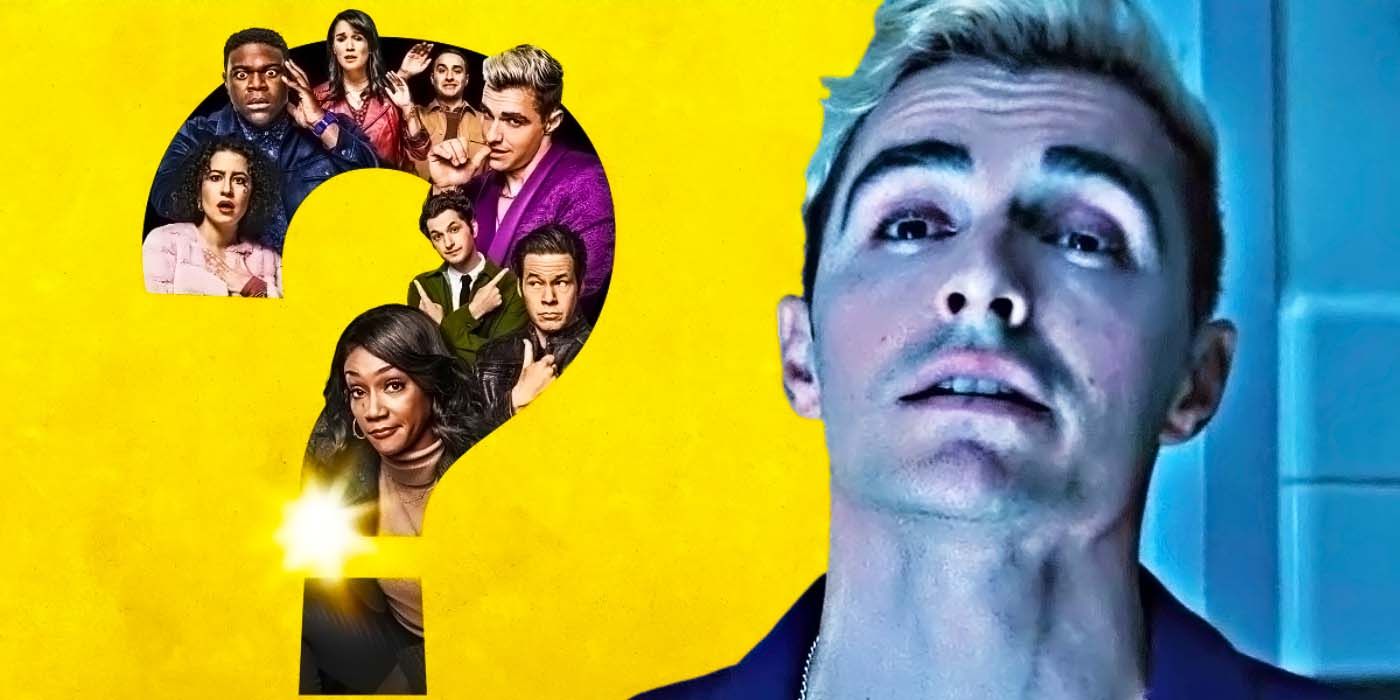 The Afterparty's murder mystery has heard the stories of three suspects so far, with the clues pointing at one particular suspect as Xavier's killer.
Warning! SPOILERS for The Afterparty episodes 1-3.
Every partygoer is a suspect in the murder of Xavier, but The Afterparty's clues in the first three episodes suggest that Walt is the real killer. The Apple TV+ original show is a comedy murder-mystery surrounding the death of Xavier (Dave Franco), a celebrity who throws an afterparty for his high school reunion, after he falls from the balcony of his home. Each episode of The Afterparty is told from the perspective of a suspect being grilled by Detective Danner (Tiffany Haddish), with every story being told through a different genre.
Certain blanks are filled in as each story from The Afterparty's characters is told, but they also reveal that there was plenty of misinterpretation by other suspects and flat-out lies in their retellings. The Afterparty's first three episodes are told from the perspectives of Aniq (Ted Lasso cameo star Sam Richardson), Brett (Ike Barinholtz), and Yasper (Ben Schwartz), with each having various reasons that they may hate Xavier, but are desperate to clear their names from his murder. Each character has their own outward suspicions of who committed Xavier's murder, but the hidden details in the stories point toward one unlikely classmate.
Related: Why Swagger Is Apple TV's New Ted Lasso Replacement
From the clues given in The Afterparty's first three episodes, it seems likely that Jamie Demetriou's Walt was responsible for Xavier's untimely death. Walt fits in with the stereotype of the scorned classmate seeking either revenge or redemption at the reunion, with each of The Afterparty's stories revealing his frustration that nobody can remember his name or who he is. The socially awkward character even makes his first entrance in Aniq's story by saying that his classmates may not remember him now, but he'll make sure that they won't forget him after tonight. Aniq remembers this being said in a fairly mischievous manner, but it could also just be that he felt creeped out by Walt in the Christopher Miller-directed show. However, Walt is mysteriously always present, yet never acknowledged, with his many appearances suggesting that he has secretly been there for all of the major moments in the characters' stories. While his quiet demeanor will be helpful in addressing The Afterparty's previous stories from a third-party perspective, it also suggests he could be the killer, considering the shy background guy isn't an obvious suspect.
The Afterparty's clues also point toward Walt in that his screen-time is arguably the same as or less than Ned and Jennifer #1, but he's featured in the series as a main character in both credits and Apple TV+'s posters for the show. Since Walt has mostly been a figure who pops up out of nowhere and asks people if they remember him, it shows that his character has a lot more to him than The Afterparty has led on. One hidden detail in actor Ben Schwartz's story also points to Walt's guilt, where Yasper's "My Shot" Hamilton parody number ends in the background characters all pointing finger guns, while Walt stands in the back at the same time with his hands raised in the air – just as suspects stereotypically do when they're caught by the police.
Another recurring topic in The Afterparty's stories that has largely gone unnoticed is the characters' connection to one chemistry class in high school. Aniq recounts his story by beginning with the fact that he and Zoe were chemistry partners back in Mr. Shapiro's class. A few moments later, Yasper and Aniq run into Walt, where Jamie Demetriou's character reminds them that they were all in Mr. Shapiro's chemistry class together. To top it off, the oft-discussed Mr. Shapiro is frequently seen in the stories portrayed on Apple TV's streaming show both during the reunion and at the afterparty where each storyteller walks in on him sleeping with "Quiet" Heather. Walt's sneaky presence, unsettling nature, and convenient connections to the major plot pieces suggest that he had been stalking around The Afterparty to kill Xavier, thus making sure everyone properly remembered him this time.
Next: Godzilla TV Show: Everything We Know About Apple's MonsterVerse Series
New episodes of The Afterparty release Fridays on Apple TV+.
The Biggest Unanswered Mandalorian Questions After Boba Fett Episode 5
About The Author
Share this news on your Fb,Twitter and Whatsapp