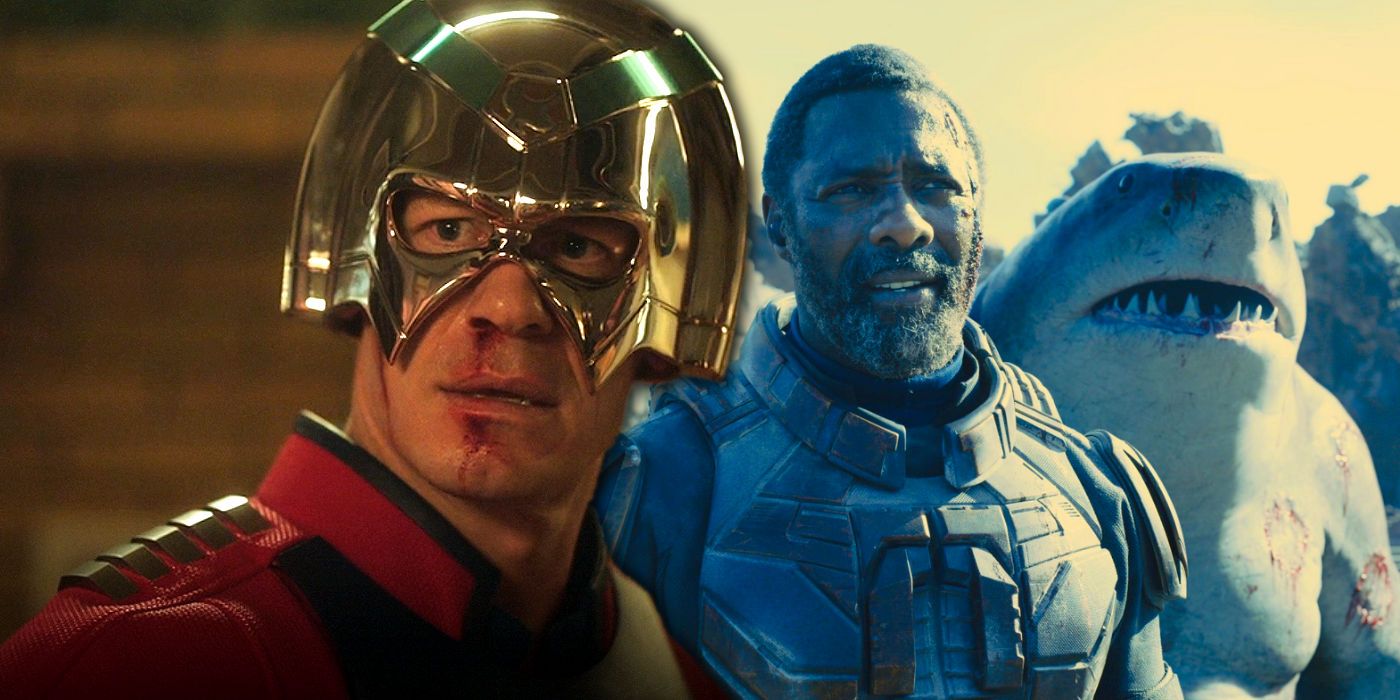 So far, John Cena's character is the only Suicide Squad member to appear in HBO Max's Peacemaker show. So where's the rest of the team?
John Cena's Christopher Smith is back in Peacemaker, but the rest of Amanda Waller's Task Force X team is nowhere to be found. So instead of fighting alongside any of his old teammates from James Gunn's The Suicide Squad movie, Peacemaker is now working with some of the characters who were previously kept out of the field. He's also being joined by some new allies.
Of course, it's important to note that there's not much of the team featured in Gunn's movie. Nearly everyone in the first group was killed in the first battle. As the story progressed, The Suicide Squad added some major characters to the list of casualties. Rick Flag (Joel Kinnaman) and Polka-Dot Man (David Dastmalchian) both lost their lives before the fighting was over. The only ones to walk away from the final showdown with Starro were Bloodsport (Idris Elba), Harley Quinn (Margot Robbie), King Shark (Sylvester Stallone), and Ratcatcher 2 (Daniela Melchior).
Related: Peacemaker Finally Justified Suicide Squad's Post-Credits Batman Mistake
Peacemaker has yet to confirm their current activities, but it makes sense that each of them has created some distance between themselves and Waller's organization. After all, it's been five months since The Suicide Squad's ending and the group's return to the United States. Thanks to Bloodsport blackmailing Waller, they all managed to get out from underneath the government's thumb and are unlikely to have any lingering connections to Waller or Task Force X.
Due to the bonds and unlikely friendships that developed between many of the characters, there's a good chance that this small group of misfits hasn't split up yet. The Suicide Squad gave no indication that Idris Elba's Bloodsport will be able to repair his relationship with his daughter, so it's hard to say if he's attempted to reconnect with her. If not, he could continue leading the others. The four could be working as a team of mercenaries or traveling together somewhere in the States. Of the four, the character most likely to resume a life of crime is Harley Quinn, who could very well be back to repeating the same crimes that got her arrested in the first place.
Unlike the aforementioned characters, two other Suicide Squad members could be in totally different situations in the timeframe of HBO Max's Peacemaker show. Though presumed dead at first, The Detachable Kid (Nathan Fillion) is still alive, according to Gunn. Fillon's character never even had a chance to rebel against Waller, so he's one character who could still be working for her in some capacity. That is, of course, if he was somehow able to fully recover from his injuries. There's also the matter of Weasel (Sean Gunn), who was revealed to be alive in a post-credits scene. Unless he's been found and picked up by Waller to be returned to Task Force X, he could still be wandering around Corto Maltese. Under the circumstances, either of these characters is a candidate to be Peacemaker season 2's mystery character.
More: Peacemaker Means The Suicide Squad's Ending Didn't Matter
Peacemaker releases new episodes on Thursdays on HBO Max.
The Batman (2022)Release date: Mar 04, 2022
Black Adam (2022)Release date: Jul 29, 2022
DC League of Super-Pets (2022)Release date: May 20, 2022
The Flash (2022)Release date: Nov 04, 2022
Aquaman and the Lost Kingdom (2022)Release date: Dec 16, 2022
Shazam! Fury of the Gods (2023)Release date: Jun 02, 2023
Blue Beetle (2023)Release date: Aug 18, 2023
Peacemaker Means The Suicide Squad's Ending Didn't Matter
About The Author
Share this news on your Fb,Twitter and Whatsapp