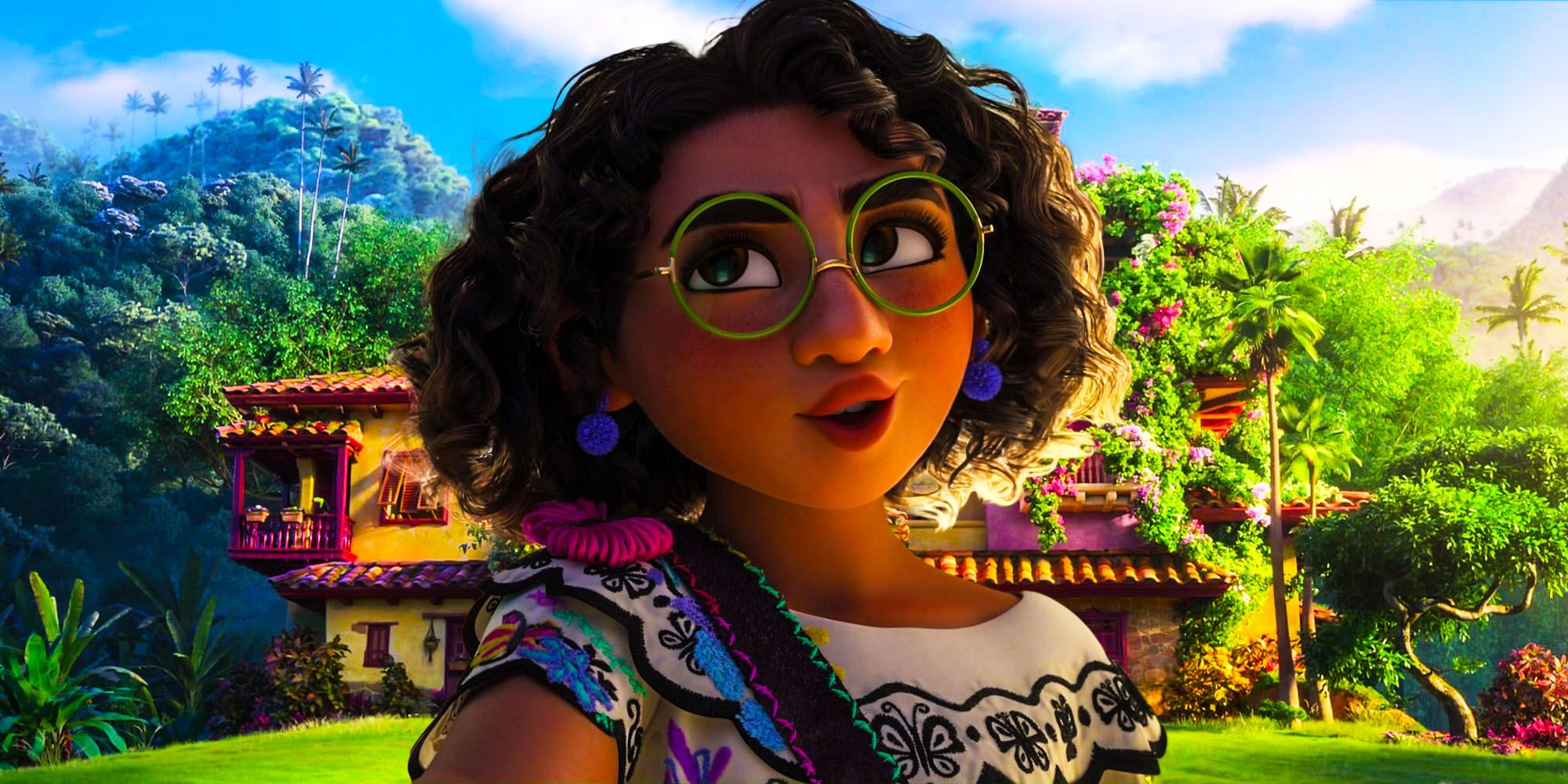 Encanto, which translates from Spanish to English as "charm," serves as a play on words for the magical film about the power of a loving family.
Warning: The following contains SPOILERS for Encanto.
Disney's newest computer-animated musical hit Encanto takes place in a magical and enchanted village full of wonder and awe and the meaning of its title in English is fittingly appropriate. The story revolves around the multi-generational Madrigal family helmed by matriarch Abuela Alma Madrigal (Maria Cecilia Butero), the mother of three magically-gifted triplets who is the keeper of a magical candle. The family is held together literally and figuratively by Casita, their sentient house. Casita has protected and housed the Madrigal family for generations after patriarch Abuelo Pedro Madrigal was lost when the family was forced to flee their home because of an armed conflict.
There are many themes underscoring Encanto's story—familial love, trauma, determination, and forgiveness, but also people, traditions, and magic, all key elements in Encanto. Each member of the family, except for the free-spirited and humble 15-year-old protagonist Maribel Madrigal (Stephanie Beatriz), is gifted unique super-human powers that keep the magical village thriving. Maribel is the heart of the movie, and the title, "Encanto," has particular meaning for her story.
Related: The Age Of Every Encanto Character Explained: How Old Each Madrigal Is
Encanto, which translates from Spanish to English as "charm," serves as a fitting play on words in the film. On the surface, Casita is full of charm (as is the movie itself), a place full of miracles, magic, and the power of a loving family. The symbolic presence of butterflies adds to the charm in another meaningful way the creators of Encanto make the film a sweet, delightful experience. Butterflies are prominent throughout Casita's design, symbolizing the way Encanto's magical, mysterious house is a cocoon of sorts for the Madrigals, protecting them from dangers beyond their village. Inside their bubble of Casita, their world is full of wonder–charming indeed.
But "charm" can also be translated in the sense of a magical enchantment or spell put on someone, and that's also equally fitting for Encanto. The Madrigal family is loving, but they put a bit too much stock in their magical powers, granted to them by an enchantment. It makes them feel different and special, and in doing so, they miss the point of it all, which is that they don't need magical powers in order for their world to be full of wonder and charm. In seemingly lacking powers of her own, Encanto's Mirabel, desperate to prove herself and her worth, embodies joy despite her seemingly ordinary gifts. When her family's magic becomes endangered, manifested through Casita cracking at the foundation and her siblings' struggle with the use of their powers, Maribel reunites the family through a brave journey of self-discovery.
In the end, Mirabel embodies both senses of the title of Encanto, both charming as a person and charmed with the gift of unconditional love and support. She is the key that keeps her gifted family together. Her journey through the story unites the family, helps heal generational wounds, and brings home Encanto's ostracized Bruno (John Leguizamo). Mirabel proves that, despite appearances, the real charm of any family is more than having powers. Her magical sojourn of self-discovery, along with a deep-rooted belief in miracles, leads to a newly reconstructed home and restores the magic of the Encanto for future generations of the Madrigal family.
Next: Who Attacked The Village In Encanto? Real Life Colombian History Explained
Christopher Nolan's New Movie Oppenheimer Starts Filming Very Soon
About The Author
Share this news on your Fb,Twitter and Whatsapp