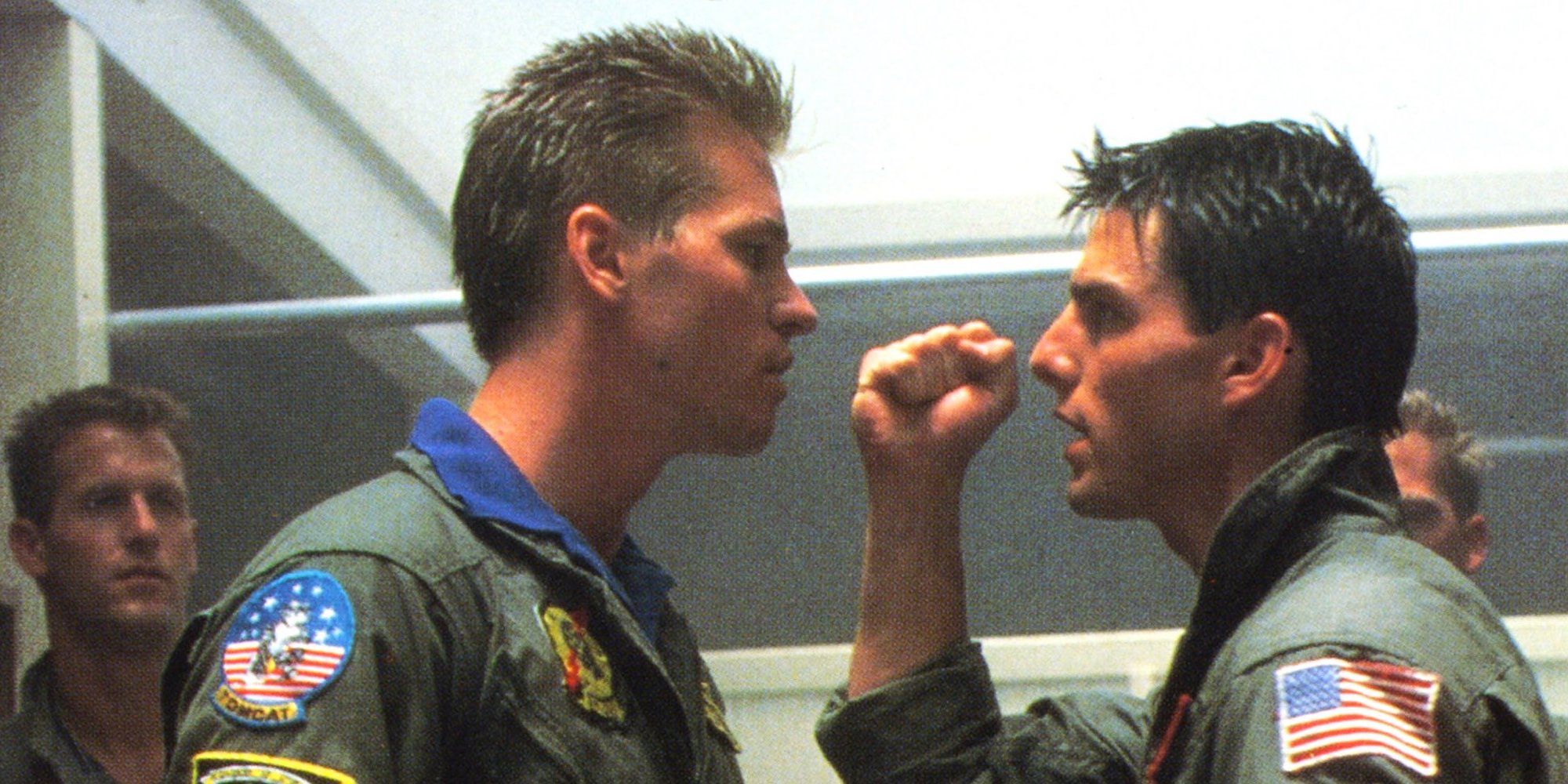 Ahead of Top Gun: Maverick's release, Val Kilmer shares a rare throwback photo with Tom Cruise and Top Gun's Navy advisors.
Val Kilmer shares a new throwback photo with Tom Cruise during their days of filming Top Gun. In less than two weeks, Top Gun: Maverick will finally hit theaters after several delays. Directed by Joseph Kosinski, the Top Gun sequel was more than 30 years in the making.
Released in 1986, Top Gun centers around Cruise's Pete "Maverick" Mitchell and his friend Nick "Goose" Bradshaw (Anthony Edwards) as they're sent to TOPGUN — the US Navy's Fighter Weapons School in San Diego. There, they meet Kilmer's Tom "Iceman" Kazansky who immediately becomes Maverick's arch-rival. In the end, however, the two become good friends and flying partners. For Top Gun: Maverick, both Kilmer and Cruise are reprising their respective Top Gun roles. This is one of the most exciting things in the Kosinski-directed follow-up, and clearly, Maverick and Iceman's upcoming big-screen reunion has Kilmer also feeling nostalgic.
Related: Top Gun 2 Should Actually Be Less Fun Than The Original
Taking to his official Twitter account, Kilmer shared an image of him and Tom Cruise with the core cast of Top Gun and their Navy advisors. Edwards and Tom Skerritt, who played Viper in the 1986 film, are some of the other notable faces in the photo. Check out the snap below:
Click here to see the original post.
Kilmer and Cruise are two of the few original Top Gun cast members returning for Top Gun: Maverick. When asked about the film's focus on new characters, Kosinski explained that it's because he wants the sequel to be more forward-looking than backward, hence the introduction of a crop of brand new TOPGUN trainees. That being said, Goose will be a significant part of the sequel's storytelling with the introduction of his son, Bradley "Rooster" Bradshaw (Miles Teller), who will be among the new Navy recruits training under Maverick. Based on what's been revealed about the film thus far, it seems like Rooster's hatred of Maverick will have something to do with the death of his dad more than three decades ago. Since Iceman was also on the scene when the freak accident happened, it's curious if he will also be involved with the blockbuster's central conflict.
As for Kilmer, the actor has been emotional in a recent interview discussing Iceman's appearance in Top Gun: Maverick. Marketing for the sequel has yet to physically feature him, but he will play an integral part in Maverick's job training Rooster and his fellow neophytes. This is a great way to ensure that his involvement in the Top Gun follow-up isn't just a glorified cameo. For what it's worth, Kazansky's attempt to help Maverick likely means the pair's friendship from the original movie endured throughout the years despite their less-than-ideal introduction.
More: Top Gun: Maverick Review – A Sequel Better Than An Already Iconic Original
Source: Val Kilmer/Twitter
Top Gun: Maverick/Top Gun 2 (2022)Release date: May 27, 2022
90 Day Fiancé: How Molly Hopkins Became A Fan Favorite
About The Author
Share this news on your Fb,Twitter and Whatsapp