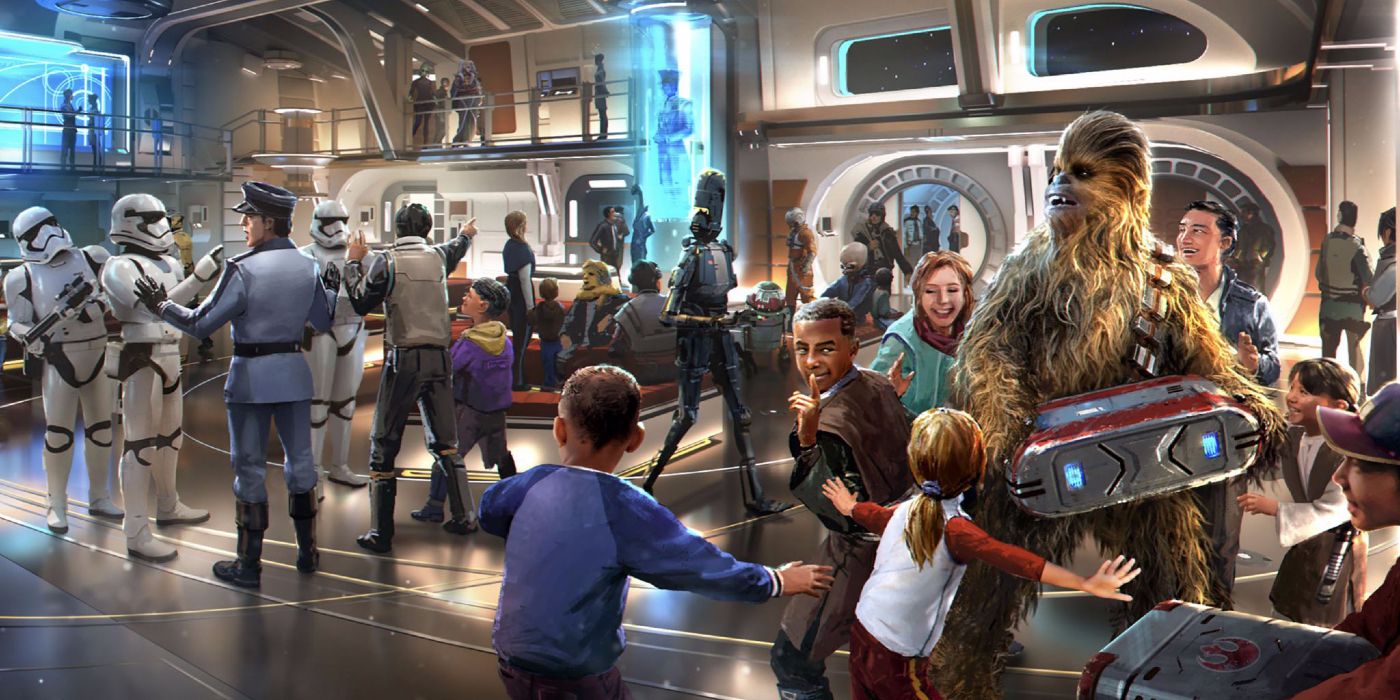 Universal Studios trolls Disney World again for their Galactic Starcruiser hotel, after reports arose of box trucks being used for guest shuttles.
Universal Studios has once again trolled Disney World for its Galactic Starcruiser hotel, this time for its box truck shuttle. The Galactic Starcruiser is a Star Wars-themed luxury hotel set to open in March 2022 at The Walt Disney World Resort in Orlando, Florida. Conception for the Galactic Starcruiser began in 2017, several years after Disney purchased Lucasfilm and brought renewed interest in the franchise with nearly annual film releases and the Disney+ series, The Mandalorian. Today, the hotel is a reality and will offer guests their very own Jedi adventure beginning on March 1.
However, the hotel has been fraught with numerous disappointments and controversies leading up to its opening. The first disappointment was when prices were revealed to be a staggering $4,800 – $6,000 for two nights for 2-4 guests. Next, viewers were shocked when Disney released a now-deleted Galactic Starcruiser promo video featuring poor acting and what viewers perceived as a cheap-looking hotel. Now, the Galactic Starcruiser has seemingly dropped another disappointment after reports arose that the hotel will shuttle guests to the parks in a box truck. Images surfaced showing what appeared to be box trucks running test cruises, however, it remains to be confirmed if guests will indeed be shuttled in these vehicles.
Related: Boba Fett's New BD Droid Makes Video Game Crossovers More Likely
Universal Studios wasted no time in trolling Disney for the Galactic Starcruiser box trucks with a hilarious Twitter post. In their typical trolling fashion, Universal Orlando Resorts didn't explicitly mention Disney, but it was quite clear who they were targeting. The post showed an image of a box truck with a Universal Parks & Resorts logo, while jokingly offering to take guests to Universal Studios in the vehicle. Check out the tweet below:
Click Here to View the Original Post
While Disney has not confirmed the box truck shuttles, the reports and Universal Studios' trolling aren't helping to raise faith in the Galactic Starcruiser. The problem is that guests have already been becoming more and more disillusioned with the Star Wars-themed hotel. In theory, the Galactic Starcruiser sounds like the experience of a lifetime. However, the high costs, promo video, and box truck rumors have led guests to question paying the $6,000 fee for the hotel. Originally, the Galactic Starcruiser was sold out for four months upon its opening, but numerous cancellations have led to more availability opening up. These box truck reports and Universal's response to them will only likely increase guests' hesitation, as they continue to ponder if the Galactic Starcruiser is truly a magical experience or if its an over-priced and underdeveloped one instead.
It isn't hard to see why the box truck shuttle reports have fostered guest disappointment and Universal Studios' trolling. Considering the price of the Galactic Starcruiser, guests are expecting the experience of a lifetime. The Star Wars theme should be embedded in every aspect of the guest experience, including transportation. A themed, specialized bus ride might be more in line with the prices of the Galactic Starcruiser. A box truck, meanwhile, does not quite fit with the luxury Star Wars-hotel theme. However, the reports also only captured the exterior of what appeared to be a box truck. It remains to be seen if this is actually the mode of transportation or if the box trucks are hiding some special interior design. For now, though, Universal Studios' trolling of the Star Wars-hotel is bringing humor to the reports that have left some scratching their heads.
More: A Bryce Dallas Howard Star Wars Movie Would Fix Big Disney Problems
Source: Universal Orlando Resort
A Bryce Dallas Howard Star Wars Movie Would Fix Big Disney Problems
About The Author
Share this news on your Fb,Twitter and Whatsapp