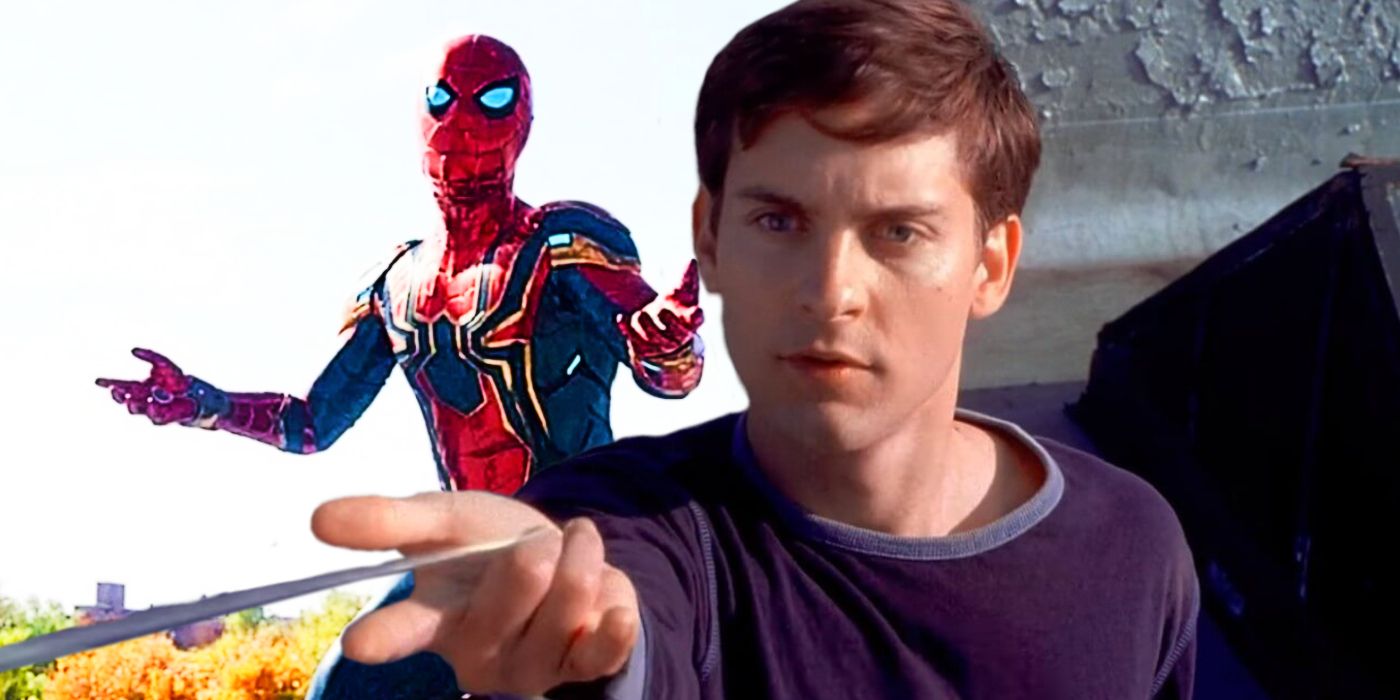 In his first-ever interview after returning in Spider-Man: No Way Home, Tobey Maguire reveals what made him decide to revisit his Marvel role.
Tobey Maguire explains what made him decide to return as Spider-Man in Spider-Man: No Way Home. The Marvel Studios and Sony collaboration has been out for more than a month, and it remains a favorite topic of conversation. Those who were involved in the project have shared their opinions about working on it, such as Tom Holland, Andrew Garfield, Willem Dafoe, as well as, director Jon Watts. Now, Maguire is the latest to open up about the experience, revealing why he ultimately chose to revisit his old Marvel superhero role.
As the original live-action Spider-Man actor, Maguire played the role three times two decades ago, starring in Sam Raimi's Spider-Man trilogy for Sony. The first two installments of the franchise were well-beloved, but the third one wasn't as well-received. Subsequently, Spider-Man 4 was scrapped despite its story already in place. A few years later, the company rebooted the character, introducing Garfield's version instead in Marc Webb's movies. That's until 2015, when Sony struck a deal with Sony about sharing the character who will exist in the MCU that was ultimately played by Holland.
Five years since that last reboot, all three live-action versions of Spider-Man shared the screen for the first time in Spider-Man: No Way Home. Garfield previously revealed that he was convinced to do it after reading his Spider-Man's poignant moment with MJ (Zendaya), allowing him to redeem himself for the death of Gwen Stacy (Emma Stone). Now, Maguire is speaking up for the first time about what ultimately convinced him to join the threequel in a new interview from the official Spider-Man YouTube channel. Read his full explanation below:
"Yeah, no, I know. Maybe you could just give me a little bit of information. But, I don't know. I gotta say, I was intrigued immediately. In that conversation, the intention, the kind of love and celebration of these movies, and what it meant i think to Amy and Kevin was was apparent. To me, when artists or people who are um steering the creative process have a kind of authentic, genuine intent of celebration and love, it just was so apparent in both of them that I just wanted to join that."

 "I'm a big fan of Tom and those movies and Andrew. So, it was definitely intriguing. But, yes, I was also going, 'Well, what what are we going to do?' And that was a bit mysterious," Maguire added. "I did appreciate what was shared. But, it was really about getting together with these people and revisiting what was part of my history and and getting a chance to like come together. There are personal things too, which are kind of resolutions or a way to revisit and… I'm not quite sure how to put it. It's just to get to get back into that and i don't want to say like close the chapter… But revisit and have certain resolutions and just join in this loving creative spirit"
More to come…
Source: Spider-Man/YouTube (via ComicBook)
Morbius (2022)Release date: Apr 01, 2022
Doctor Strange in the Multiverse of Madness (2022)Release date: May 06, 2022
Thor: Love and Thunder (2022)Release date: Jul 08, 2022
Black Panther: Wakanda Forever/Black Panther 2 (2022)Release date: Nov 11, 2022
The Marvels/Captain Marvel 2 (2023)Release date: Feb 17, 2023
Guardians of the Galaxy Vol. 3 (2023)Release date: May 05, 2023
Ant-Man and the Wasp: Quantumania (2023)Release date: Jul 28, 2023
Boba Fett Wookiee Gets Warm Welcome From Chewbacca Actor's Widow
About The Author
Share this news on your Fb,Twitter and Whatsapp