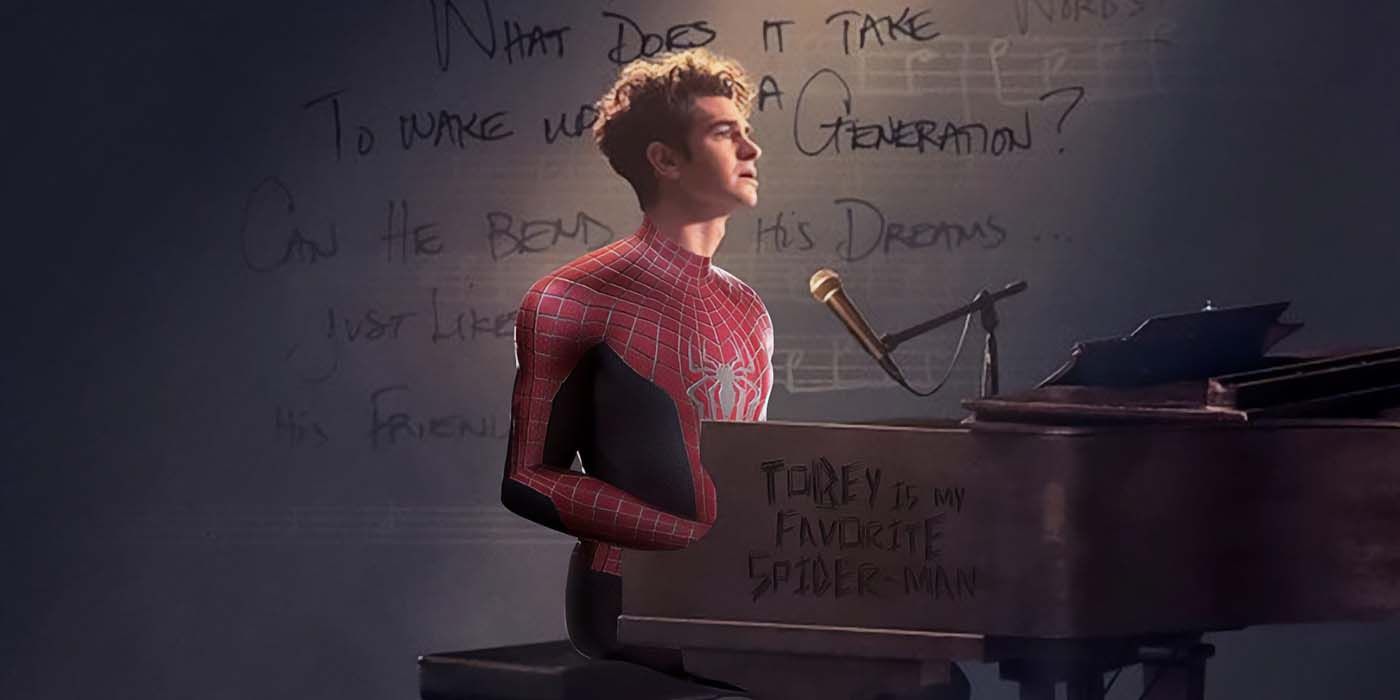 Andrew Garfield's Spider-Man takes to the stage in a reimagined poster for Netflix's Tick, Tick… Boom!, placing the hero in Jonathan Larson's spot.
In a reimagined poster, Andrew Garfield's Spider-Man takes to the stage for Netflix's Tick, Tick… Boom!, placing the hero in Jonathan Larson's place. Garfield portrayed the composer and playwright responsible for Rent in the 2021 autobiographical musical drama. Garfield also reprised his role of Peter Parker alongside Tom Holland and Tobey Maguire in Spider-Man: No Way Home.
Garfield won the hearts of critics and audiences for his portrayal of Larson in the fall of 2021 when Tick, Tick… Boom! released on Netflix, with the star being nominated for best actor from many award ceremonies. Following Larson from 1990 to 1992, Garfield portrayed the playwright as he juggles working at a diner and developing his musical passion projects, grappling with his anxieties and the wellbeing of those close to him. Garfield worked alongside Hamilton's Lin-Manuel Miranda on the powerful film and is open to tackling another musical in the future. However, one fan has decided to combine the film's main poster with another of Garfield's well-known roles.
Related: Tick, Tick… Boom! Where To Spot Stephen Sondheim's Secret Cameo
Graphic designer L A M U S E shared their artwork on their personal Instagram, reimagining the striking promotional poster focused on Garfield's Larson. L A M U S E's reimagining sees Garfield's Peter Parker from The Amazing Spider-Man and Spider-Man: No Way Home sat unmasked at Larson's piano, playing his heart out under a spotlight while scattered lyrics linger in the background. Retitling the film "Thwip, Twip… Boom!" and placing Spider-Man's mask's eyes onto the title, the poster also features a nod to Maguire's portrayal, stating that his Spider-Man is someone's favorite by carving it into the piano. Check out L A M U S E's piece below.
Alongside his portrayal of Larson, Garfield once more took audiences by storm, as after much denial, he reprised his role as Spider-Man within the MCU for No Way Home via multi-versal hijinks. Garfield's return and the rumors in the run-up to the film's release allowed fans to reevaluate his portrayal of Spider-Man on its own merits, separate from the film's messier plots. His incarnation of Spider-Man was warmly received due to his role in Holland's story, as well as the long-awaited payoff for dangling emotional threads cut short by the sudden scrapping of his franchise after The Amazing Spider-Man 2's performance at the box office.
Garfield is a talented actor capable of many varied, captivating performances, and L A M U S E's Spider-Man/Tick, Tick… Boom! crossover artwork is a fun combination of 2 of his greatest performances. With Garfield's recent successes, fans are clamoring to see more of him, whether it's through a third The Amazing Spider-Man film or facing off against Tom Hardy's Venom. After finally breaking his silence on his return, Garfield has expressed an openness to return to the role, so fans hope that the star returns soon as the web-slinger.
Next: Venom 3: Andrew Garfield Is The Perfect Spider-Man To Meet Hardy's Antihero
Source: samuel_cheve
Doctor Strange in the Multiverse of Madness (2022)Release date: May 06, 2022
Thor: Love and Thunder (2022)Release date: Jul 08, 2022
Black Panther: Wakanda Forever/Black Panther 2 (2022)Release date: Nov 11, 2022
The Marvels/Captain Marvel 2 (2023)Release date: Feb 17, 2023
Guardians of the Galaxy Vol. 3 (2023)Release date: May 05, 2023
Ant-Man and the Wasp: Quantumania (2023)Release date: Jul 28, 2023
Scream 2022 Early Reviews: The Best (& Scariest) Movie Since 1996 Original
About The Author
Share this news on your Fb,Twitter and Whatsapp