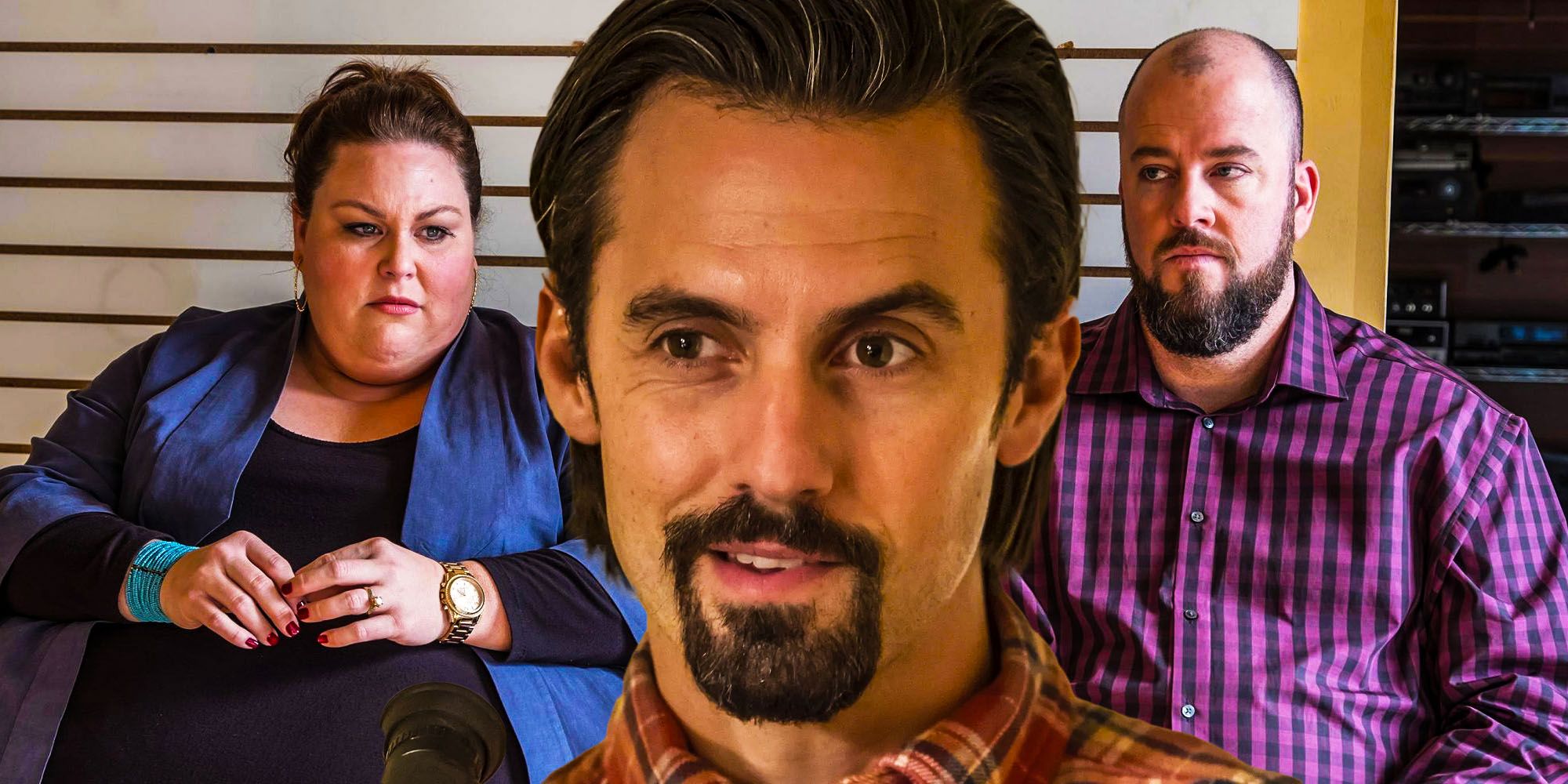 This Is Us season 6, episode 3 features a small but important detail that secretly ties Jack's death to Kate and Toby's impending divorce.
Warning! Spoiler ahead for This Is Us season 6, episode 3.
NBC's This Is Us season 6 connects Jack's death to Kate and Toby's upcoming divorce. The family drama's flashforward sequences have provided fans with valuable clues about what the future holds for the Pearsons. While they're primarily centered on Rebecca's (Mandy Moore) Alzheimer's leading to her death bed, another big plotline that This Is Us is currently building on is Kate (Chrissy Metz) and Toby's (Chris Sullivan) split. 
The first This Is Us flashforward hinted at a dark future for the Damons when it featured a visibly depressed Toby not wearing his wedding ring. The mystery deepened when Kate is nowhere to be found during the family's gathering at Kevin's (Justin Hartley) cabin, as they prepare to say goodbye to the Pearson matriarch. But it wasn't until the This Is Us season 5 finale that it was finally confirmed that they will indeed break up, leading to Kate eventually re-marrying her current boss, Phillip (Chris Greere). Still, it hasn't explained the reason for the divorce. 
Related: This Is Us Just Debunked Its Biggest Ending Theory
This Is Us season 6, episode 3 ("Four Fathers") provided new clues as to what led to Kate and Toby's decision to part ways. In the far future, Jack Jr. (Blake Stadnik) grills using the same smoker that his father got their family when was still a toddler. Despite being blind, he expertly cooks steak in it, but it also evokes some kind of memory, with the faint voice of Kate shouting Toby's name, as if in the middle of an accident. At the end of the episode, Jack Jr.'s wife asks him why he continues to keep the green egg since it's a reminder of his parents' marriage imploding. The series also shows him having a scar on the side of his head, presumably from the incident that caused Kate to scream at her husband. This draws comparisons to another family tragedy—the death of Milo Ventimiglia's character Jack. Both events are associated with kitchen appliances, with the Pearson patriarch's sudden death caused by the fire from a faulty crockpot.
This Is Us' primary mystery revolved around when and how Jack died. Thanks to its non-linear storytelling, it was still able to feature the character through flashbacks as it set up his death, but the queries weren't answered until This Is Us season 2. Because he went back inside their family home to save more things, he inhaled a dangerous amount of smoke which put "terrible stress on the lungs and heart." This caused him to suffer a cardiac arrest. Since then, fans have associated perhaps the saddest plotline in This Is Us to the decade-old crockpot, and now, even before the whole story gets revealed, viewers will do the same with the smoker to Toby and Kate's divorce. 
There are only 15 episodes left before This Is Us officially wraps up, and considering the sheer amount of loose plot lines that it still needs to tackle, it might not look like it's enough. But aside from putting a focus on Rebecca as her deteriorating health status becomes the show's focal point, Kate and Toby's divorce needs to be addressed properly. The couple had been a fan-favorite since the show's beginning, that it would be such a disservice if they broke up simply because This Is Us needed to incorporate a final twist. 
More: This Is Us Officially Ends Its Obsession With Jack
This Is Us season 6 airs Tuesdays on NBC.
90 Day Fiancé: Everything To Know About Loren's Plastic Surgery Plans
About The Author
Share this news on your Fb,Twitter and Whatsapp