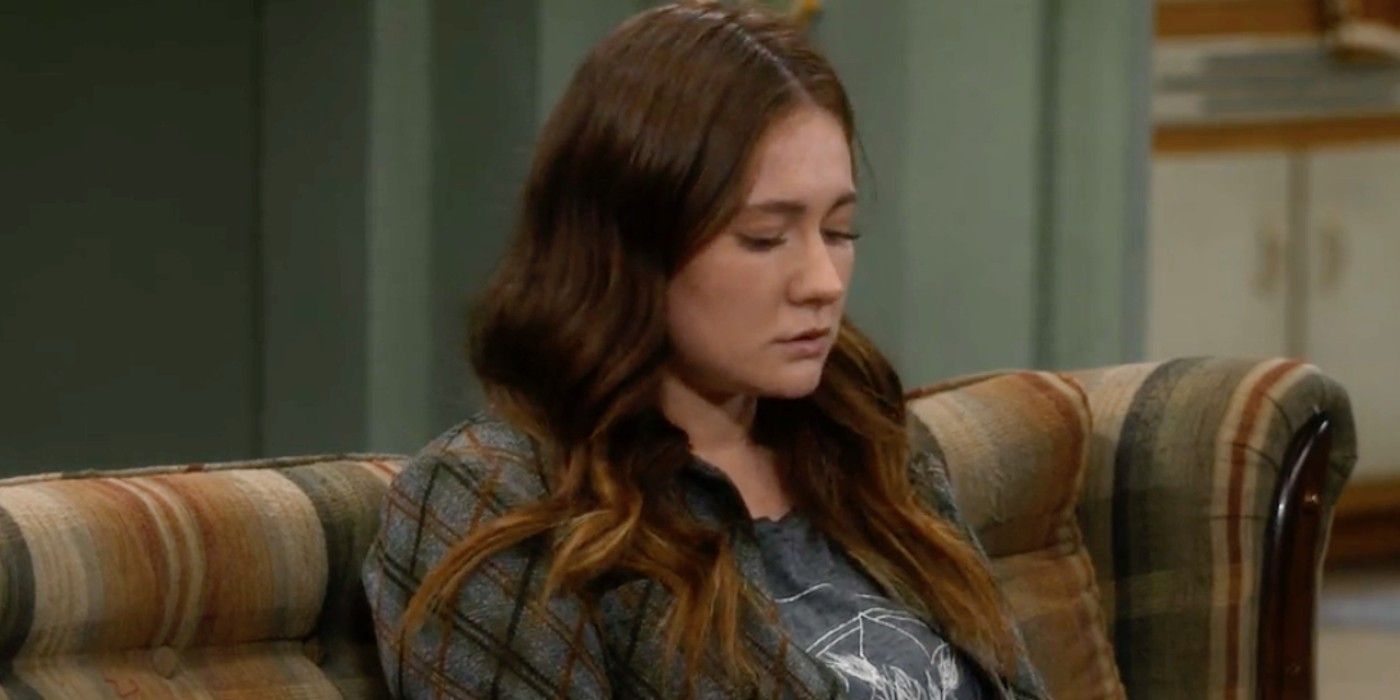 Although Harris had a pretty brutal time of it in The Conners season 4 finale, the sitcom can now set up far more promising plots for the character.
While fans may have been sad to see Harris and Aldo break up, The Conners season 4 finale couldn't have handled the reveal better. The Conners season 4 saw Harris (Emma Kenney) taken in a new direction, with the rebellious young adult moving out of her family home and in with her far older, immature boyfriend Aldo (Tony Cavalero). This decision created a schism between Harris and Darlene (Sara Gilbert) that lasted throughout most of season 4, although the duo did get back on speaking terms in later episodes.
Although The Conners season 4 gave Harris's story plenty of focus—more so than her brother Mark (Ames McNamara)—the impasse she reached with Darlene seemed impossible to overcome as season 4 came to a close. However, Darlene's decision to give Harris space paid off when Aldo began pressuring Harris into having children, prompting the character to realize she and her fiancee had very different plans for the future. This led to a devastating break up in The Conners season 4 finale that is secretly great news for Harris's character development.
Related: The Conners Pointed Out A Bizarre That 70s Show Plot Hole
Although Aldo and Harris were due to tie the knot, the pair called it off at the last second when Harris learned that Aldo was dead set on having kids as soon as possible. After fighting her family over her right to be with Aldo, Harris was the one to decide when she broke up with him and why. The Conners fixed Harris and Darlene's story by allowing the former to come to the conclusion herself instead of relying on her mother's intervention, and the reason behind the break up was an appropriately big, existential issue rather than anything melodramatic or far-fetched. The subplot proved that Harris is as fiercely independent as ever and that the same obstinate self-determination that drove her to date Ado despite her mother's misgivings eventually allowed her to break up with him.
This is an exciting development for Harris's character, which for some time was stranded between being a mopey teenager and a shiftless slacker. While earlier seasons made Harris out to be a sardonic underachiever (like her mother before her), the "precocious troubled teen" stories of The Conners season 4 went to Mark while Harris spent most of the season stranded in a relationship that wasn't going anywhere. After causing Darlene and Harris's explosive blowup near the start of season 4, the Aldo and Harris plot never progressed and ended up being largely forgotten for much of the latter half of The Conners season 4.
As a result, it is good to see Harris single again and able to show some agency of her own. Darlene's decision to let her daughter make her own mistakes empowered Harris to handle her own breakup and the character can now go on to more interesting stories that revolve around her personal ambitions, her love life, and her professional plans. While The Conners season 4 recycled Harris's fight with Darlene throughout numerous episodes, the next season of the series could see her move out and face adult problems with the support of her family. Thus, the saddest moment in The Conners season 4 finale could end up giving season 5 some of its most promising plots.
More: Is The Conners Setting Up Beverly's Season Finale Return?
90 Day Fiancé: David Flaunts Weight Loss Progress By Dancing For Annie
About The Author
Share this news on your Fb,Twitter and Whatsapp