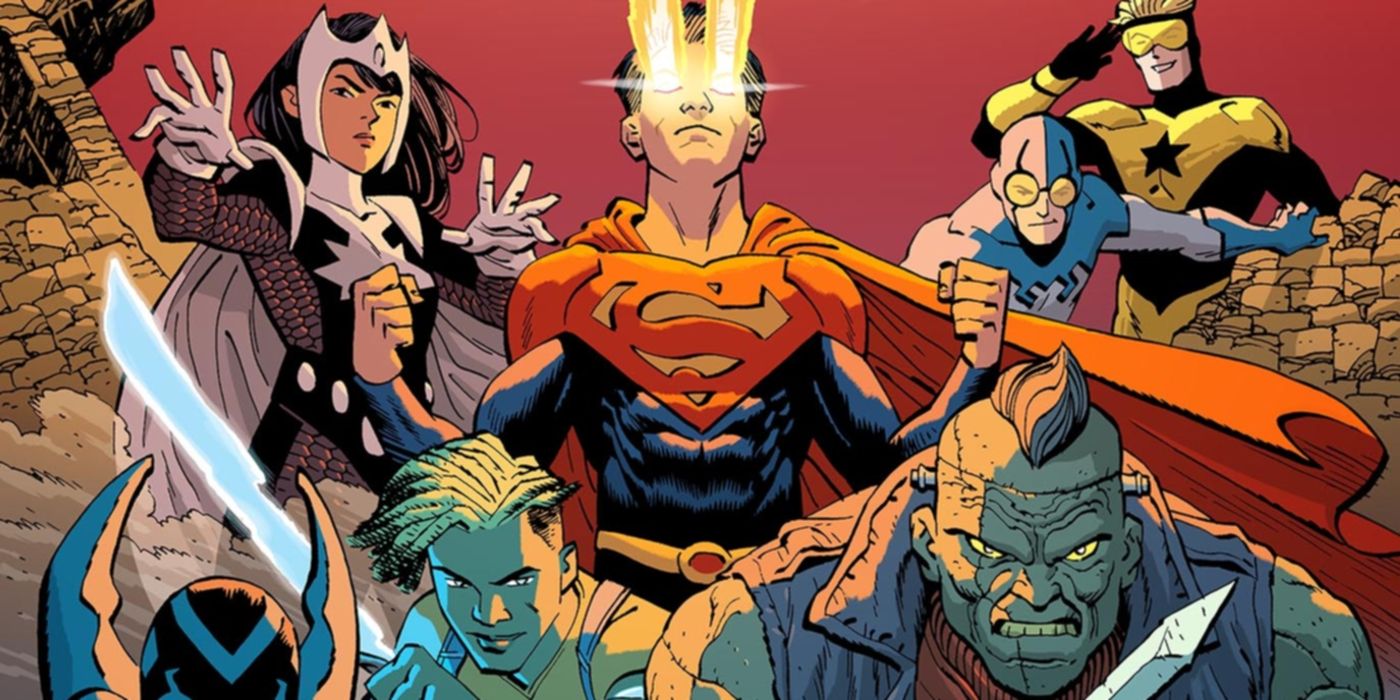 Superman is about to assemble the newest Justice League, but a few words from Dark Crisis writer Joshua Williamson show his efforts may be a dead end.
In a world without the Justice League, Superman Jon Kent is doing his best to assemble a new team to protect all existence in the upcoming Dark Crisis event. But an interview with writer Joshua Williamson shows that his efforts may be in vain.
Since taking on the role of Superman from his father, Jonathan has been doing everything he can to prove he's a suitable replacement. He's not taken his new job lightly, pushing himself to be the sort of hero who can step into Superman's bright red boots and meet the expectations the world has of him. From taking up social justice causes to fighting powerful foes, Jon is proving himself to be quite a capable hero. But now that his father, along with the rest of the Justice League, has mysteriously disappeared, the pressures he faces are about to get a whole lot more intense.
Related: Nightwing vs Deathstroke Unleashes Dark Crisis' True Brutality
With the Dark Crisis event looming, it's been announced that the new Superman would be putting together a new Justice League to combat the Great Darkness. However, in a recent interview with CBR, event writer Joshua Williamson reveals that Jon may have already failed before he's even started. When asked what he can say about the new Justice League team, Williamson replied, "There is no Justice League." He continued, "You can't create a League just because you want to make one. It just doesn't work that way." The writer also mentioned that this aspect would be "a major part of the story." In a lighter question regarding his favorite members of the motley crew Jon assembles, Williams specifically name-drops Dr. Light,  Frankenstein, Blue Beetle, Booster Gold, and Damian Wayne.
It's interesting to see Williamson declare the new Justice League a failure before they've even had the chance to assemble, but he does say that "you can't just make one out of thin air." While the circumstances regarding their formation are a little unconventional, they wouldn't be the first superhero team formed out of necessity. Jon Kent's team might not be the most successful incarnation of the Justice League, but it does show that he's taking the role of Superman seriously at a crucial moment in DC history.
Superman is often considered a lynchpin of the DC Universe and his presence has been necessary to overcome nearly every multiversal Crisis. As one of the strongest heroes with one of the most noble spirits, he's looked to for guidance and inspiration, even when facing overwhelming odds. With the entire Justice League wiped out, the stakes could hardly be higher. Jon no doubt recognizes the need for both a Man of Steel and a League so the DCU can survive the Great Darkness. Superman's attempts to form a Justice League might not succeed, but it shows he's not going to face the Dark Crisis without a fight.
Next: Superman vs Black Adam Decides the Justice League's Entire Future
Source: CBR
90 Day Fiancé: Robert Posts Special Video After Baby Son's Death
About The Author
Share this news on your Fb,Twitter and Whatsapp