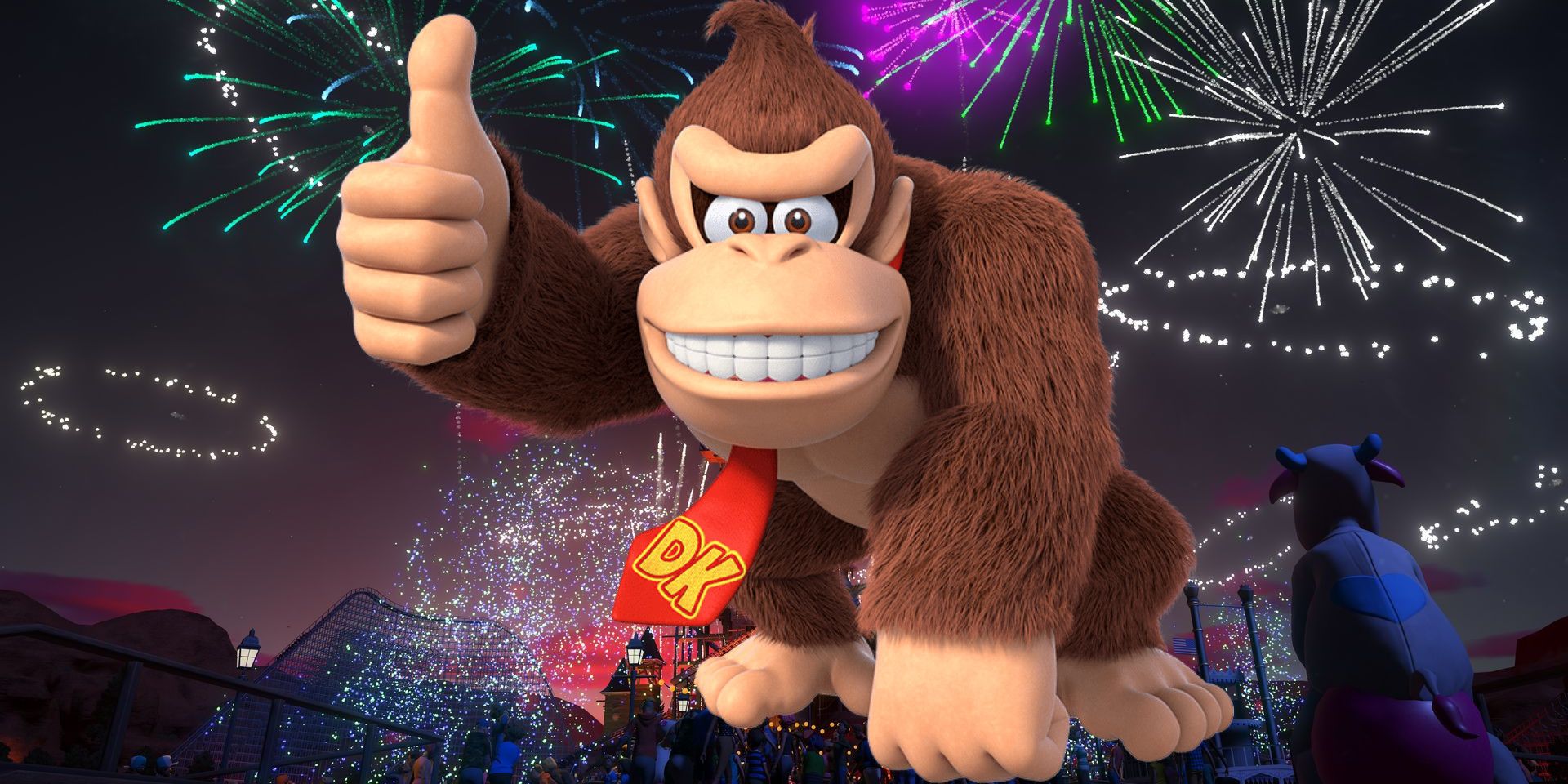 While fans wait in anticipation for Super Nintendo World to open, one fan took to Planet Coaster to build their dream Donkey Kong roller coaster.
While fans wait in anticipation for Super Nintendo World to open in Universal Studios Hollywood, one fan took to Planet Coaster to build their dream Donkey Kong roller coaster. Super Nintendo World opened in Japan in 2021 to a bit of a rocky start due to the ongoing COVID-19 pandemic but has since become an iconic place for Nintendo fans to explore. The world opened with a few exciting Mario-themed rides and is still expanding and adding more Nintendo properties.
Planet Coaster is a theme park simulator that allows players to build their dream roller coasters and theme parks. Taking inspiration from well-known parks like Universal Studios, Disneyland, and Six Flags is not uncommon, but fans often take that inspiration and build fun and exciting coasters and themed worlds that stretch the limits of real-world applications. While the game does focus on customer satisfaction, safety, and real-life physics, sometimes the roller coasters players build would never work as a real coaster. Fans have also built coasters based on popular video games, including Mario and an impressive Legend of Zelda Planet Coaster build.
Related: When Super Nintendo World California Theme Park Will Open
Reddit user ToWelie89 shared their ideal Donkey Kong-themed roller coaster, which would be a perfect fit for Super Nintendo World. The theming starts as players walk up to the gates, with Donkey Kong's logo on the sign and Donkey Kong and Diddy Kong welcoming riders to the line. As virtual passengers go through the queue they are greeted with barrels and bananas directly out of the Donkey Kong games. There is a great amount of detail that goes into the queue, but it doesn't stop there. As riders board the coaster, the ride vehicle they are sitting in bears a striking resemblance to the mine carts from the Donkey Kong franchise, and these carts rock left and right as they go through the turns. It looks like it would be a fun, yet scary experience as the ride vehicle hits high speeds going through corners and over hills. With the expected Donkey Kong expansion in Super Nintendo World, maybe fans can get a tamer, real-life version of ToWelie89's build.
The theming of the ride continues through the rest of the coaster as riders go through various scenes from the different games. There is a plane and a golden monkey that looks like they are from Donkey Kong Country and more barrels and bananas than riders can count. There is even more detail that can be hard to spot while in the first-person mode, but that is par for the course even on real-life roller coasters. In night mode the neon Donkey Kong sign glows brightly and makes for a great addition to the coaster.
Planet Coaster can be a fun way for fans to show the world what they want to see from their favorite theme parks and favorite IP, especially while they wait for real-life announcements. It is an exciting prospect to imagine a Donkey Kong roller coaster like this in Super Nintendo World, but fans will have to wait patiently until 2024 to find out exactly what's in store for them.
Next: Super Nintendo World's Orlando Park Gets a Massive Delay
Source: ToWelie89/Reddit
90 Day Fiance: Hamza Shares Video Of New Baby's Car Seat In IG Video
About The Author
Share this news on your Fb,Twitter and Whatsapp