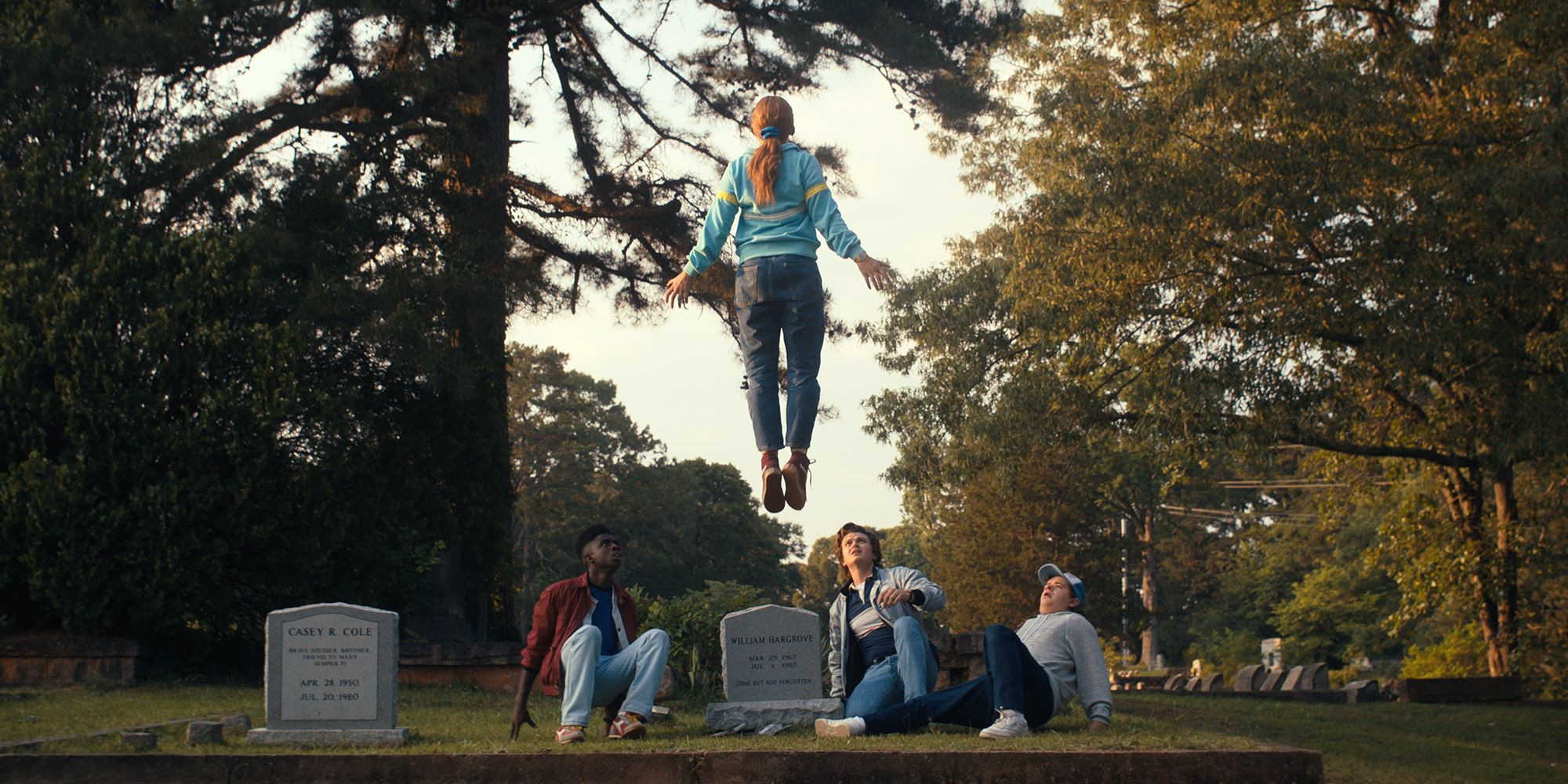 Actor Sadie Sink says she can't spoil why Max is floating in the Stranger Things season 4 trailer but tells fans that it's from a "wild" episode.
After Max's unexpected floating in the Stranger Things season 4 trailer, fans have been desperate to know why, but actor Sadie Sink won't spoil any details. Sink joined the Stranger Things cast in 2017 for season 2, where her character quickly found herself entangled in the horrors that reside within Hawkins. The events of season 3 saw the eventual demise of Max's brother Billy after he was possessed by the Mind Flayer.
Season 3 brings about the mourning of several characters but sees those remaining preparing for a more hopeful future. Unsurprisingly, that doesn't seem likely as the trailer suggests that Stranger Things season 4 is diving even further into its darker, haunting themes. Season 4 threatens an upcoming war as the characters struggle to settle into normal life. Both her friends and viewers were shocked to see Max seemingly gain the ability to levitate out of nowhere. This quick glimpse at Max floating above her brother's grave has fans believing that even in death, Billy is still connected to the Mind Flayer and is using it to possess Max.
Related: Stranger Things Season 4 Is Already Fixing Season 3's Worst Mistake
Sink was questioned about her surprise floating in the Stranger Things season 4 trailer during an interview with PEOPLE. Unfortunately, she was unable to elaborate on it, choosing to keep quiet about the upcoming season. While the actor could have just been referring to the specific scene shown in the trailer, saying it's "a wild episode" could suggest that the floating won't be sticking around throughout the season. Read Sink's full quote below:
I can't say anything about the floating. That's a wild episode though.
Promotional images for Stranger Things season 4 hint that Max might have her own connection to the Upside Down. The season 3 poster showed the Hawkins kids looking up at fireworks over a carnival, with two exceptions. Will (Noah Schnapp) and Eleven (Millie Bobby Brown), who are notably linked to the Upside Down, both look behind them. The season 4 poster mirrors this as Max looks back at an implied threat, nodding to the idea that she might be connected to the Upside Down outside of her stint in levitation.
Previously, Eleven lost her powers, leaving the group without their most powerful defense. After the season 4 trailer, theories began popping up as some fans started to wonder if Max could be getting powers as the creatures of the Upside Down latch onto another child in Hawkins. While Sink understandably couldn't say why Max is floating, fans won't have to wait long to find out as Stranger Things season 4 releases on May 27.
Next: Why Stranger Things Doesn't Need Spinoffs After Season 5 Ends
Source: PEOPLE
90 Day Fiancé: Libby's Dad Chuck Potthast Shares Major Update About Cancer
About The Author
Share this news on your Fb,Twitter and Whatsapp