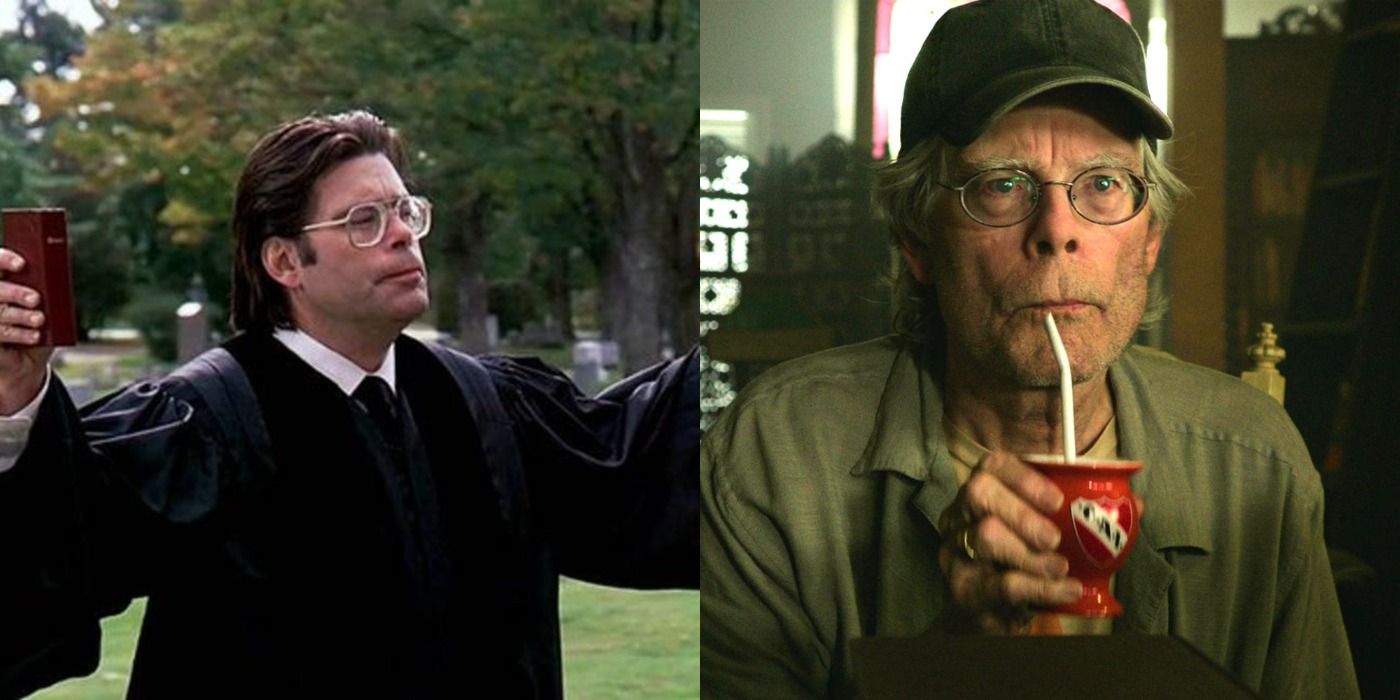 Stephen King is known as a master of horror due to his vast library of novels that have been turned into movies, series, and mini-series. He has a passion for these stories, which is why fans appreciate him making cameo appearances in the adaptations of his work, similar to Stan Lee in the Marvel films.
RELATED: 10 Times Stan Lee Made Cameo Appearances Outside Of Marvel Movies/TV Shows
Over the years, Stephen King has made many appearances in the film and TV adaptations that have been based on his creations. Some are merely a few seconds while others are guest appearances that end up stealing the show.
10

Man At ATM – Maximum Overdrive (1986)
This was Stephen King's first time in the director's chair, and in a similar fashion to other directors including Alfred Hitchcock and M. Night Shyamalan, King put himself in Maximum Overdrive as a cameo.
It's a brief but comedic scene when all technology on Earth becomes sentient. King portrays a man trying to get money from an ATM, but the machine comes to life to deny him his money. Instead, it proceeds to insult King through the text on the screen.
9

Caretaker – Sleepwalkers (1992)
Sleepwalkers is one of the more bizarre adaptations of Stephen King's work. In it, Stephen King plays the caretaker of a cemetery trying his best to keep himself from getting into trouble. His gag of trying to plead to different officials is humorous, and like always, King has spot-on timing with comedy.
What makes this cameo even better is that he's appearing with other horror legends making their own cameos. There's Tobe Hooper who is the famous director behind The Texas Chainsaw Massacre as well as the horror icon Clive Barker, a fellow author behind Hellraiser and Nightbreed.
8

Gage Creed – The Shining (1997)
It's well-known that Stephen King was not fond of how Stanley Kubrick adapted The Shining into the 1980 film. So a new adaptation was made in the form of a mini-series in 1997 to come closer to the novel, leading to a mixed response.
However, Stephen King put his stamp of approval on the series by appearing as Gage Creed, a conductor for the band that performed at the Overlook Hotel. King appears more than once as the conductor, both when he was alive and as a ghost haunting the Overlook.
7

Lawyer & Reporter On TV – Storm Of The Century (1999)
Most of Stephen King's cameos are quick little bits to get a laugh out of the viewer, and this one from Storm Of The Century is one of them. In it, he appears as a lawyer in an advertisement on the television but almost like a running gag, King plays two different people on the television.
RELATED: 10 Things That Happen in (Almost) Every Stephen King Book/Movie
The second is a reporter, and it's never explained if it's the same character with different jobs or if it's Stephen King playing twins. Either way, both appearances get a good chuckle and provide a bit of a break from the dark and depressing story occurring in the town.
6

Pizza Delivery Driver – Rose Red (2002)
King's cameo is very brief but memorable, providing a light-hearted moment of calm before the storm that is often seen in many haunted house horror movies. He plays the pizza delivery driver who drops off a large stack of pizzas and some soft drinks. How fitting that it is right after Stephen King appears that the horror starts for the cast of characters.
An interesting fact about this miniseries is that according to Nerdist, it was originally going to be a remake of The Haunting made by Stephen King. However, the remake went in its own direction, so Stephen King's script became the bizarre supernatural thriller known as Rose Red.
5

Pharmacist – Thinner (1996)
Yet another case where Stephen King's appearance marks when the horror begins. King makes a brief appearance in Thinner as the pharmacist that provides medicine for the traveling Romani's lesion before his daughter is accidentally run over.
King doesn't have much in terms of dialogue and his role is one of the more serious roles in his list of self-authored cameos. Oddly enough, there is a pharmacist with similar glasses to King's signature lenses in the 2017 adaptation of IT.
4

Teddy Weizak – The Stand (1994)
Technically this is cheating since it's not really a cameo, but actually a recurring side character in The Stand miniseries from 1994. King portrays Teddy Weizak, one of many survivors during the apocalyptic story, and rather than his typically comedic roles, King is much more serious.
RELATED: 10 Best Stephen King Movies & Books (That Aren't Horror Stories)
He's a genuinely endearing character and he allowed Stephen King to show off his range as an actor, even if it was a smaller role.
3

Jordy Verrill – Creepshow (1982)
Creepshow features several stories written by Stephen King himself and directed by George A. Romero. This would not be the only time the two collaborated, but it is their most memorable. One of the stories actually stars Stephen King himself playing a farmer who encounters a meteor.
King purposefully goes for an over-the-top performance as he plays a country bumpkin. It gets more serious as it goes on as the meteor slowly turns him into a living plant and covers his land in alien grass. For as silly as it is, King keeps the story interesting since he's pretty much the only character in the entire story.
2

Minister – Pet Sematary (1989)
One of the first times King appeared in a film based on his work, Pet Sematary features King as the minister. He blesses the funeral of Missy after she hangs herself due to her stomach cancer.
It's another quick appearance, but a memorable one, as King leads the scene, giving a respectful portrayal of a member of the church. As fun as his more corny cameos are, that humor would not work for Pet Semetary considering it is such a dark and depressing story.
1

Pawn Shop Owner – IT: Chapter Two (2019)
The most recent and memorable cameo was a stand-out moment in IT: Chapter 2. Bill discovers his childhood bicycle in a pawnshop in Derry, Maine which leads to him speaking with the shopkeeper played by Stephen King.
Bill is now a famous horror author which allows the scene to basically poke fun at King's shortcomings. Even Stephen King continues the running gag of nobody liking Bill's ending to his book, seemingly admitting to the ending of the IT book being a bit disappointing.
NEXT: Pennywise & 9 Other Scariest Shape-Shifting Monsters In Horror

Next
10 Best Movies From Harry Potter Actors, According To IMDb

About The Author
Share this news on your Fb,Twitter and Whatsapp