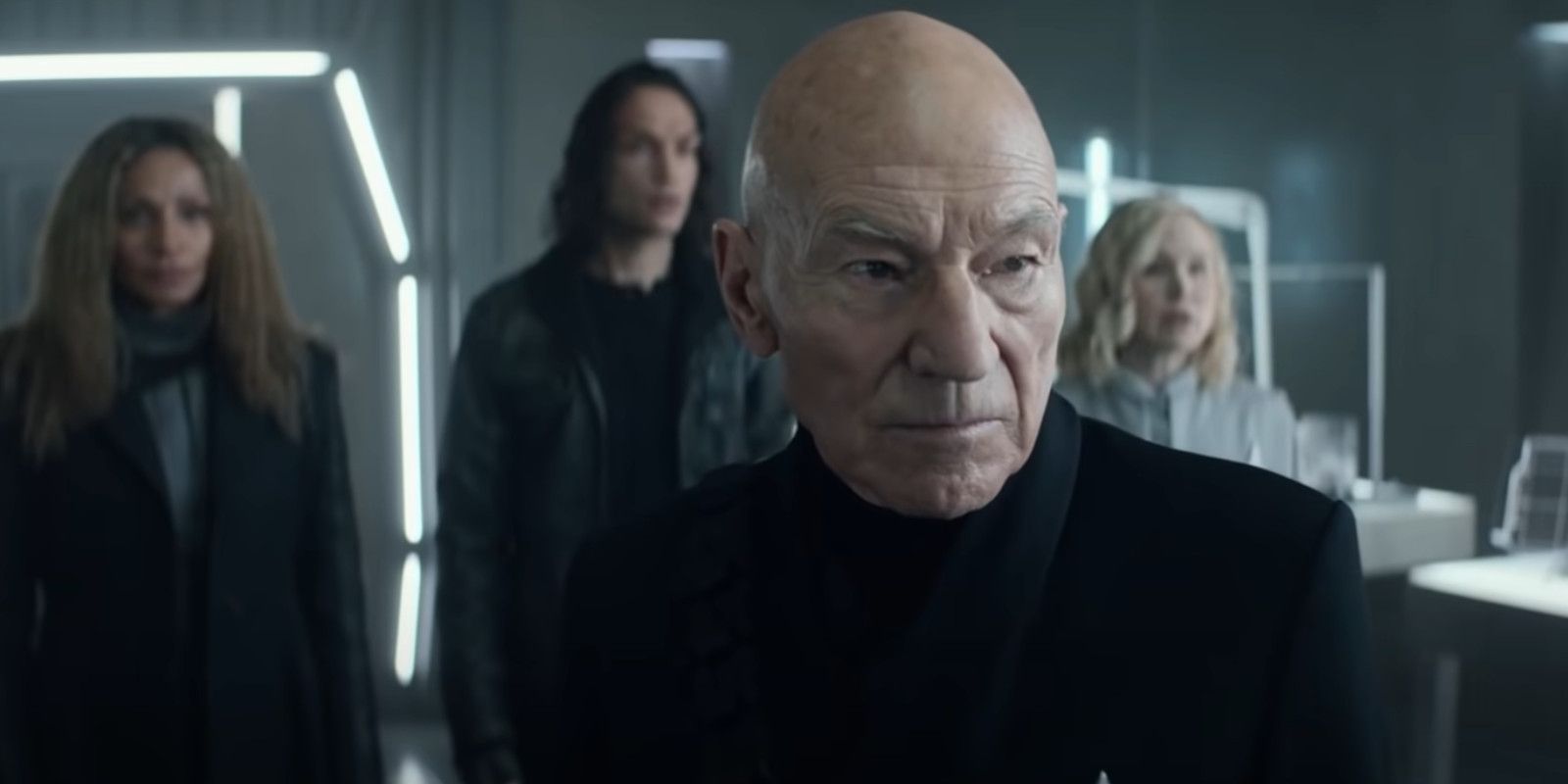 Filming on Star Trek: Picard season 2 resumes just days after production was halted when over 50 staff members tested positive for COVID.
Star Trek: Picard has officially resumed filming days after the production shutdown due to COVID-19. Filming on the second season was halted earlier in the week after more than 50 members of the cast and crew tested positive for the virus. Other shows, including NCIS and Chicago Fire, have also suffered filming disruption.
The sci-fi series, starring Patrick Stewart, is largely filmed in Los Angeles, where a huge spike in cases of the Omicron variant are currently being recorded. This is not the first delay faced by Picard, as the show was originally intended to film in 2020 before the virus pushed the schedule into 2021. Picard season 3 has also received the green light, with plans to shoot in conjunction with season 2. Both of the upcoming seasons are helmed by co-showrunners Terry Matalas and Akiva Goldsman.
Related: Why 2022 Is Star Trek's Biggest Year Ever
In a recent Tweet from Matalas, it was confirmed that production on Picard has since resumed. The showrunner seemed chipper about his return to set, despite the circumstances, writing: "Back at it this AM!" The post was accompanied by an image of a screen emblazoned with the words' EPS Network' and what appears to be the layout of a Starfleet ship. Check out the post below:
Click here to view the original post
Stark Trek: Picard season 2 finds Jean-Luc transported to an alternate universe by the godlike figure known as Q. Determined to avoid the totalitarian future they are stranded in, Jean-Luc and his crew embark on a new mission: to travel back in time and set things right. Stewart is joined in the upcoming season by returning co-stars Alison Pill, Isa Brones, Evan Evagora, Michelle Hurd, Jeri Ryan, Brent Spiner, Orla Brady, Annie Wersching, and Santiago Cabrera. New faces include John de Lancie as Q and Whoopi Goldberg as Guinan.
With the new COVID variant still running rampant across the world and causing particular disruption to the entertainment industry, it is yet to be seen whether further delays will hinder the release of Picard season 2. While undoubtedly frustrating to both the studio and fans, the postponements will hopefully fuel viewers' appetites for Star Trek, providing a potential ratings boost for both Picard and Star Trek: Discovery. Regardless of further delays for season 2, fans have reason to be hopeful that the wait for season 3 will be far shorter, as production is set to roll on for a smooth 2023 release. Currently, Star: Trek Picard season 2 remains on track for a February debut on Paramount+.
More: Star Trek Reveals The Mirror Universe Could Have Beaten The Borg
Source: Terry Matalas
Avatar's Zuko Discovered on Decades Old Magic The Gathering Card
Share this news on your Fb,Twitter and Whatsapp