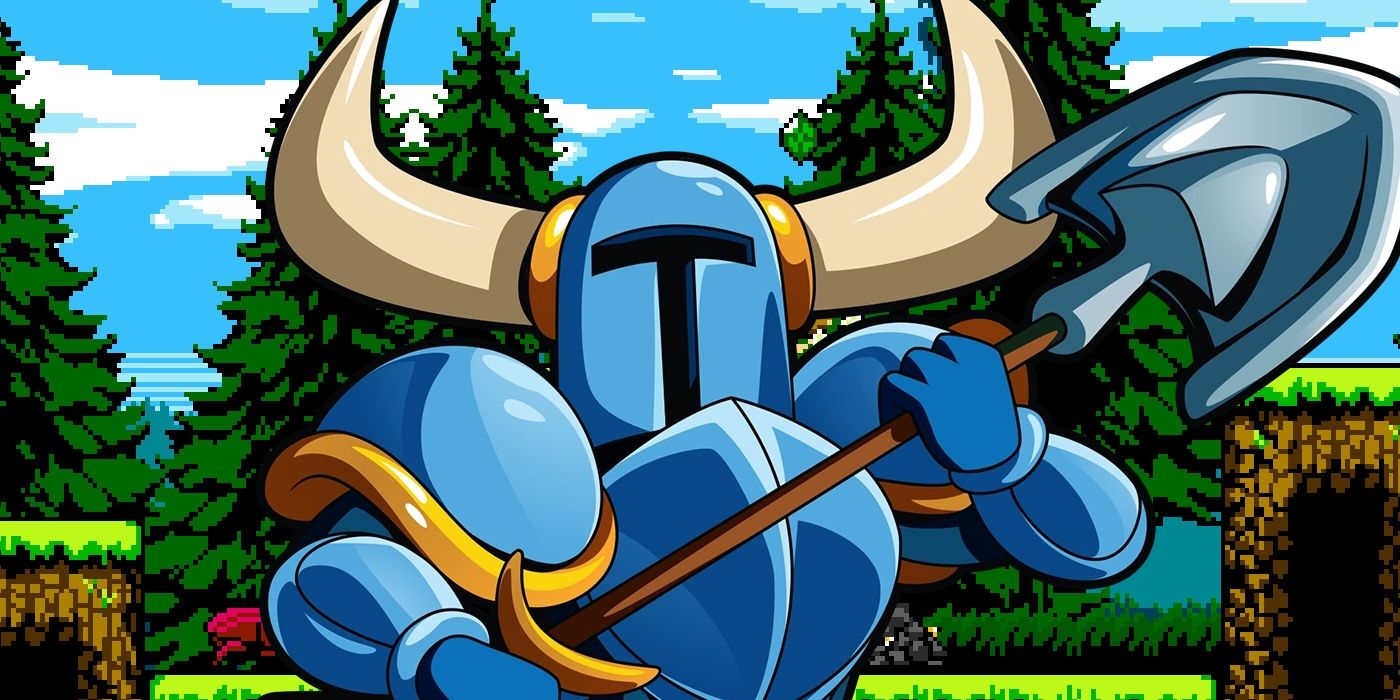 Shovel Knight has made over 30 cameos in non-Shovel Knight-related titles, and Yacht Club has now provided an unexpected explanation.
Shovel Knight has appeared in over 30 titles other than his own games, and the developer Yacht Club Games has explained exactly why that is. While Yacht Club has made some Shovel Knight art free-use, there have been some notable and official collaborations and cameos as well, and fans are frequently delighted to see the blue knight outside his element. Since the 2D sidescroller platformer is regarded as one of the most influential indie games of all time, it's not shocking that Shovel Knight makes appearances in multiple places.
Shovel Knight is a direct nod to popular NES platformers, and the original game housed a number of DLC that all came together in Shovel Knight: Treasure Trove. The knight himself has an iconic appearance with his vivid blue armor and huge Shovel Blade, so he's easy to recognize in games such as Brawlhalla, Super Smash Bros. Ultimate, and For Honor. Shovel Knight also has a Fall Guys costume, so it seems as though he is making rounds throughout the gaming industry.
Related: How To Unlock Every Playable Character in Shovel Knight Pocket Dungeon
In an interview with GameSpot, Yacht Club Games has explained why exactly it is that Shovel Knight has appeared in so many other games, and even has his own Amiibo and Arby's toys. The person behind Shovel Knight's marketing and licensing, Celia Schilling, says that Yacht Club has "always imagined Shovel Knight as an all-encompassing universe," so the multiple cameos and spin-offs and crossovers just make sense for the indie franchise. Schilling also explained on Yacht Club's behalf that "We think it's funny… it's hilarious." Although it's a bit of an unorthodox answer behind why exactly Shovel Knight is seen in so much non-Shovel Knight-related content, it is reasonable and makes a lot of sense for the brand.
Shovel Knight Cameos Are Funny According To Yacht Club Games
In GameSpot's interview Celia Schilling also went into depth about the newly released Shovel Knight: Dig, which was developed by Nitrome and Yacht Club Games. The new collaborative spin-off is a rogue-like adventure and features Shovel Knight digging underground in order to defeat Drill Knight. Dig will include procedurally generated levels and the knight will become stronger through his quest. Although it's a brand-new adventure, Shovel Knight: Dig still maintains the original indie game's combat and feel that made it so iconic.
It's still exciting for fans to experience Shovel Knight in his own environment even though he has appeared in such a large amount of titles and franchises, with his game debut being so highly acclaimed. Shovel Knight's developer also revealed Mina The Follower, which is inspired by gothic-horror and Game Boy Color titles. It'll be interesting to see if any iconic characters from Yacht Club's upcoming game will have as many cameos as Shovel Knight does.
Source: GameSpot
Share this news on your Fb,Twitter and Whatsapp