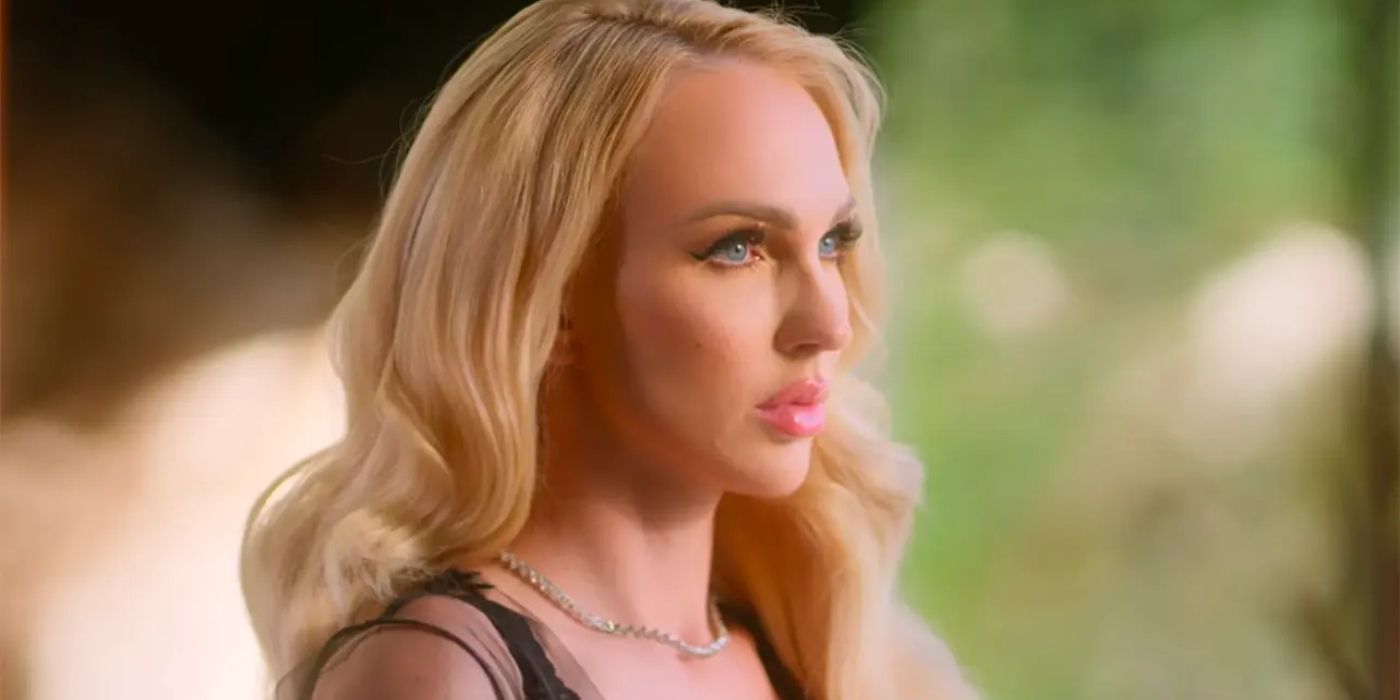 Selling Sunset star Christine Quinn finds herself needing protection after anti-fur protesters invade her book signing in Ridgewood, New Jersey.
Christine Quinn recently found herself in an infuriating situation and was forced to search for cover under a table as protesters who were against the Selling Sunset star's fur dress crashed her book signing. Known for her rather flashy look on the famous Netflix real estate series, Christine has lately made headlines for different controversies. From fans alleging that she faked her pregnancy to her controversial exit from celebrity real estate agency the Oppenheim Group, Christine has dealt with a lot of scrutiny from the public, most of which she took time to address.
After clarifying that she gave birth to her son Christian "Baby C" Georges Dumontet, who was born in May, the 33-year-old realtor-turned-reality television star has also had to address issues that she paid a client to quit working with her co-star. In Selling Sunset season 5, castmate Emma Hernan alleged that Christine bribed a client with $5,000 to stop working with her, but Christine vehemently denied the claims. The celebrity real estate agent did not find the accusation funny and said that she would never bribe a client because she's able to find clients who actually want to work with her.
Related: Selling Sunset: 'Hi, Peasants' & Other Memorable Christine Quinn Quotes
However, after seemingly settling all the recent drama surrounding her, Christine has faced another reproach. According to the Daily Mail, the TV personality, who launched her first book, How To Be A Boss Bitch, on Tuesday, May 17, was signing autographs for fans who purchased her book when protesters suddenly descended on her. Video obtained by a media outlet showed the real estate agent hiding behind a desk at the Bookends Bookstore in Ridgewood, New Jersey, as the anti-fur protesters invaded the signing. Christine, who had toned down her usual flashy outfits by wearing a pair of jeans and a white tank top, feared for her life. TMZ reported that she and her team believed one of the protesters might have been armed with a weapon.
This isn't the first time the author has had an encounter with animal rights activists. On Saturday, May 14, Christine was holding a meet and greet at The Strand Bookstore in New York City when a group of protesters launched at her. Christine is well known for her flashy high-priced outfits, which sometimes contain furry designs that have now made her a constant target of protesters. However, Christine will be returning for Selling Sunset season 6 amid all this chaos.
Having to deal with one criticism after another will undoubtedly result in many headaches for the Selling Sunset star. From Christine's childbirth controversies to now being the main target of animal activists, she has had a hectic 2022. While it isn't clear what the mom-of-one intends to do about her current situation, these angry protesters look ready to rip any fur they find on Christine. Hopefully, the proper authorities will handle the situation to avoid future occurrences.
Next: Selling Sunset: Why Christine's Accused Of Lying About Covid-19 Diagnosis
Sources: Daily Mail, TMZ
90 Day Fiancé: Nicole Nafziger's Weight Loss Journey In Pictures
About The Author
Share this news on your Fb,Twitter and Whatsapp