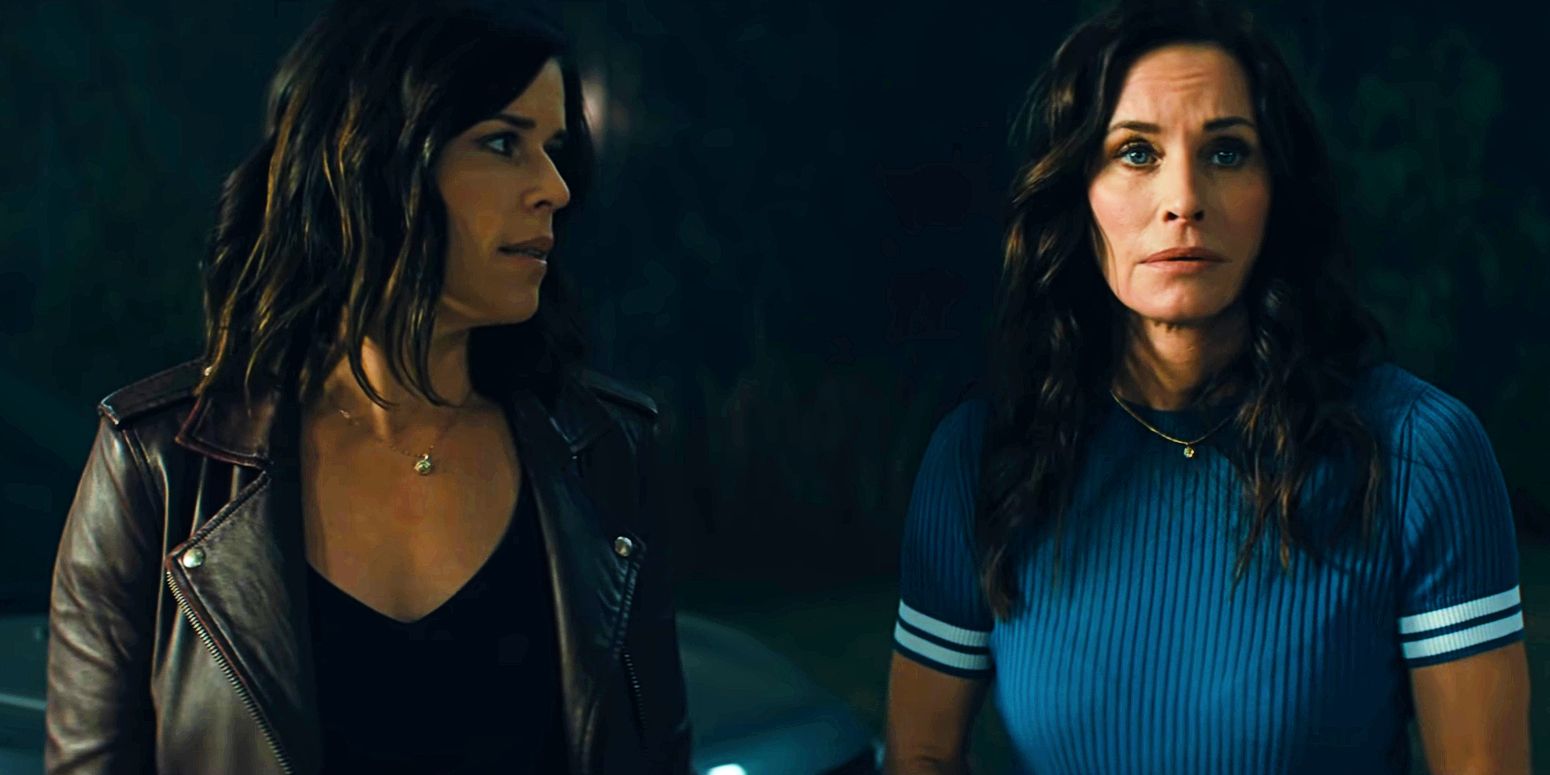 Neve Campbell says that making Scream (2022) is just as fun as the first one and compares reuniting with the cast to returning to summer camp.
Scream star Neve Campbell says reuniting with the original cast is like going back to summer camp. Campbell starred in the original Scream as high schooler Sidney Prescott in 1996. Directed by Wes Craven, who already at that time was the Master of Horror responsible for A Nightmare on Elm Street, the iconic slasher found success in part due to its self-aware references to genre cliches and its cast of young stars. In addition to Campbell, Scream starred Courteney Cox as reporter Gale Weathers, David Arquette as deputy sheriff Dewey Riley, and Roger L. Jackson as the voice of the serial killer Ghostface.
Scream's success led to a franchise that includes 4 sequel films and a spinoff TV series. Campbell, Cox, Arquette, and Jackson reprised their roles for Scream 2, 3, and 4, and they will return to Woodsboro again for this year's fifth Scream movie. Although Matt Bettinelli-Olpin and Tyler Gillett are filling the late Craven's role as director of the newest installment in the franchise, original screenwriter Kevin Williamson serves as its executive producer. Scream (2021) will center on Sidney, Gale, and Dewey helping a new group of teenagers in Woodsboro face Ghostface's return.
Related: How 2022's Scream Is Already Avoiding Blair Witch Reboot's Mistakes
Now, Arquette and Campbell talk about the upcoming Scream in an appearance on Good Morning America. Right away, co-host Michael Strahan asks the pair how it feels to reunite with the original cast after 10 years. Campbell shares that the actors love being together again, comparing it to going back to summer camp. Both stars agree that they can just pick up where they left off making Scream 4. Read Campbell's full response below:
We had a lot of fun on the first one. It was like being at summer camp, and it feels like when we get back together, it always feels the same, like we're getting back to summer camp. It's a blast.
Fans of the Scream franchise and Arquette and Campbell are excited to see them together again on screen. Campbell, Arquette, Cox, and Jackson are the only cast members to appear in every Scream film, so their presence in the newest one may reassure fans of the movie's place in the franchise which can no longer be headed by Craven. Certainly, it's heartwarming to hear that the stars had just as much fun making this film as they did the first.
While Scream (1996) and Scream 2 were unmistakable successes, earning praises from audiences and critics alike, that positive response was mostly absent for the third installment of the franchise. Likewise, Scream 4 couldn't seem to garner the success that its first two predecessors earned, although opinions clashed on whether it beat out Scream 3. The varied success of the franchise as a whole increases the pressure of fans' mounting expectations for the upcoming Scream, especially among those who want the series to return to its original model. It remains to be seen whether Scream (2022) will become the hit the original was, but no one can doubt the excitement surrounding the newest film in the popular slasher series.
Next: Scream 2022 Is Already Less Fun Than The Originals
Source: Good Morning America
Scream 5 (2022)Release date: Jan 14, 2022
Justice League Was An Awful Experience For Ben Affleck
About The Author
Share this news on your Fb,Twitter and Whatsapp