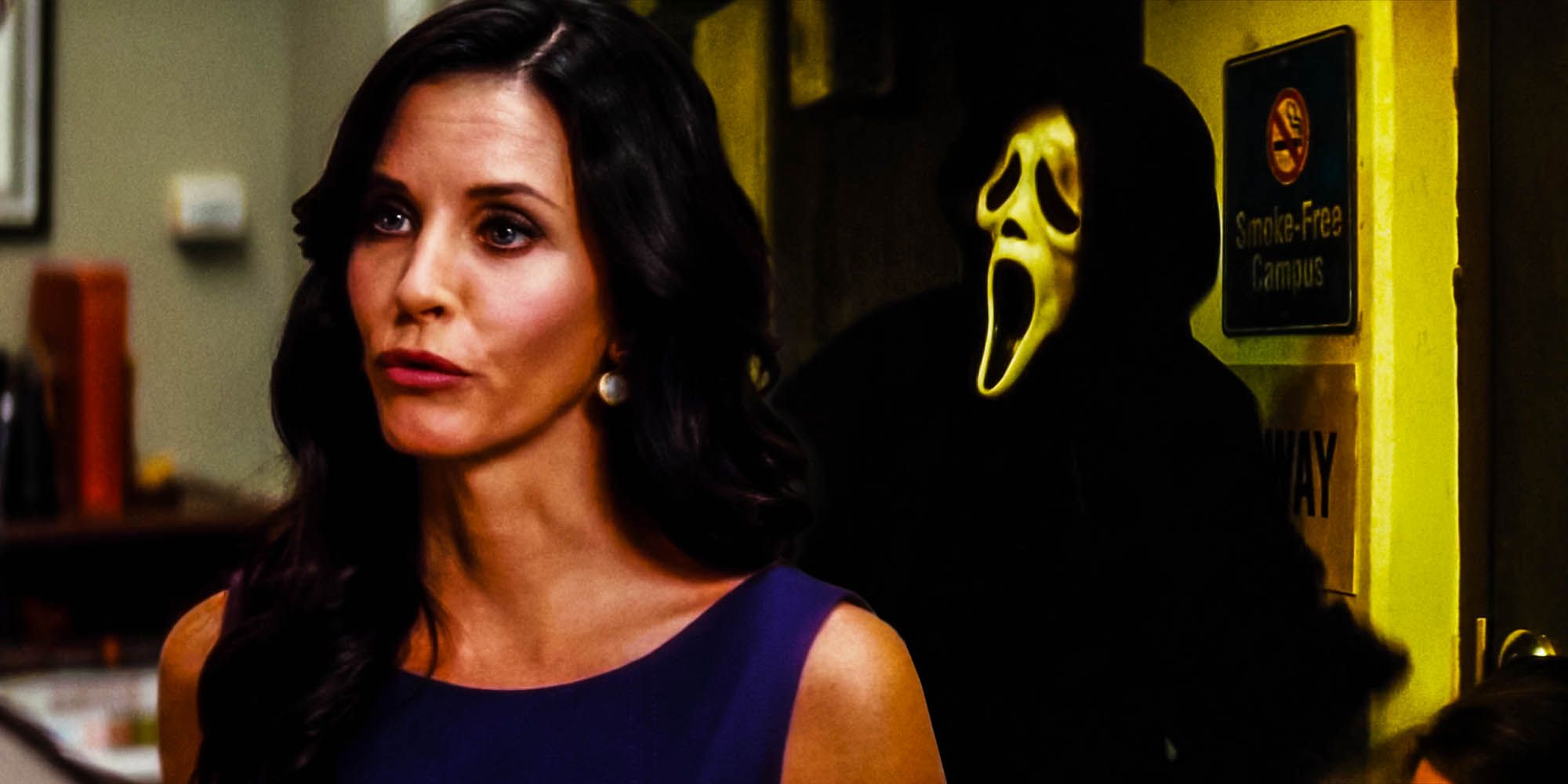 Scream 6 adds its first legacy character as Courteney Cox teases her role as Gale Weathers in the upcoming sequel, sharing her praise for the script.
Courteney Cox shares her praise for the Scream 6 script and teases the reprisal of her role as Gale Weathers in a recent interview. Earlier this year audiences returned to the eerie town of Woodsboro, 25 years on from the release of Wes Craven's original Scream. Alongside a new lineup of fresh blood that included the likes of In The Heights' Melissa Barrera and The Boys' Jack Quaid, many were delighted to see the original 1996 movie's trio back to take down Ghostface once again. Neve Campbell and David Arquette returned to reprise their roles as Sidney Prescott and Dewey Riley, respectively, with Cox also returning to play the now-successful news anchor, Weathers.
Scream 2022 was met with enormous success in theaters, spawning immediate discussion of the possibility of a sixth installment featuring the surviving characters. It wasn't long before the much-anticipated Scream 6 received an official release date, and rumors began to swirl as to who would return. Campbell previously discussed how a key focus on the set of Scream 2022 had been honoring Craven's legacy, with the star revealing she had been approached about Scream 6, but that she had yet to make a decision on her return. Cox, when asked a similar question, revealed that she was open to returning, praising the latest film's directors Matt Bettinelli-Olpin & Tyler Gillett for the direction in which they'd taken the franchise.
Related: Scream 6's Returning Survivors Can Finally Fix A Franchise Problem
In conversation with ET, Cox has teased her return for the upcoming Scream 6, offering her praise towards the script. Given that the film is still in its early stages, Cox stated that she isn't entirely sure "where things are" at this stage, before asserting that the script is "a really good one." The star was somewhat hesitant to discuss too many details, joking that she would be killed for revealing too much. Check out Cox's full quote below.
I don't know about contracts and where things are, but I'll tell you in the script — it's a really good one, you actually have to be killed if you talk about it, so I'm not gonna say anything.
Filming on Scream 6 is expected to begin soon and the past week has brought a number of exciting announcements as to who fans can expect to see return to Woodsboro next year. Having survived the gruesome events of Scream, Barrera will reprise her role as Sam Carpenter alongside her on-screen sister Tara, played by Jenna Ortega. Scene stealing twins Mindy and Chad Meeks-Martin will also return, played by Jasmin Savoy Brown and Mason Gooding respectively. However, perhaps the most exciting announcement thus far has been the confirmed return of Hayden Panettiere's Kirby Reed, a character whose reappearance has been rallied for since 2011's Scream 4.
Scream fans will be delighted to hear that Cox is seemingly returning to reprise her legacy role once again, as well as having received confirmation that the script has got her stamp of approval. Following the tragic events of 2022's Scream, which saw Arquette's legacy character meet a heroic end, it's fair to say that no one is safe and there is no telling just who will be next. Now, the question remains whether or not Neve Campbell's Sidney will also be returning to the franchise when Scream 6 hits theatres in March 2023.
Next: Scream Was Right To Ignore Courteney Cox's Major Dewey Wish
Source: ET
90 Day Fiancé: Fans Worry For Michael After Angela's Latest Doctor Pics
Share this news on your Fb,Twitter and Whatsapp