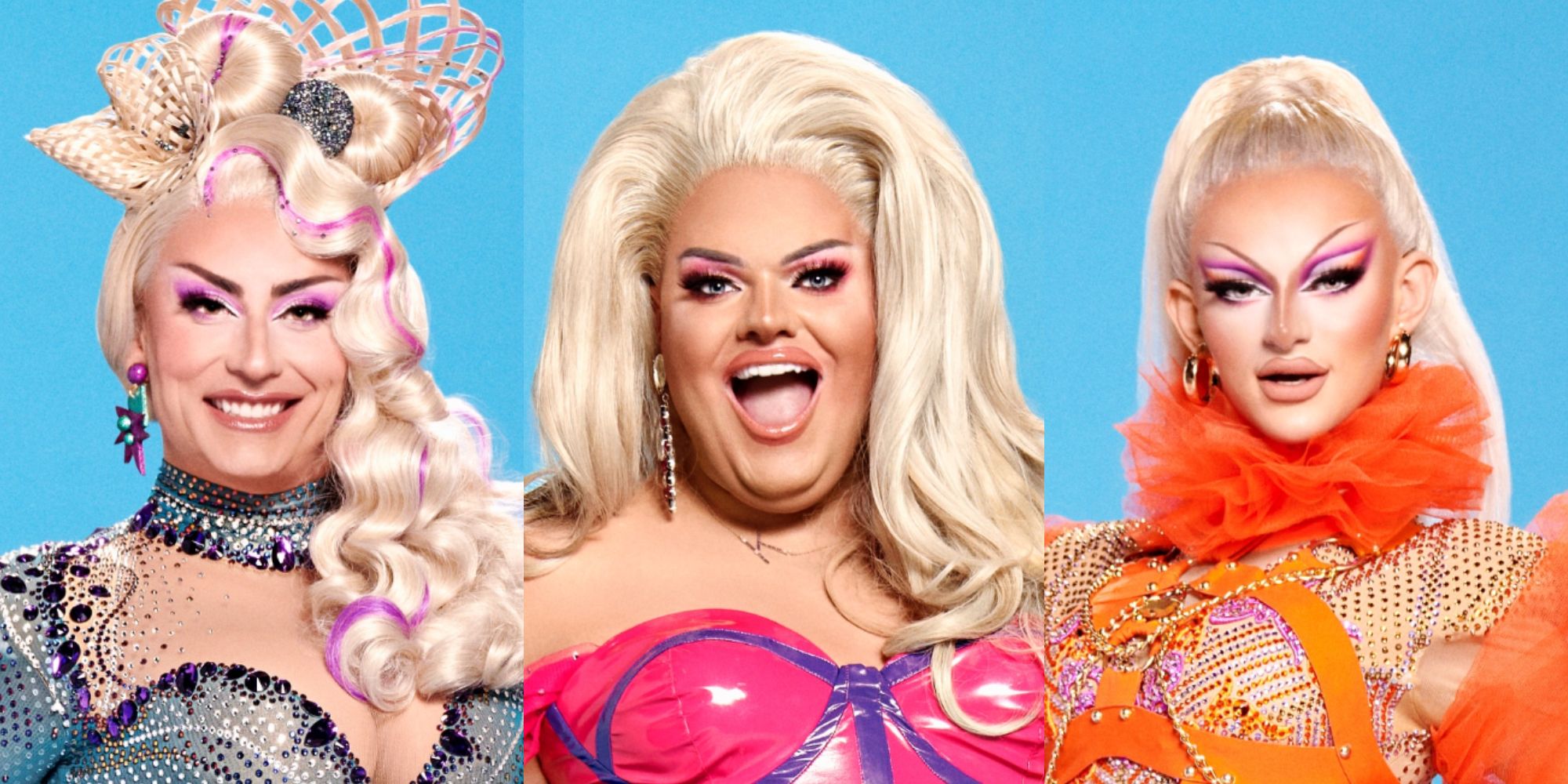 On the RuPaul's Drag Race UK season 3 finale, Ella Vaday, Kitty Scott-Claus, and Krystal Versace fought to snatch the crown. Read our Drag Race recap.
Warning! SPOILERS for RuPaul's Drag Race UK season 3 episode 10 below!
Ella Vaday, Kitty Scott-Claus, and Krystal Versace fought fiercely during the RuPaul's Drag Race UK season 3 finale to snatch this trophy, and one of them has now been crowned the UK's Next Drag Race Superstar. Last week, Vanity Milan went home on Drag Race UK and a top three was established between Ella, Kitty, and Krystal. Going into the grand finale, Ella had four maxi challenge wins, whereas Kitty and Krystal had each won two challenges.
But as established in several past seasons of RuPaul's Drag Race, winning the most maxi challenges throughout the competition doesn't mean that a theoretical frontrunner will snatch the crown in the end. More often than not, getting to the finale is one thing, and doing well in the final challenge is what really crowns a particular winner. This season, the top three finalists were challenged to write their own verses to RuPaul's "Hey Sis, It's Christmas" and perform them on the main stage of Drag Race UK.
Related: RuPaul's Drag Race UK Season 3 TV Schedule, Streaming Options & Recap
After being one of the winners of the girl group challenge, Ella Vaday felt pretty confident going into this final rumix challenge. As a diehard fan of girl groups, Kitty Scott-Claus also felt like she had this one in the bag. Krystal Versace, on the other hand, didn't feel as confident about this challenge but still tackled it with as much conviction as possible. In the performance, Ella's verse was very holiday-themed with a naughty twist. She also slayed this rumix choreography and looked great. Kitty's verse was lots of fun, but she unfortunately didn't stand out in the challenge. It seemed like Kitty was a bit nervous and got a little behind in the choreography. Surprisingly, Krystal's verse was on-brand and memorable. She also did a great job in the actual performance.
The finalists then took it to the runway. Unfortunately, Ella's final look during this finale wasn't the best. She looked much better than this all season long, so it was a shame that this was the final impression that she made on the judges. Meanwhile, Kitty looked like an absolute goddess. This was probably the very best gown Kitty wore throughout the entire competition. Then along came Krystal in a look that was extremely on-brand for her. This was very representative of Krystal's "best drag," which is always the runway category of a Drag Race finale. RuPaul then announced that the lip sync for the crown song would be "You Don't Own Me" by Dusty Springfield, which is really iconic.
Ella's lip sync performance was strangely demure and muted. It's possible that she couldn't move around too much in that look, but even her facial expressions during the performance seemed kind of low-energy. Kitty tried a few times to inject some comedy into this lip sync, but this song might be a little too earnest for a comedic performance. Nonetheless, Kitty did very well in this final lip sync and held her own. Ultimately, though, it was pretty clear that Krystal won this lip sync for the crown. She served a fierce face, worked the entire stage, and looked impeccable doing it. As expected, Ru crowned Krystal in the end and made her the UK's Next Drag Race Superstar.
More: Canada's Drag Race Season 2 Episode 6 Recap: The Couture Of Icesis
RuPaul's Drag Race UK season 3 airs Thursdays at 2 p.m. ET on the WOW Presents Plus streaming service.
Rangers Of The New Republic Story Ideas Could Be Used In The Mandalorian
About The Author
Share this news on your Fb,Twitter and Whatsapp