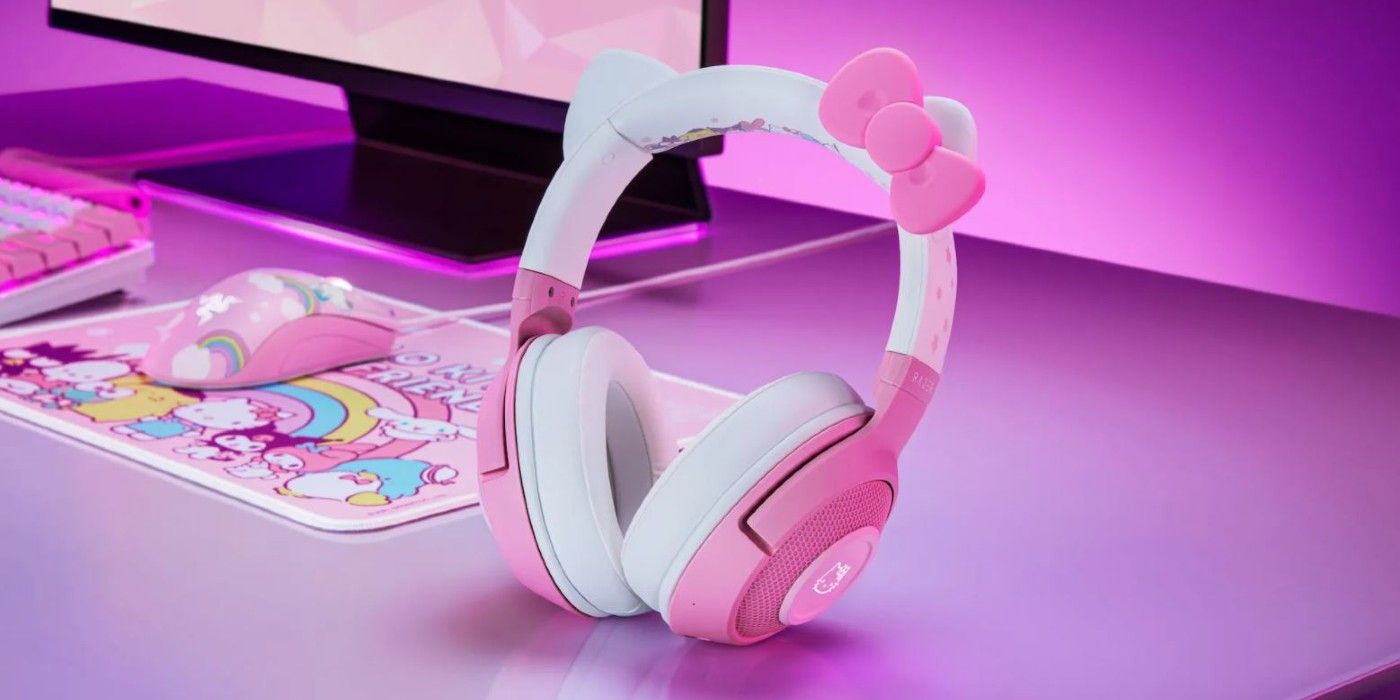 Tech company Razer launched their newest PC gaming accessories today that feature popular Sanrio characters known as Hello Kitty and Friends.
Razer launched their newest collaboration today that features popular Sanrio characters known as Hello Kitty and Friends. The tech company is well-known for its hardware as well as the gaming accessories they have released over the years. These collaborations, like the Genshin Impact official Razer gaming chair, have brought gamers comfortable and stylish new accessories, themed to some of their favorite games.
Hello Kitty is one of the most recognizable characters from the Sanrio company. Her image can be found on any imaginable piece of merchandise and even had an airline theme an entire flight around her. Unsurprisingly, Hello Kitty is no stranger to video games. The popular Japanese character and her friends have appeared multiple times over the years in various games across platforms. The characters have had different styles of games and even had a Mario Kart-style racing game known as Hello Kitty Kruisers. Most recently, Animal Crossing: New Horizons featured Hello Kitty and Sanrio amiibo cards players could scan in order to get Sanrio-themed furniture and clothing.
Related: Razer Debuts "Finger Sleeves" To Protect Gamers' Digits
Polygon recently shared the news of the new Razer and Hello Kitty collaboration. Some new accessories include a new headset, a new mouse, and even a new gaming chair. The headset is white with pink ear covers. There is a print of Hello Kitty and Friends on the inside top part of the headset, as well as cat ears complete with Hello Kitty's signature bow. The price of the headset is $119.99 USD. The mouse is Razer's most popular model known as the DeathAdder and has a picture of Hello Kitty sitting on a rainbow. There is a bundle available with a Hello Kitty and Friends mouse pad. The last major item featured is Razer's new Hello Kitty gaming chair. For $499 USD, players get an adorable pink chair with Hello Kitty on the front and the image of Hello Kitty and Friends on the back. The seats are Razer's Iskur X model and are made with multi-layered synthetic leather and high-density foam cushions said to be ergonomically sound for hours of gaming. All of these items can be viewed via Razer's website.
While most of the items are currently out of stock, some will soon be available for pre-order. The gaming chair is set for pre-orders to begin in mid-February, but the mouse/mouse pad combo does not have any specific date listed. Players who are interested can be notified of when the pre-orders and restock of the items go live. The one item that is currently available for purchase is the Hello Kitty memory foam seat cushion. It is $59.99 and is ergonomically shaped to fit the Razer gaming chairs and fully sculpted to support the lumbar area.
Hopefully, Hello Kitty fans will be able to upgrade their gaming accessories and collections with these new products soon. With all of these collaborations that have been popping up with popular characters, it will be interesting to see which property Razer gives the PC gaming accessory treatment to next.
Next: Halo Infinite Razer Lineup Channels Master Chief's Mjolnir Armor
Marvel's Greatest Avenger Ever Just Got A Massive Power Upgrade
About The Author
Share this news on your Fb,Twitter and Whatsapp