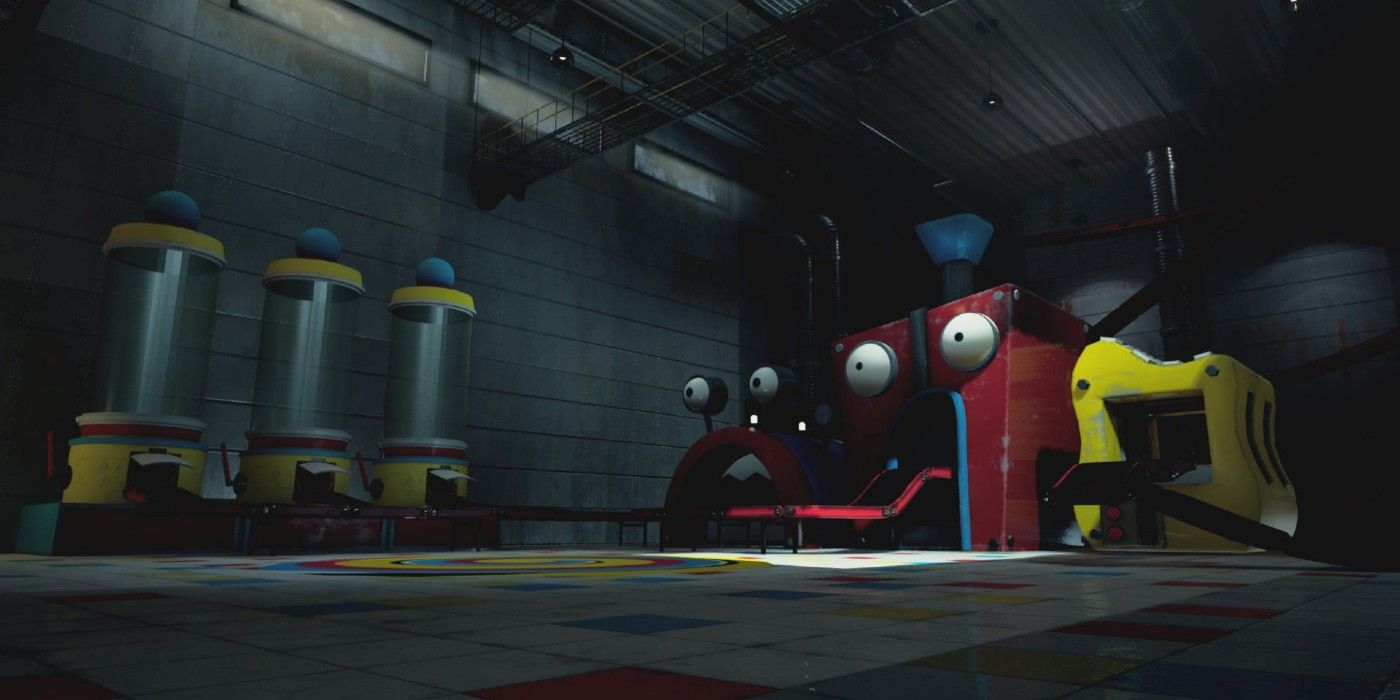 Poppy Playtime has some hidden secrets regarding Poppy's kidnapping and the monster that appears after Mommy Long Legs is defeated, a hacker found.
Hacking Poppy Playtime: Chapter 2 reveals some hidden secrets players may initially have missed. Poppy Playtime very recently released its second chapter on May 5th. While it had a glitchy debut, it has still gotten positive reviews and may potentially take its spot among other indie horror favorites like Bendy and the Ink Machine or Five Nights at Freddy's.
Poppy Playtime developers MOB Games have dealt with a number of controversies since the game's release. The game's involvement with NFTs led to criticism towards MOB Games itself. Still, despite the controversy surrounding the game, Poppy Playtime has been seen all across YouTube and Twitter. JackSepticEye himself made a surprise guest appearance as "Marcus" in the second chapter. To top it all off the developers recently announced that Poppy Playtime will be getting a movie adaption. Despite recent controversies, Poppy Playtime's fame is undeniable.
Related: Poppy Playtime Chapter 2 Ending Explained
YouTuber and horror game enthusiast FusionZGamerr hacked into Poppy Playtime: Chapter 2 to discover secrets that normally the player can't see. The first secret occurs when Mommy Long Legs has kidnapped the doll Poppy and holds her above the player while occasionally mimicking her voice. Some players, like Fusion, were initially confused as to why Poppy herself never spoke during this scene. It turns out the reason is that Mommy has sealed her mouth shut with spider webs. While this isn't impossible for players to see in a non-hacked game, it is difficult given the lighting and distance Poppy is held away from the player. Fusion also gets a view of Mommy Long Legs when she first starts chasing the player, showing off the extremely creepy way the long-limbed spider-like creature runs.
Towards the end of the chapter, after the player has defeated Mommy Long Legs, a large hand that looks like it's made of pins and needles crawls out from underneath a door to claim what is left of Mommy. Fusion brightened the lighting and looked behind the door for a better look. While this view reveals that only the arm of the character's model is in-game, leaving the monster's identity a secret, for now, it also shows that the arm appears to be robotic. It hints that this next monster functions more like an animatronic, but leaves players wondering what it plans to do with the remains of Mommy Long Legs.
While the unknown monster is likely to stay unknown until at least the next Poppy Playtime chapter, the small bit revealed could lead to some dark theories. The previous monsters, Huggy Wuggy and Mommy Long Legs are designed to resemble iconic 90s toys. However, horrifyingly enough, both monsters bleed once they've been gravely injured. This among other hints and bits of lore found throughout the two chapters has led some players to think that the toy monsters are somehow a dark fusion of plastic and people. With this creature's arm seemingly made of metal, wire, and a section of white that could be bone, it would fit right in with this dark pattern players have witnessed before with Huggy and Mommy.
As hacking videos become more and more common on YouTube, game developers that want to keep the more important surprises secret until the appropriate time may have to be careful of what they hide behind the game's walls. Fortunately. the developers of Poppy Playtime: Chapter 2 left in just enough to keep their secrets hidden but leave players curious for more. Chapter 3 is currently in development and is expected to be released in early 2023.
Next: Poppy Playtime Ch. 2 Theory – Stella Is Actually Kissy Missy
Source: FusionZGamerr/Youtube
Poppy Playtime Chapter 2 Ending Is "Traumatizing" Players
About The Author
Share this news on your Fb,Twitter and Whatsapp