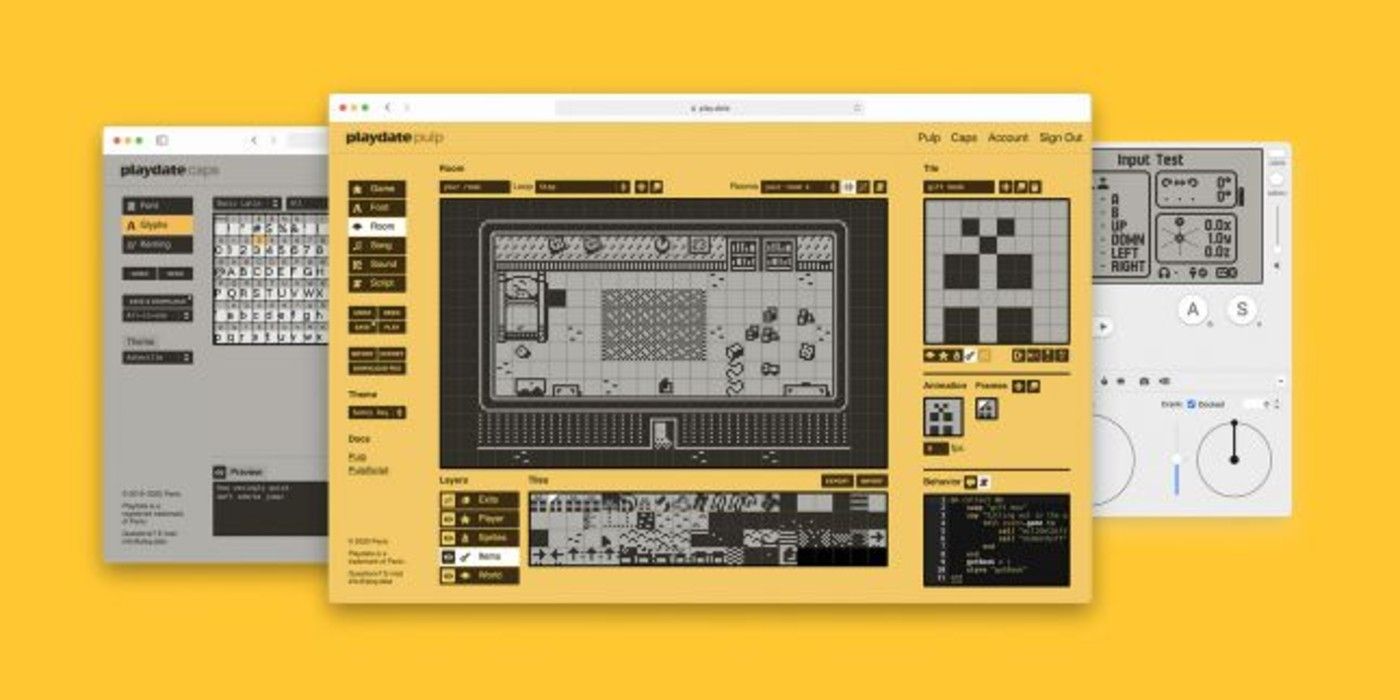 Panic is releasing a no-code tool for developers to help promote the Playdate and get creatives developing for the new handheld console.
Panic Inc., known for developing Firewatch and Untitled Goose Game, has been hard at work on releasing its very own console – the Playdate. This handheld console is unlike any other console on the market, sporting a 400×240 1-bit screen and crank. This means that games have to be specifically made for the Playdate, with the developers working on a free no-code tool to help make game development for the Playdate even easier.
The Playdate was first unveiled on the cover of Edge magazine in 2019. Since then the development has been completed, with pre-orders opening next month for the first shipments. The handheld console is a sort of successor to the Game Boy, with a similar design that has been improved upon with a wi-fi connection and a new mechanical crank as an analog stick. The games that can be played on this new system are added to the console in seasonal distribution, with two games being uploaded for free every week for 12 weeks. This is made possible thanks to the system's sideloading capabilities.
Continue scrolling to keep reading
Click the button below to start this article in quick view.
Related: E3 2021 Full Schedule Broken Down In Simple, Handy Infographic
The games featured on the Playdate are created on an SDK, with C and Lua programming languages. This means that every game on the Playdate is unique and exclusive to the handheld, with developers working with Panic to make titles just for the system. That being said, without a method for players to purchase games, it might be hard for Panic to attract developer studios to the system, so the company has made it easier for just about anyone to develop a Playdate game. According to a recent article by Gamasutra, Panic is currently developing a browser tool for users to develop titles for the Playdate with no coding required. The tool is called Pulp and should launch sometime in 2021. 
Panic is going to need creatives to get interested in the tool, as the system will require new and exciting titles each season to keep a sizable player base engaged with the Playdate. The hand crank does create some interesting development possibilities, with the games already teased for Season 1 in the recent developer update making some creative and ingenious uses for the unusual controls. 
The Playdate will be available for pre-order sometime in July for just $179, which is a lot cheaper than most of the current generation of consoles. There is no release date or shipping period announced for the Playdate, as Panic is anticipating part shortages to affect the shipping and development of the console. Those who are still keen can place a pre-order and should receive their console as soon as possible. 
Next: Nintendo Switch System Update Fixes eShop Glitch & More
Source: Panic/YouTube, Gamasutra
90 Day Fiancé: Yara Accused of Wearing a Wig to Hide Post-Baby Hair Loss
About The Author
Share this news on your Fb,Twitter and Whatsapp