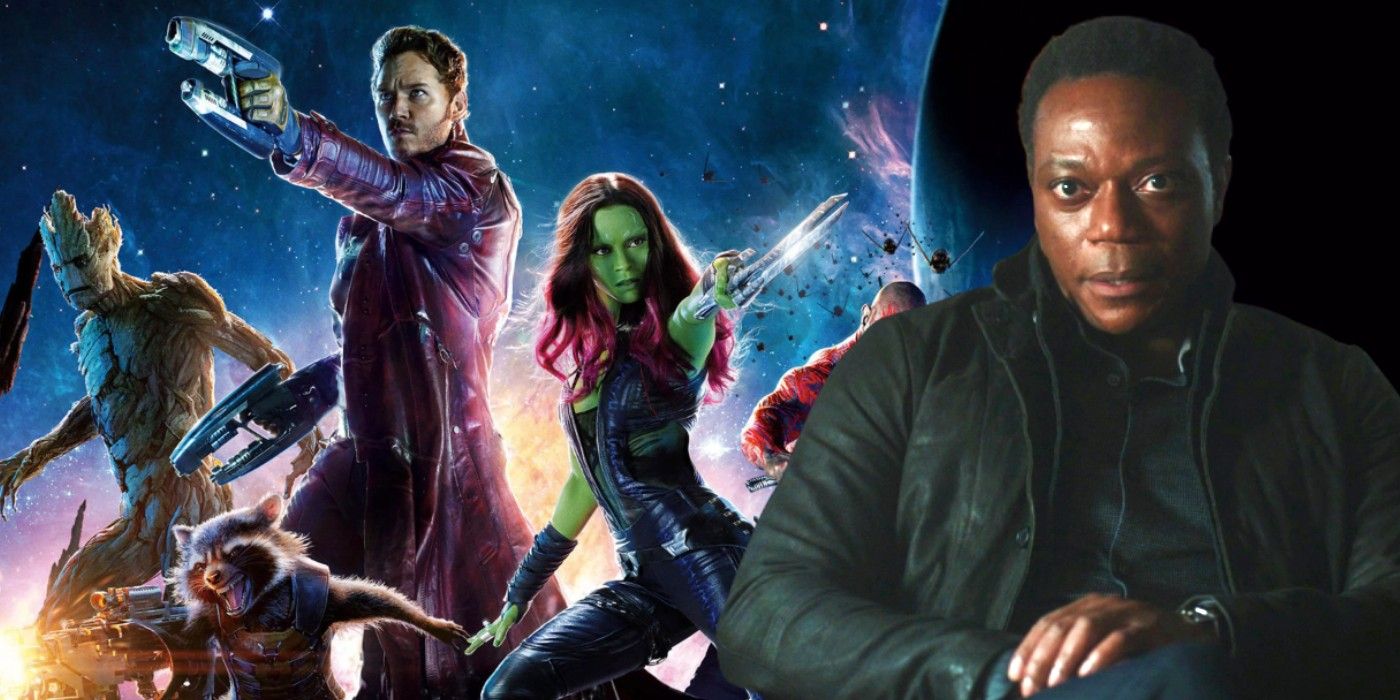 Peacemaker's Chukwudi Iwuji jokes that he thought Gunn was about to replace him when he instead offered him a role in Guardians of the Galaxy Vol 3.
Peacemaker's Chukwudi Iwuji has revealed how he was approached by James Gunn to join the cast of Guardians of Galaxy Vol. 3. Currently slated for a May 2023 release, filming on the third Guardians film finally got underway in November of last year after Gunn had wrapped production on his DC spinoff series. In addition to joining the core Guardians cast, which includes Chris Pratt, Zoe Saldaña, Dave Bautista, Vin Diesel, Bradley Cooper, Karen Gillan and Pom Klementieff, Iwuji is also set to appear beside fellow franchise newcomer, Will Poulter, who has been cast as Adam Warlock.
Iwuji, who is currently appearing as Clemson Murn in HBO Max's hilarious Peacemaker series, has also previously appeared in Designated Survivor and John Wick: Chapter 2. When news of Iwuji's casting in the upcoming Guardians of Galaxy threequel finally hit the web, Gunn was quick to step in to suggest that he was "one of the best actors I've ever worked with." Despite his praise for the actor, however, Gunn has remained tight-lipped about which Marvel character Iwuji is set to play, though he has suggested that it is a role "most every big name actor in Hollywood wanted."
Related: Peacemaker: What The Real Butterfly Secret Plan Is
While Iwuji has also been keeping a lid on who he will be playing, he most recently sat down with Rotten Tomatoes (via Comicbook) to talk about his MCU casting on the Peacemaker set. Joking that he was expecting to be replaced by Chiwetel Ejiofor, Gunn instead surprised him with an offer to tackle his as-yet unknown role. Check out his full comments below:
When we were filming that opening dance sequence, we did a take and James came up to me and said, "Do you want to come see the take and can I have a word with you in a second?". And I joked. I said, "Is this where you tell me you were actually looking to hire Chiwetel Ejiofor, not Chukwudi Iwuji, this way? You say goodbye?". And he says, "No, no, that's not it at all. In fact, I don't know what your schedule is, but I'd like you to play … in Guardians of the Galaxy three."
That opening dance sequence to which Iwuji refers, has quickly become a viral sensation since Peacemaker made its debut last week. With the cast's intentionally awkward dance moves and accompanying hair-metal soundtrack by Wig Wam already making it a fan-favorite moment, news of this latest titbit just makes the sequence all that much better. With Gunn continuing to bridge the gap between the Marvel and DC franchises, the story of him offering Iwuji his MCU role while filming such an iconic part of the DC series is sure to be a topic of hot discussion for both Marvel and DC fans alike.
Of course, this isn't the only story of Gunn's work on the Marvel Cinematic Universe bleeding into his contributions to DC. Not only did Gunn's own brother Sean, who plays the Ravager Kraglin and also provides the mo-cap performance for Rocket on the Guardians films, play Weasel in The Suicide Squad, but he also snuck Mantis' Klementieff in for a special cameo appearance as well. Now, Peacemaker fans will undoubtedly be keen to see this work the other way around, when Iwuji makes his MCU debut in next year's Guardians of Galaxy Vol. 3.
Next: Why Guardians Of The Galaxy's Thanos Role Backfired Badly
Source: Rotten Tomatoes (via Comicbook)
Doctor Strange in the Multiverse of Madness (2022)Release date: May 06, 2022
Thor: Love and Thunder (2022)Release date: Jul 08, 2022
Black Panther: Wakanda Forever/Black Panther 2 (2022)Release date: Nov 11, 2022
The Marvels/Captain Marvel 2 (2023)Release date: Feb 17, 2023
Guardians of the Galaxy Vol. 3 (2023)Release date: May 05, 2023
Ant-Man and the Wasp: Quantumania (2023)Release date: Jul 28, 2023
Star Wars is Copying One of Star Trek's Wildest Concepts
About The Author
Share this news on your Fb,Twitter and Whatsapp