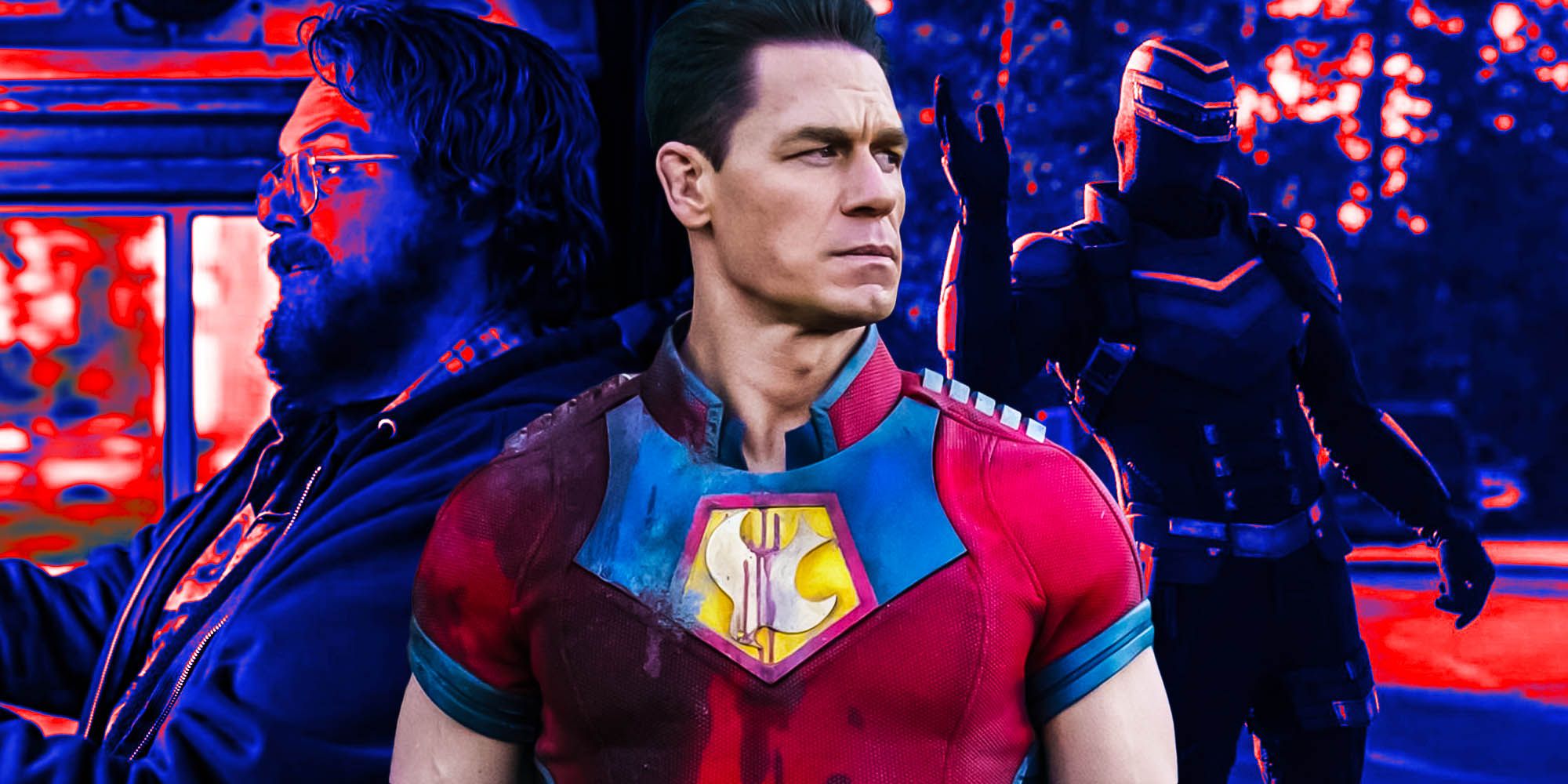 Warning: Contains SPOILERS for Peacemaker
The DCEU TV Show, Peacemaker  brings back several returning characters from The Suicide Squad, introduces classic DC characters brought to life for the first time, and invents a cadre of brand new figures from James Gunn as well. After spearheading Marvel's Guardians of the Galaxy and resurrecting The Suicide Squad movie franchise, James Gunn has developed a reputation for bringing strange and obscure characters to the screen. As well as continuing the stories of those he wrote into the mainstream consciousness in The Suicide Squad, Peacemaker allows Gunn to bring in a few more lesser-known DC characters as well.
While Peacemaker was shot by the DCEU assassin Bloodsport and left for dead in The Suicide Squad after he betrayed the team and killed Rick Flag, a post-credits scene showed that he had survived. The Peacemaker TV series picks up 5 months after the movie with Peacemaker recovered and finally leaving the hospital at the beginning of the series. He is then recruited by members Argus and put to work on the mysterious Project Butterfly.
Related: Is The Suicide Squad In James Gunn's Peacemaker?
Some familiar faces return in the Peacemaker TV show, with one notable character in a reduced role from their The Suicide Squad appearance. The key cast is made up of old Task Force X control team members appearing alongside John Cena's Peacemaker together with some new "friends." Here's every new and returning cast member for the Peacemaker TV series.
Click here to watch Peacemaker: Every New DC Character We Could See on YouTube.
John Cena as Peacemaker
John Cena's Peacemaker will obviously be returning to head the cast of the Peacemaker TV show. real name Christopher Smith. In The Suicide Squad he is depicted as a self-righteous, patriotic, zealot who believes in creating peace no matter how many people he has to kill to achieve it. During the events of The Suicide Squad, Peacemaker betrayed his team when they wanted to save the date from Jotunheim that implicated the United States Government in Starro's presence on Earth, revealing that he had a secret mission assigned by Waller. In blindly following his orders, he was willing to put his belief in the United States and his mission above the moral concerns of the rest of his Task Force X team and try to kill them for it. However, Peacemaker sees the character begin to question everything he's been told as he strives to be a better person and is haunted by Rick Flag's dying words.
Steve Agee as John Economos
Steve Agee returns to his The Suicide Squad role as John Economos in Peacemaker, a character that originated in DC's comics who provides Peacemaker with technical and technological support. John is a member of Amanda Waller's Task Force X mission control and is morally gray. He is willing to participate in the Task Force X program and bets on the deaths of the team members with other members of mission control. However, he is made uncomfortable when Waller threatens Bloodsport's daughter, suggesting that it crossed a line for him, but he did not feel empowered to do anything until the entire team betrayed Waller. John is certain that working with Peacemaker is a punishment for their previous betrayal.
Jennifer Holland as Emilia Harcourt
Emilia Harcourt returns for the Peacemaker TV series. Portrayed by Jennifer Holland, she serves as Peacemaker's handler in the field and is a skilled fighter. Harcourt is an NSA agent who works with Waller and Task Force X. Like John Economos, she is disturbed by Waller's callous disregard for civilian life and while she takes part in the betting pool, she ultimately leads the revolution against Waller in The Suicide Squad. In the comics, Harcourt is actually a spy for the terrorist organization The People and briefly takes command of Task Force X before she is killed by Amanda Waller.
Related: The Suicide Squad: King Shark Didn't Have A Bomb – Theory Explained
Chukwudi Iwuji as Clemson Murn
Clemson Murn, played by Chukwudi Iwuji, is another new character created for the Peacemaker TV series. Murn clearly has a dark history but is trying to atone for his past and learn to express his emotions more. Murn has been placed in charge of Project Butterfly and managing the team that is put in place to control Peacemaker. Chukwudi Iwuji played Dr. Eli Mays in Designated Survivor and Zander in The Split.
Viola Davis as Amanda Waller
Despite early reports that Viola Davis would not be returning as Amanda Waller for Peacemaker, she makes an appearance in Peacemaker episode 1, "A Whole New Whirled." While Project Butterfly appears to be self-contained and under the control of Clemson Murn, Waller still has her hands in the situation. Her mole on the team reports back information about the team members and whether they can be trusted, suggesting that Waller has a larger plan for Peacemaker and may have a bigger role later in the series. Viola Davis has an extensive acting past but is known for her portrayal in How To Get Away With Murder.
Danielle Brooks as Leota Adebayo
Leota Adebayo is a brand new character created by James Gunn for Peacemaker and portrayed by Danielle Brooks. While Economos and Harcourt have worked with Peacemaker before, Adebayo is a brand new recruit who just wants to use the job to get a paycheck for a while. However, her mother, Amanda Waller, has other plans for her. She seems unsure of herself and doesn't know what to make of Peacemaker at first but helps to humanize him by identifying his coping mechanisms and behaviors. Danielle Brooks previously played Tasha Jefferson on Orange Is The New Black and Pearle in Close Enough.
Freddie Stroma as Adrian Chase/Vigilante
Freddie Stroma is bringing the original Adrian Chase Vigilante to live-action for Peacemaker. The character as he appears in Peacemaker was the second and most famous DC character to hold the mantle "Vigilante." His predecessor, Greg Saunders, has appeared in animated adaptations and Arrow introduced different versions of both Vigilante and Adrian Chase. In Peacemaker, Vigilante and Peacemaker seem to both be members of Task Force X and have formed a sort of friendship. In the comics, he was a district attorney until his family was killed by the mob and he began to violently seek revenge in his own way. Freddie Stroma is known for his role as Prince Friedrich in Bridgerton.
Related: When Peacemaker Is Set In The DCEU Timeline
Robert Patrick as Auggie Smith
Robert Patrick, of Terminator 2 fame, appears in Peacemaker as Auggie Smith, Peacemaker's father. In The Suicide Squad, Amanda Waller tells Bloodsport that Peacemaker was trained to kill by his father, who was a former soldier. Auggie is known around town for being vulgar, opinionated, and racist. He has a tense relationship with his son which goes a long way to explaining some of Peacemaker's character traits. Peacemaker episode 2 demonstrates that Waller's explanation of Peacemaker's training might have been a little reductive as Auggie is revealed to be White Dragon, and is likely to be one of the main antagonists for the series. Robert Patrick is famous for his role in Terminator 2 as the T-1000.
Annie Chang as Sophie Song
Annie Chang plays a local police detective, Sophie Song, an original character for the TV show. Quick-witted and no-nonsense, Song picks up the investigation of Peacemaker's first conflict with a Butterfly and continues to investigate from there. While Argus' operatives throw her onto the trail of Auggie Smith/White Dragon instead, her investigations continue to threaten the clandestine nature of Project Butterfly. Annie Chang previously appeared as Molly Chen in Shades of Blue.
Peacemaker's Supporting Cast
Nhut Le as Judomaster  – Judomaster is a DC character who originated in 1965. The mantle has been held by multiple different heroes over the years and it is unclear which iteration Nhut Le might be playing.
Christopher Heyerdahl as Captain Locke – Captain Locke was created for Peacemaker by James Gunn and is the police captain in charge of Detective Sophie Song and Larry Fitzgibbon.
Related: The Suicide Squad Already Confirmed The Next Perfect Spin-Off
Stephen Blackhart as Briscoe – Blackhart's Briscoe had a small role in The Suicide Squad as the helicopter pilot tasked with delivering Rick Flag's Task Force X team to their doom on Corto Maltese. He wasn't seen after leaving the island but will return for the Peacemaker TV series.
Lochlyn Munroe as Larry Fitzgibbon – Larry Fitzgibbon was invented specifically for Peacemaker. He is the partner of Detective Song and has ties to Peacemaker. The name Larry Fitzgibbon is a James Gunn easter egg as every Gunn project contains a character with the name, meaning that Larry could be a relative of the Doctor Fitzgibbon that works at Belle Reve in The Suicide Squad.
Alison Araya as Amber – Amber is briefly held hostage by Peacemaker in episode 2 as he tries to escape the police, but she becomes infatuated with him and begins a more intimate relationship.
Lenny Jacobson as Evan – Evan is Amber's husband, somewhat dismayed over her attraction to Peacemaker.
Elizabeth Ludlow as Keeya – Keeya is Leota Adebayo's wife and is unaware of the particularly dangerous nature of the assignment that her partner is on in Peacemaker.
More: Every DC TV Show Releasing In 2022
Episodes of Peacemaker air Thursdays on HBO MAx
The Batman (2022)Release date: Mar 04, 2022
DC League of Super-Pets (2022)Release date: May 20, 2022
Black Adam (2022)Release date: Jul 29, 2022
The Flash (2022)Release date: Nov 04, 2022
Aquaman and the Lost Kingdom (2022)Release date: Dec 16, 2022
Shazam! Fury of the Gods (2023)Release date: Jun 02, 2023
Star Wars Is Trying To Fix George Lucas' Oldest Dune Mistake (But Can It?)
About The Author
Share this news on your Fb,Twitter and Whatsapp