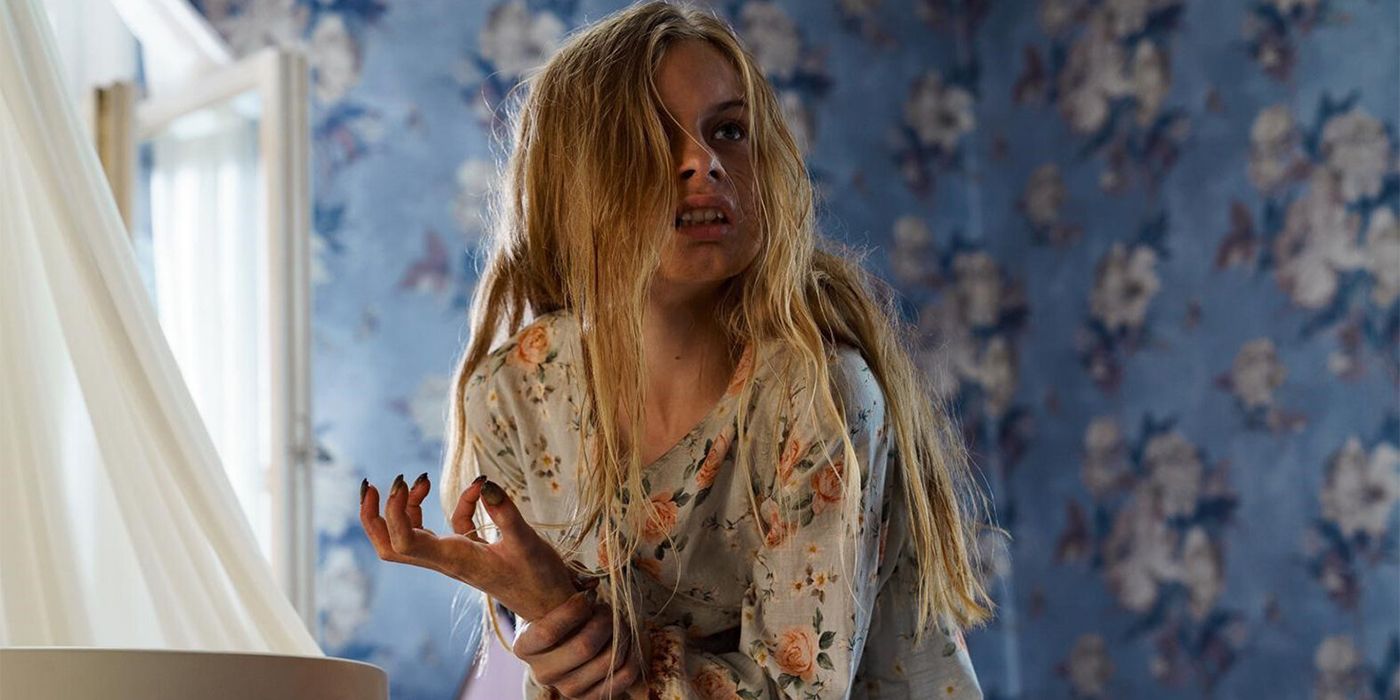 Screen Rant has an exclusive clip from IFC Films' latest horror film Hatching, about a young girl whose life is changed by a creature she brings home.
Screen Rant is proud to present an clip from the fascinating horror film Hatching, which will be available through VOD on May 17. It serves as a highly successful feature film debut for Finnish director Hanna Bergholm, who also wrote the story alongside screenwriter Ilja Rautsi. After receiving its world premiere at the Sundance Film Festival this year, Hatching went on to receive rave reviews during its theatrical run, boasting an impressive 91% on Rotten Tomatoes.
Hatching follows 12-year-old gymnast Tinja (Siiri Solalinna), who is desperate to please her image-obsessed mother (Sophia Heikkilä) with her athletic prowess and competitive edge. Though her mother manufactures a perfect suburban existence for her family, documented on her popular blog for the world to see, the reality of her marriage and parenting are very different. When Tinja finds a wounded bird in the woods, she brings its egg home and hatches it, unleashing a strange creature that becomes at once her best friend and her worst nightmare.
RELATED: Bergholm's Debut Feature Hatching Is An Exceptional, Unsettling Horror
In Screen Rant's exclusive clip, Tinja's younger brother Matias (Oiva Ollila) pushes her down in a fit of rage, having grown tired of what he perceives to be double standards in his mother's treatment of her children. Though no one will believe him that something strange is happening with his siter, he barges into her room with a mask as protection to investigate. Check out the clip from Hatching below:
Matias looks under the bed, which is precisely where Tinja's bird creature is hiding. But perhaps more terrifying than even the creature itself is Tinja's reaction, which is to writhe uncontrollably on the floor as if possessed while her new friend interacts – if one can call it that – with her brother. It is not the only sign in Hatching that there is more to her connection with the bird than meets the eye, but it is one of the most arresting.
This is also where the mother's refusal to acknowledge reality as it is comes into play, because it would be perfectly normal to have one's child checked out by s a professional after such an incident. But not only does Matias' mother refuse to listen to his warnings, she also seems to treat Tinja's outburst as if it never happened. Can she and her husband be made to face reality and see reason before it's too late their daughter, and perhaps their entire family?
Bergholm began casting Hatching in 2018, and the clip above makes it clear why. Though Tinja is very young, actress Siiri Solalinna must go through a physical and emotional transformation to play her, which is a testament not only to her performance but to Bergholm's directorial abilities.
Of course, that is far from the only impressive aspect of Hatching. The creature, dubbed "Alli" by Tinja, was an animatronic puppet created by designer Gustav Hoegen, who is known for his work in franchises as popular as Star Wars and Jurassic World: Fallen Kingdom. More than just being a lifeless puppet, though, different performers take turns embodying the creature as the film goes on, with Academy Award-nominated effects artist Conor O'Sullivan (Saving Private Ryan and Aliens) providing the necessary make up.
NEXT: 10 Classic Horror Movies That Still Hold Up
Hatching is currently out in select theaters and available on demand May 17 through IFC.
90 Day Fiancé: Ariela Reveals Real Story Of Airport Scene With Biniyam
About The Author
Share this news on your Fb,Twitter and Whatsapp