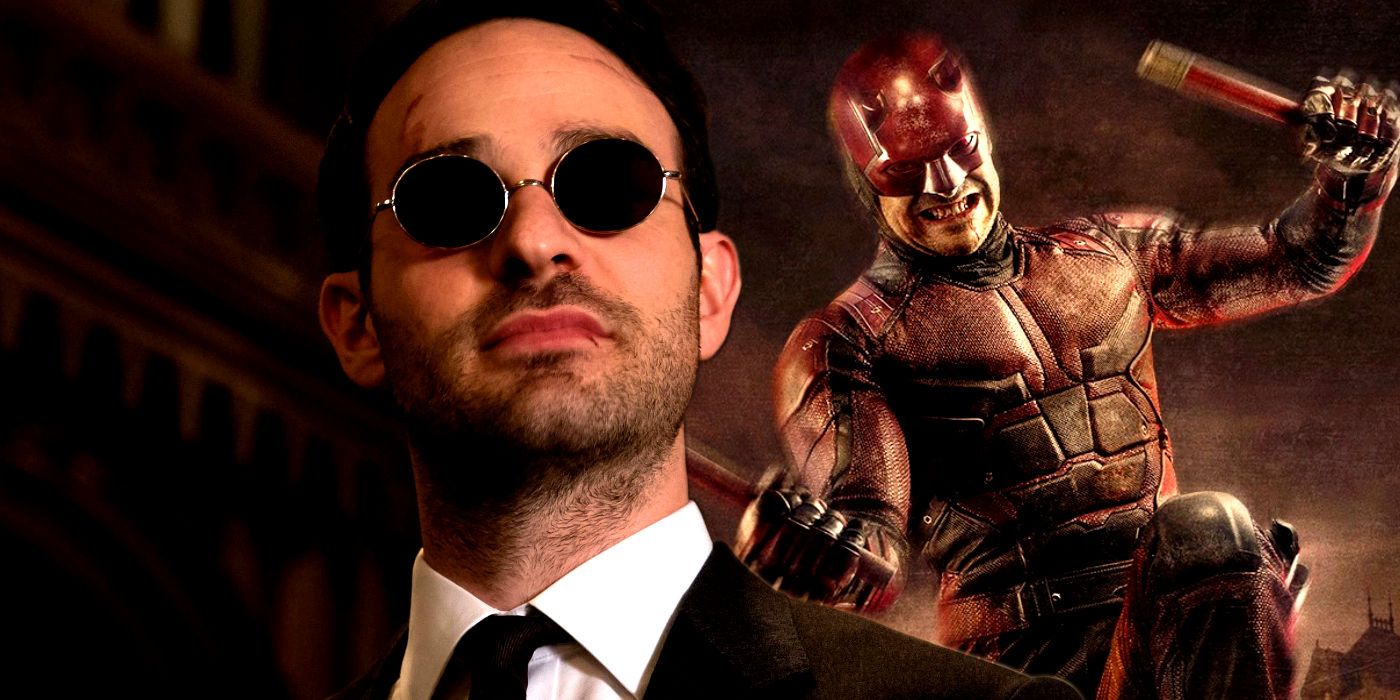 Netflix was a better platform for a comic accurate Daredevil than the MCU due to the dark, gritty violence and successful character building.
With the Marvel Cinematic Universe restricted by PG-13 guidelines, Netflix was a much better home for Daredevil. The streaming service acquired Daredevil in 2015, alongside some other lesser-known Marvel heroes. They instantly hooked audiences with their iteration of Matt Murdock (Charlie Cox) and his strong supporting cast of characters.
Daredevil's origin is something that has remained constant, from the comic books to the films to his appearance on Netflix. Matt Murdock was blinded as a child in an accident and quickly discovered he had developed a "radar sense," a little like a bat's sonar ability. Training this ability and his martial arts skills, as an adult, he eventually became Daredevil, a feared vigilante in the Hell's Kitchen area of New York City. However, Daredevil is the unluckiest Marvel hero as it took 12 years for a comic-accurate version of him to appear back on screens after Ben Affleck's less than impressive stint as the superhero, and Netflix's version of him has the risk of being lost with Disney's acquisition of the character, as glimpsed in Spider-Man: No Way Home, where he was used as comedic relief – catching a brick as it flies through the window, despite being blind, while serving as Peter Parker's lawyer.
Related: Marvel Stopped Blade, Ghost Rider, & Daredevil from Joining MCU Films
Daredevil's time on Netflix was originally successful due to the timeframe television provided. Multiple episodes of lengthy character-building brought Daredevil and Matt Murdock to life, as well as the villain Kingpin (Vincent D'Onofrio). His violent crimes and dark past were developed through three seasons of strong backstory. Much of Kingpin's development and backstory has stayed MCU canon, confirmed through his brief appearance on Disney +'s Hawkeye series. Daredevil was a gritty show about "real people" and their struggles in an increasingly super world. Characters faced impossible decisions, and some even suffered terrible fates before the first season had even concluded. Netflix was not constrained by a larger picture, and the entire focus was on the character of Matt Murdock and his alter-ego, Daredevil. With the MCU bound by PG-13 standards, a film's timescale, and its own comedy/action success formula, it is hard to see how a Daredevil film would have been the same hit that the show ended up being on Netflix.
Despite being a lawyer by day, Daredevil's crime-fighting methods were close combat and often brutal. It was this dark, night-time, violent vigilantism that all of Netflix's Marvel shows ended with, bringing audiences an accurate Daredevil. In Daredevil season 1, episode 2, many will remember an Oldboy–esque fight scene in a long corridor. The camera slowly tracked down a dim and dirty hallway as Daredevil burst through the door, beating a small army of Russian mobsters in hand-to-hand combat. He broke bones, threw men through doors, and looked exhausted doing it. Daredevil was presented as a human vigilante with heightened senses due to blindness, not a superpowered hero. In Captian America: The Winter Soldier, the MCU attempted a similar close combat fight scene with Captain America in a lift with a bunch of Hydra agents. This scene was fast-paced, over the top, and finished quickly. Daredevil's variation took almost 12 minutes. And in this time, some of the action was off-screen too. This begs the question of whether the MCU's Daredevil still be the same as Netflix's. It was this gritty, down-to-earth violence that made Netflix such a better platform for Daredevil, creating a show better than anything the MCU could have produced.
Netflix has proven that it was the perfect platform for the heroes of Hell's Kitchen, and there are lingering concerns about how these dark, down-to-earth characters will be integrated into the MCU movies. Unfortunately, Daredevil's cameo was too short in Spider-Man: No Way Home to provide any detailed insight into what his future will hold in the MCU. Most hope rests with the upcoming Moon Knight series, as it appears to be paving the way for a darker hero and may test the waters for Daredevil's return to TV after Daredevil was canceled at Netflix, to facilitate extended cast character building, a higher age rating, and extended fight sequences, something that Netflix presented perfectly.
More: Where Each Nextflix Defender could Return in Upcoming MCU Movies & Shows
Doctor Strange in the Multiverse of Madness (2022)Release date: May 06, 2022
Thor: Love and Thunder (2022)Release date: Jul 08, 2022
Black Panther: Wakanda Forever/Black Panther 2 (2022)Release date: Nov 11, 2022
The Marvels/Captain Marvel 2 (2023)Release date: Feb 17, 2023
Guardians of the Galaxy Vol. 3 (2023)Release date: May 05, 2023
Ant-Man and the Wasp: Quantumania (2023)Release date: Jul 28, 2023
Scream Director Teases Sam's Mom's Identity
About The Author
Share this news on your Fb,Twitter and Whatsapp