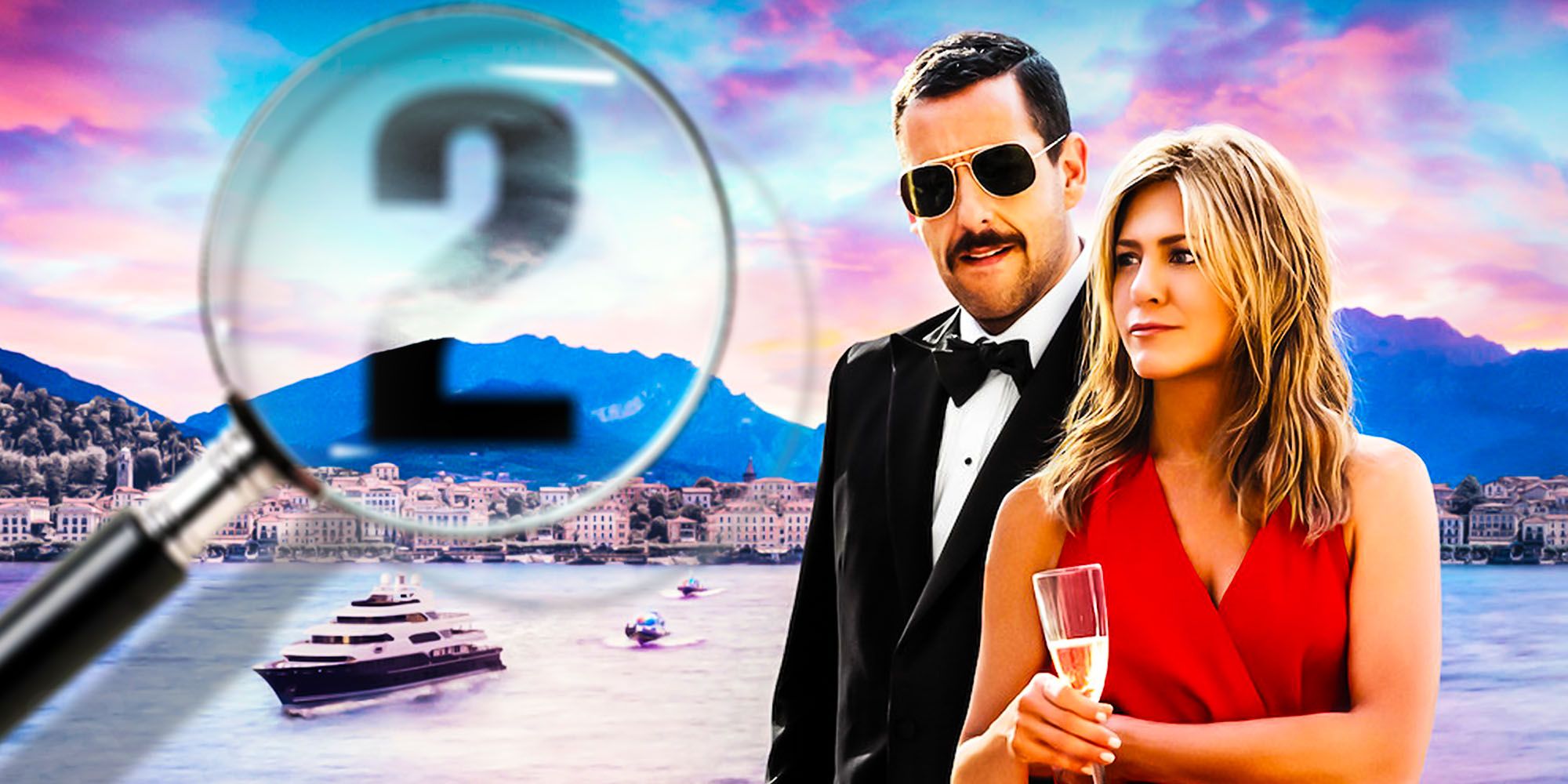 A sequel to Adam Sandler's Murder Mystery is happening, and here's everything you need to know about its plot, cast, release date, and more.
The comedy Murder Mystery is getting a sequel, and here's everything you need to know about Murder Mystery 2. Netflix, home of the upcoming Murder Mystery 2, has built an extensive catalogue of original movies and TV shows through the years, and while these have included a lot of successful projects, there are others that haven't been exactly favorites of the audience and critics. However, there are also a couple of titles that weren't a hit with critics yet became some of the streaming giant's most popular ones, as was the case of the 2019 comedy-mystery Murder Mystery. Due to the unprecedented success of Sandler's whodunit, Netflix ordered Murder Mystery 2 for its streaming service.
Directed by Kyle Newacheck and written by James Vanderbilt, Netflix's Murder Mystery stars Adam Sandler, Jennifer Aniston, and Luke Evans. The story follows a married couple who are invited to a billionaire's party on his family yacht in Europe, and they quickly find themselves caught up in a murder investigation. Murder Mystery got negative reviews from critics, but according to Netflix, it was its most popular title in 2019, though this is based on the number of subscribers who watched at least two minutes in the first 28 days of release. Still, this was enough to grant Sandler and company a sequel, simply referred to for now as Murder Mystery 2.
Related: Every Adam Sandler Movie Character In Multiple Films
Murder Mystery 2 was announced to be in development back in October 2019, just a couple of months after the first movie was released, and it's moving forward into production now that Adam Sandler and Jennifer Aniston's Netflix sequel has begun the filming process. Here's everything you need to know about Murder Mystery 2's updates, release date, cast, and plot.
Why Netflix Is Making Murder Mystery 2 (But Not Other Sandler Sequels)
Although the quality of Adam Sandler's movies has decreased in recent years, his films like Murder Mystery continue to be popular with viewers, so with that in mind, it's not surprising that he signed a deal with Netflix in 2014 that was extended in 2020. Thanks to this, Sandler brought movies like The Ridiculous 6, The Do-Over, and Hubie Halloween, but none of them had the same impact as Murder Mystery. Although predictable and offering nothing new, Murder Mystery was the streaming service's #1 movie in 2019, so it makes sense that Netflix only greenlit Sandler's Murder Mystery 2 sequel, while his other projects weren't popular enough to grant a follow-up.
Murder Mystery 2 Release Date
Murder Mystery 2's updates in production revealed that the sequel began filming in Oahu, Hawaii in mid-January, 2022, but it's unclear when exactly filming will end. Netflix hasn't confirmed Murder Mystery 2's release date quite yet, but the production schedule of 2019's Murder Mystery can help with estimating a premiere timeline. Murder Mystery finished filming in July 2018 and was released on Netflix in June 2019, suggesting Murder Mystery 2's release date will be late 2022 or very early 2023, likely coinciding with the holiday season.
Murder Mystery 2 Cast: Adam Sandler & Jennifer Aniston Return
Adam Sandler and Jennifer Aniston are officially returning in Murder Mystery 2 to reprise their roles as Nick and Audrey Spitz, who were last seen embarking on the Orient Express by Interpol in Murder Mystery's ending. However, there's no word on who else could join Sandler and Aniston in this new adventure, as Murder Mystery 2 updates on filming only showed the two stars. While the remainder of Murder Mystery 2's cast is unknown, there surely will be more familiar faces in the sequel given that the first movie had some big names in its cast. As is typical with Sandler movies, it can also be expected that some members of his typical troupe of comedian collaborators will appear in Murder Mystery 2's whodunit.
Murder Mystery 2 Story Details
While official plot details about Murder Mystery 2 are unknown, Jennifer Aniston and Adam Sandler were spotted filming the sequel on set in vacation attire, suggesting another murder interrupts the couple's relaxing trip. Since this is an Adam Sandler Netflix movie, Murder Mystery 2 most likely won't deviate much from the original movie in terms of the whodunit formula. Murder Mystery 2 will surely see Nick and Audrey involved in a new crime they will have to solve together — especially since at the end of Murder Mystery, Nick was promoted to detective. Since Murder Mystery 2's update with set photos revealed the movie is being filmed in Hawaii, it's likely that the sequel's murder will happen on said island. At the same time, set photos revealed extras wearing traditional Indian men's clothing and playing the sitar, hinting that Murder Mystery 2 could also take place in India. Murder Mystery 2's filming location also connects back to Adam Sandler and Jennifer Aniston's first movie collaboration in Just Go With It, which took the pair on a family vacation to Hawaii.
Next: Every Upcoming Adam Sandler Movie
Gaspard Ulliel, French Actor & Star of Moon Knight, Dies At 37
About The Author
Share this news on your Fb,Twitter and Whatsapp