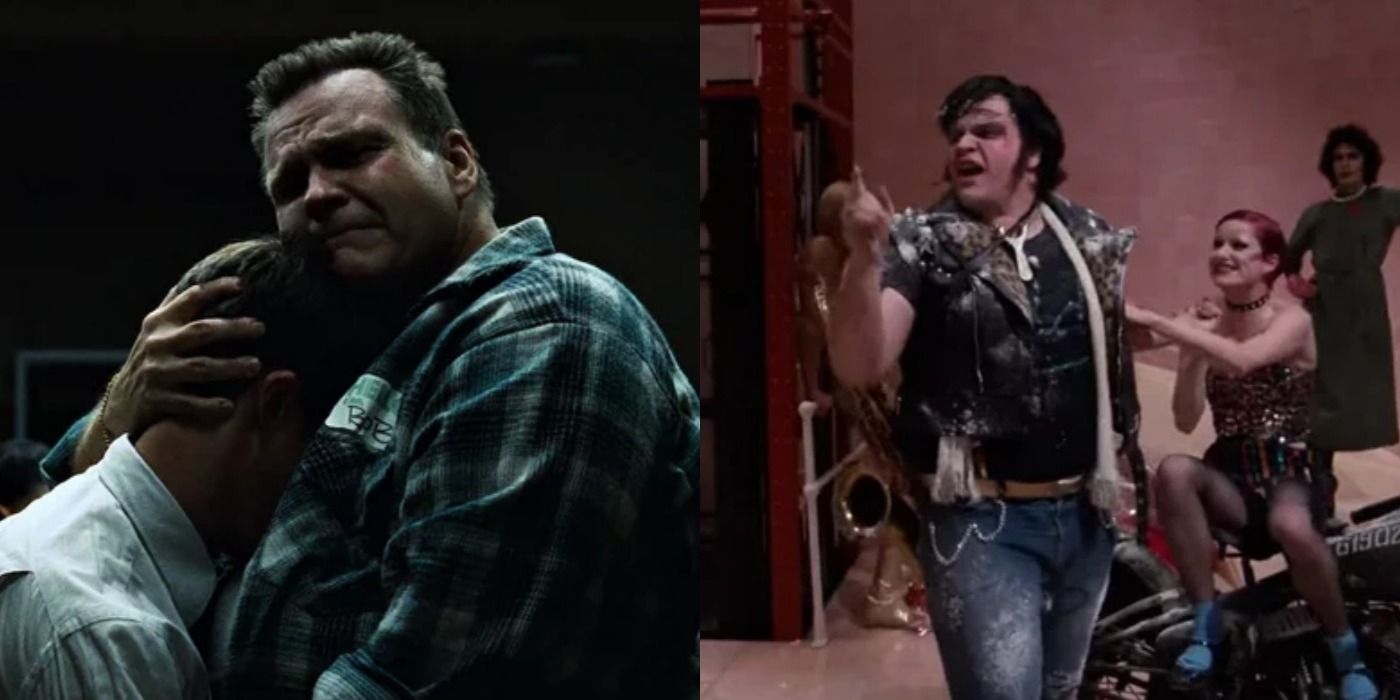 Meat Loaf died on January 20, 2022, at the age of 74 and through his life, the man created many moments that should always stand the test of time. His biggest contributions came in music, where he skyrocketed to fame with his Bat Out of Hell Trilogy of albums that sold over 65 million copies alone. However, his influence also extended to the big screen.
RELATED: 10 Behind The Scenes Facts About The Rocky Horror Picture Show
Before most people ever heard Bat Out of Hell, they saw him in his true breakout role in the movie The Rocky Horror Picture Show, which remains a cult-favorite midnight movie over four decades since its release. Along with that amazing performance, Meat Loaf appeared in several critically acclaimed movies, several sitting on the right side of the Rotten Tomatoes official Tomatometer.
10

Stage Fright (2014) – 37%
Stream On Tubi, Crackle, & Vudu
Meat Loaf starred in the horror-comedy musical movie Stage Fright, released in 2014. He plays a washed-up Broadway star who is now the producer of a musical theater summer camp. As with the best summer camp movies, this one has a serial killer on the loose.
The movie was not well reviewed, with only a 37% score on Rotten Tomatoes. However, among the reviews were comments about the sharp ear of the director when it comes to the music and while it was not considered a great horror movie, some critics called it a fun treat.
9

Tenacious D In The Pick Of Destiny (2006) – 52%
Rent On Apple TV
In 2006, Jack Black brought his rock band to the big screen as he and partner Kyle Gass appeared in Tenacious D in The Pick of Destiny. The fun thing about Tenacious D is that Black and Gass always took on characters in the band, even when playing in concert, and they brought those characters to the big screen here.
Meat Loaf plays Bud Black, Jack's very religious father who drives the child to run away to find his dreams of becoming a rock star. The critics said that the movie was mostly made for Tenacious D fans, but offered a spoof with a lot of laughs, with Meat Loaf's song a Tenacious D highlight.
8

Focus (2001) – 56%
Rent On Redbox
Released in 2001, Focus was a movie that starred William H. Macy as a man who finds his anti-Semitic neighbors targeting him when they mistake him for a Jewish man. Meat Loaf called this his favorite movie he starred in, where he portrayed the neighbor who rallies everyone against the man.
The movie has a positive 56% rating on Rotten Tomatoes, while the audience score is a slightly higher 62%. Critics called the movie "full of good intentions" but it also felt heavy-handed, bringing the point home too hard.
7

Motorama (1991) – 60%
Stream On Amazon Prime
Meat Loaf played the character of Vern in the 1991 road movie Motorama. The movie features a 10-year-old boy who runs away from home to try to find riches, but only finds people knocking him down, including Meat Loaf as a menacing motorcycle gang member.
RELATED: 10 Iconic Singers Who Need A Biopic Like Freddy Mercury In Bohemian Rhapsody
He also wasn't the only rock star in the movie, as Flea from the Red Hot Chili Peppers was also in the cast. Critics gave it an average score of 60% on Rotten Tomatoes, calling it a dark comedy that also plays as a metaphorical journey.
6

Leap Of Faith (1992) – 64%
Stream On Pluto TV
Meat Loaf appeared in two movies in 1992, and the lesser appreciated effort was the Steve Martin comedy-drama Leap of Faith. Martin starred in the movie as a faith healer traveling across the country holding revivals while conning people with miracles. Meat Loaf played Hoover, the bus driver for the group.
Rotten Tomatoes critics gave the movie a 64% approval rating, which was much higher than the audience score, which was a low 46%. Critics praised Martin's performance, but complained that the movie was "somewhat undercooked."
5

Beautiful Boy (2010) – 70%
Rent On Apple TV
In 2010, Michael Sheen and Maria Bello starred in the movie Beautiful Boy as a married couple who were both focused more on work than their marriage. It is their son who keeps them together, but their lives are shattered when their son dies in a school shooting as the actual gunman.
Meat Loaf stars as a motel manager who immediately judges the parents for what their son did. The movie received positive reviews, sitting at 70% on Rotten Tomatoes. Critics call the movie unrelentingly bleak and grim, but it is also a potent difficult movie.
4

The Mighty (1998) – 75%
Rent On Vudu
Based on the best-selling children's book Freak the Mighty, the movie Mighty tells the story of a young boy with Morquio syndrome named Freak who is trying to fit in at school. He becomes friends with an older boy named Max, who is much larger and has failed seventh grade twice.
RELATED: 10 Best Costumes Of The Rocky Horror Picture Show
Meat Loaf appears in the movie as Iggy, a former gang leader who knows Max's father. Critics certified the movie fresh, with a 75% Rotten Tomatoes score, calling it a "spirited and sweet" look at the power of friendship.
3

The Rocky Horror Picture Show (1975) – 78%
Rent On Apple TV
The movie that made Meat Loaf a star was The Rock Horror Picture Show in 1975. The musical film was a box office bomb when it was released, but it soon became the most successful cult classic of all time, screening at midnight shows across the United States.
The sci-fi-musical-comedy starred Tim Curry as an alien who torments a couple who suffered a flat tire in the rain. Meat Loaf stars as Eddie, an ex-delivery boy who was kept in the freezer before he eventually escapes and goes on a rampage. Critics certified it fresh at 78% and audiences loved it, scoring it at 85%. Critics called it quirky and fun.
2

Wayne's World (1992) – 79%
Rent On Vudu
In 1992, Meat Loaf had a fun cameo role in the Saturday Night Live movie Wayne's World. The film brought the SNL characters of Wayne and Garth to the big screen where they set out to meet their rock and roll idols and fall in love.
In Wayne's World, Meat Loaf played Tony, a bouncer who lets Wayne and Garth skip the line and get into the club to see whatever bands are playing. Critics certified it fresh at 79%, calling it an "oddball comedy" that is full of "silliness and memorable catchphrases."
1

Fight Club (1999) – 79%
Stream On IMDb TV
The Meat Loaf movie with the highest Rotten Tomatoes score is David Fincher's 1999 flick, Fight Club. The movie stars Edward Norton as a man who is lost in life until he meets an enigmatic man played by Brad Pitt. Together, they start an underground fight club and Meat Loaf is one of the members.
He remains one of the most memorable members of the cast, as his death causes all the fight club members to take on his name of Robert Paulson. Critics gave it a 79% score, but audiences almost universally loved it, ranking it at a high 96%. Critics praised the acting, direction, and production design.
NEXT: 10 Things That Still Hold Up Today In Fight Club

Next
Carol Danvers' 5 Best Friends In The MCU (& 5 In The Comics)

About The Author
Share this news on your Fb,Twitter and Whatsapp