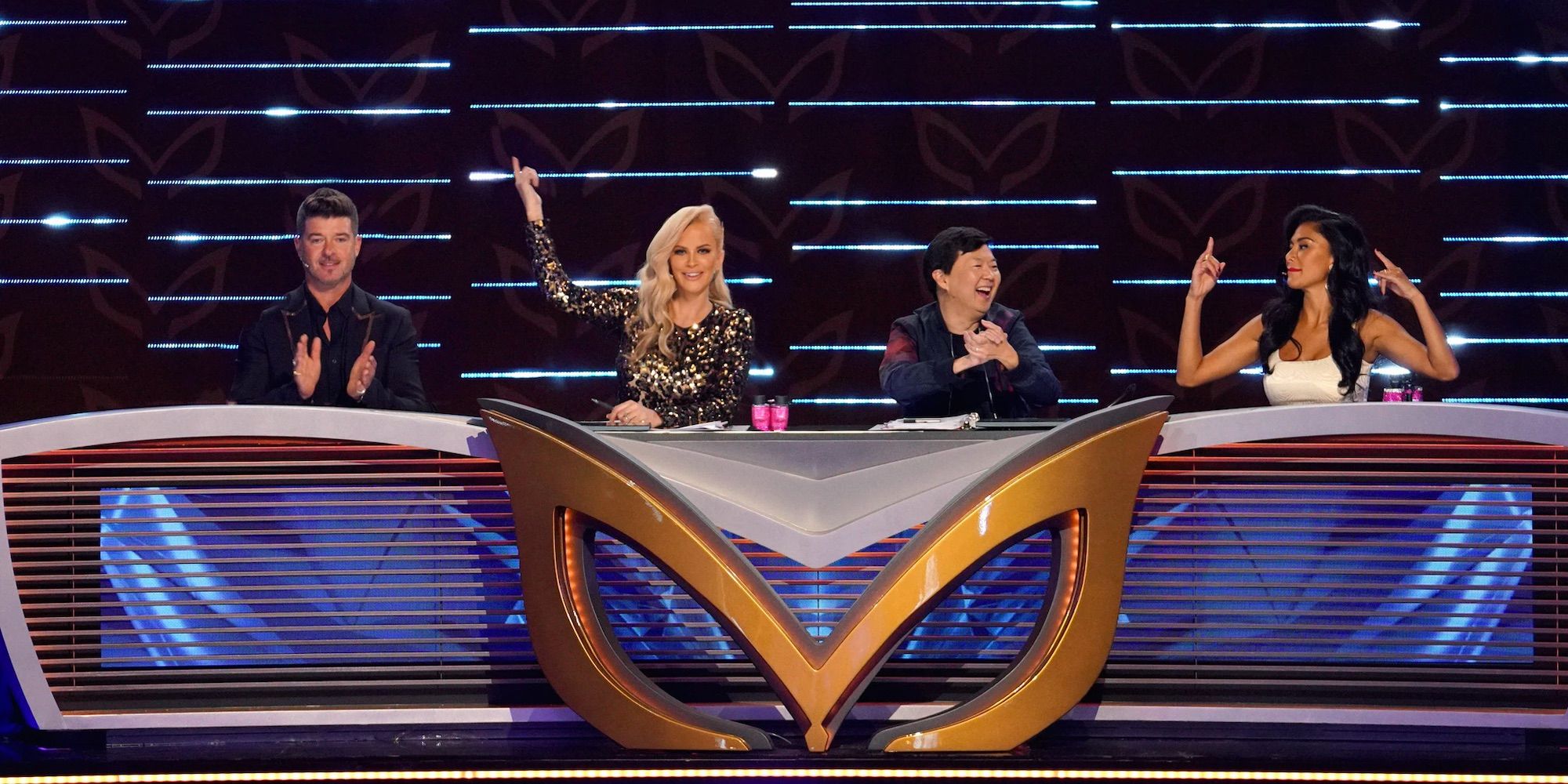 Ahead of The Masked Singer season 7 finale, the panelists review their first impression guesses for some of the eliminated contestants.
Just in time for The Masked Singer season 7 finale, the show's panelists reviewed their first impression guesses for some of the eliminated contestants. For the past few seasons, the panelists competed in their own mini competition to see who had the most correct first impression guesses. Panelist Jenny McCarthy won the first two seasons, while Nicole Scherzinger took over as champion for season 6. The winning panelist was awarded the golden ear trophy as well as bragging rights, which Jenny took advantage of. Unfortunately, The Masked Singer season 7 switched up the format and did not continue with the panelists' competition.
This season, The Masked Singer panelists have not done great with guessing the identities of the performers. Ken Jeong has continued with his outrageous guesses, predicting that Taylor Swift is Ringmaster, Al Pacino was Armadillo, and Owen Wilson was Space Bunny. While Ringmaster is still in the competition, the other two contestants were revealed, and their identities did not match up with Ken's absurd guesses. However, the panelist did have one moment to redeem himself when he was the only panelist to guess Christie Brinkley for Lemur, which shocked his fellow panelists and host Nick Cannon when he was correct.
Related: The Masked Singer: Revisiting Prince's Performances Before Finale
Despite eliminating the golden ear trophy competition, the panelists still got a chance to share their first impression guesses with fans. The Masked Singer posted a video on YouTube of Jenny, Nicole, Ken and Robin Thicke reviewing some of their guesses for the season. The panelists started with Baby Mammoth, whom no one guessed was Kirstie Alley, but they did praise Ken for his Amy Schumer guess. Lemur also was a difficult contestant for the panelists as no one initially predicted the '80s supermodel, but everyone's guess was pretty accurate with Heather Locklear, Pamela Anderson, Melanie Griffith and Goldie Hawn all being thrown around.
Cyclops also seemed to stump the panelists; however, they all had a pretty good idea of who was behind Space Bunny and Hydra. Robin, Jenny and Nicole all had Shaggy as their first impression guess for Space Bunny, while Jenny and Nicole were both able to guess Penn and Teller for Hydra. They also did well guessing Jennifer Holliday as Miss Teddy but not so great guessing Jordan Mailata as Thingamabob. As for the three finalists, the video did not reveal their first impression guesses but nothing they've said on the show has aligned with fan guesses.
While there may not be an award this time around, it was still fun seeing which panelists had the most accurate guesses. To no one's surprise, Ken didn't do so great, but Jenny and Nicole certainly did. It'll be exciting to see if any of the panelists will guess the remaining finalists. So far, they haven't gotten fans' guesses, but there's still time during The Masked Singer finale for them to figure it out.
Next: The Masked Singer: Revisiting Ringmaster's Performances Before Finale
The Masked Singer season 7 finale airs May 18 at 8 p.m. EDT on FOX.
Source: The Masked Singer/YouTube
90 Day Fiancé: Yazan Surprises Fans With Rare Photo Of New Baby
About The Author
Share this news on your Fb,Twitter and Whatsapp