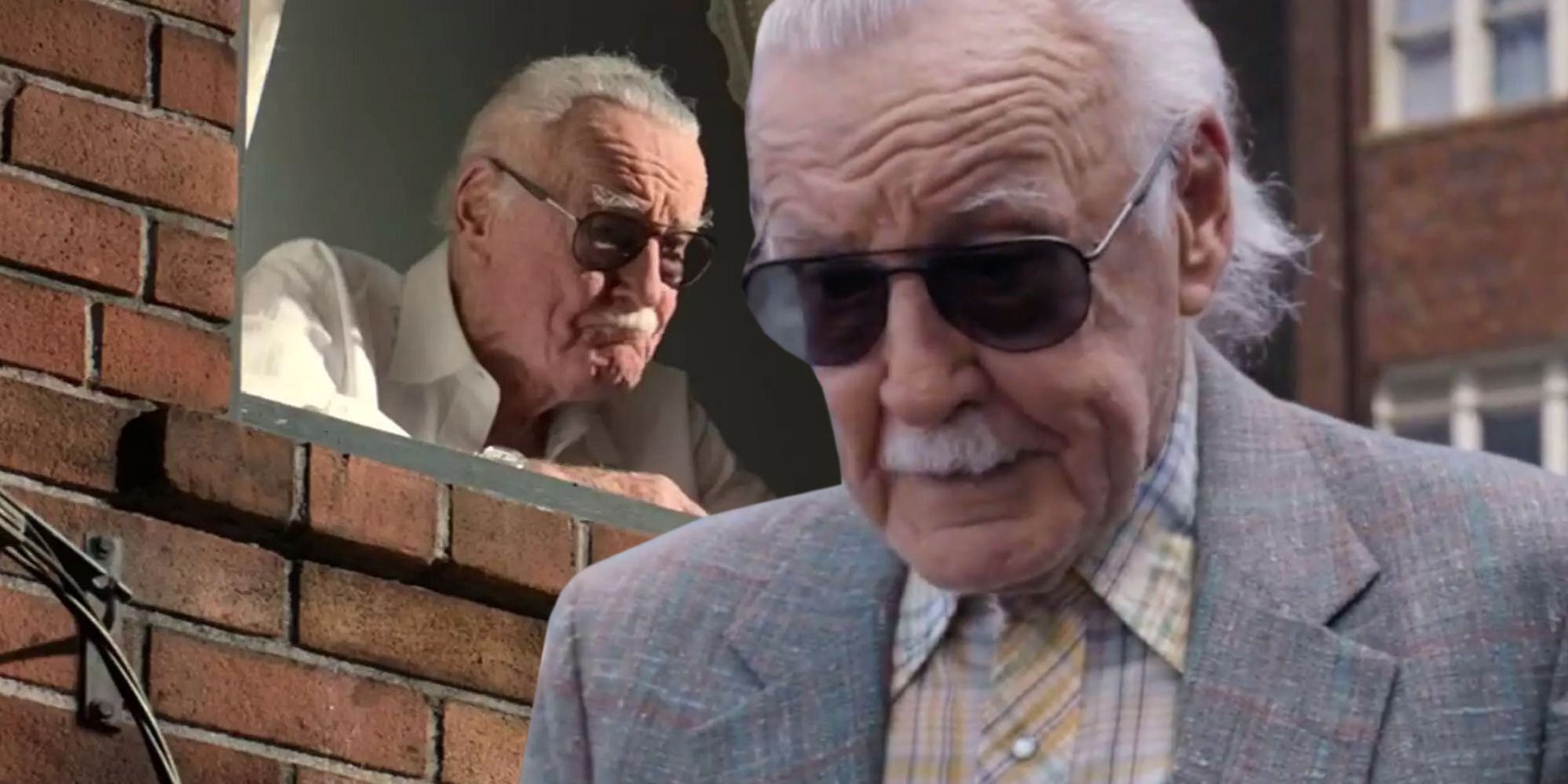 Marvel Studios' plan to bring back the late, great Stan Lee is absolutely sickening. Viewed as the founding father of Marvel Comics, Stan Lee always believed his superheroes had the potential to triumph on the big screen. Hollywood resisted the idea for decades, but the success of the Marvel Cinematic Universe has proved the legendary writer and editor to be correct.
Lee always cultivated a close relationship with the fandom. He was known for writing quirky (and sometimes quite powerful) editorials that were published in the comics and enjoyed attending fan events and visiting universities as a guest speaker. Given this is the case, it's hardly surprising he became well known for making cameos in all major Marvel movies. Oddly enough, the most touching of these were not in the MCU at all; it was in Fox's X-Men: Apocalypse, in which Lee played a terrified homeowner who held his wife close as nuclear missiles into the sky. This was the only cameo in which Lee appeared alongside his beloved wife, Joan.
Related: Should Movies Use CGI to Bring Actors Back From the Dead?
Joan passed away in 2017, and Stan Lee himself died just over a year later. His death was a heartbreaking moment for the fandom, and indeed one for Marvel as well, for Lee was well-known and well-loved. In a shocking twist, however, it seems Marvel intends to continue to use Lee's likeness even now.
Marvel's Stan Lee Return Deal Explained
The Hollywood Reporter has revealed a new deal between Marvel, Genius Brands International, and POW! Entertainment's joint venture Stan Lee Universe to license Lee's likeness in future films, TV productions, theme parks, and merchandise. "It really ensures that Stan, through digital technology and archival footage and other forms, will live in the most important venue, the Marvel movies, and Disney theme parks," Andy Heyward, chairman and CEO of Genius Brands explained. "It's a broad deal." This doesn't necessarily mean the Stan Lee cameos will return through CGI; THR notes it's unclear whether there is even the appetite for them, but it certainly means Lee could return through figures, clothes, in VR experiences, and the like. The deal runs for 20 years.
Why Disney Using CGI To Bring Back Dead People Is So Bad
Hollywood has a history of trying to work around death, but it has become disturbingly easy to do so in the age of CGI. Probably the most famous example was the digital resurrection of Peter Cushing as Grand Moff Tarkin in Rogue One: A Star Wars Story, which raised many troubling questions about whether this was a fitting way to honor the dead. The issue was raised again after the passing of Carrie Fisher, and Lucasfilm notably decided to avoid using CGI to continue her story in Star Wars: The Rise of Skywalker.
Fisher's family is on record for saying they would have agreed to a full CGI version of Princess Leia. They claim Fisher would have been fine with it, but Lucasfilm rightly realized the audience would not have been. "Carrie Fisher was, is, and always will be a part of the Lucasfilm family," Lucasfilm noted in an official press statement. "We cherish her memory and legacy as Princess Leia, and will always strive to honor everything she gave to 'Star Wars.'" The clear implication is that Lucasfilm did not feel it would be appropriate to recreate Fisher's likeness.
Related: Movies Completed Using Old Footage of Deceased Actors Before Star Wars 9
The ethical questions surrounding this issue are complex. It feels in bad taste to use a beloved person's likeness for promotion and marketing to profit from dead stars. Marvel, however, seems to have decided that's not an issue. The terms of Marvel's agreement with Genius Brands International and POW! Entertainment is remarkably wide, allowing the studio to use Lee's likeness in advertising and merchandise as well as the cameos. Loved ones who have passed deserve to be respected – not recreated and capitalized upon to make money.
All this becomes even more uncomfortable given previous assurances Marvel would not use CGI to bring back dead actors. Marvel Studios' Executive Vice President of Production, Victoria Alonso, was insistent upon this point in interviews back in 2020; she was reinforced by VFX artist Craig Hammack, who was also clearly unhappy with the idea. "It is something that we're all aware of," he noted, "because the possibilities are coming and our hope is that it doesn't happen in an irresponsible way. Personally, I don't want to see something that's not the performance of the person represented as the person." It's disappointing to see Marvel begin to change that position.
Marvel's Stan Lee History Makes Its Plan So Much Worse
Marvel's Stan Lee deal is particularly disturbing, given the heartbreaking accounts Lee was subjected to elder abuse after his wife's passing. The most horrific example was a claim one of Lee's former business associates had used a forged document to obtain a sample of Lee's blood, which was then used to sign Black Panther comics. Even POW! Entertainment got caught up in the controversy. In 2018, Lee sued them, claiming he had been tricked into signing away his name and likeness.
According to the lawsuit, which Lee dropped two months later, POW! Entertainment approached him while grieving after his wife's death. Nobody ever read the contract to him (Lee had been legally blind since 2015 due to macular degeneration). It's hard to think of a more troubling context for the deal between Marvel, Genius Brands International, and POW! Entertainment.
Related: Marvel's 616 Reveals How Stan Lee Helped Save Japanese Spider-Man
Marvel Has So Many Other Ways To Honor Stan Lee's Legacy
Marvel's Stan Lee deal is especially disappointing, given the studio has so many other ways to honor the late Stan Lee's legacy. In truth, there is a sense in which every single Marvel comic book, film, or TV show is in itself a respectful nod to Lee; the greatest writers live on through their work, after all. Every single Marvel product serves as a reminder that Lee – working in partnership with celebrated artists like Steve Ditko and Jack Kirby – created characters whose influence will surely continue for generations.
Every time a Spider-Man movie breaks $1 billion at the box office, it's a reminder that the characters Lee created resonate with viewers worldwide. Indeed, Marvel Studios' very existence is proof Lee was right all along; for decades, he championed Marvel's superheroes in Hollywood, attempting to get movies made, and nobody listened. The best way for Marvel to honor Stan Lee is simply to continue making great films, TV shows, and comic books, recognizing all along that they are building on the legacy of a master.
More: Sylvester Stallone Predicted CG Actor Resurrections In 1994
Thor: Love and Thunder (2022)Release date: Jul 08, 2022
Black Panther: Wakanda Forever/Black Panther 2 (2022)Release date: Nov 11, 2022
Guardians of the Galaxy Vol. 3 (2023)Release date: May 05, 2023
Ant-Man and the Wasp: Quantumania (2023)Release date: Feb 17, 2023
The Marvels/Captain Marvel 2 (2023)Release date: Jul 28, 2023
Everything Everywhere All At Once Has A Unique IMDB Rating Record
About The Author
Share this news on your Fb,Twitter and Whatsapp