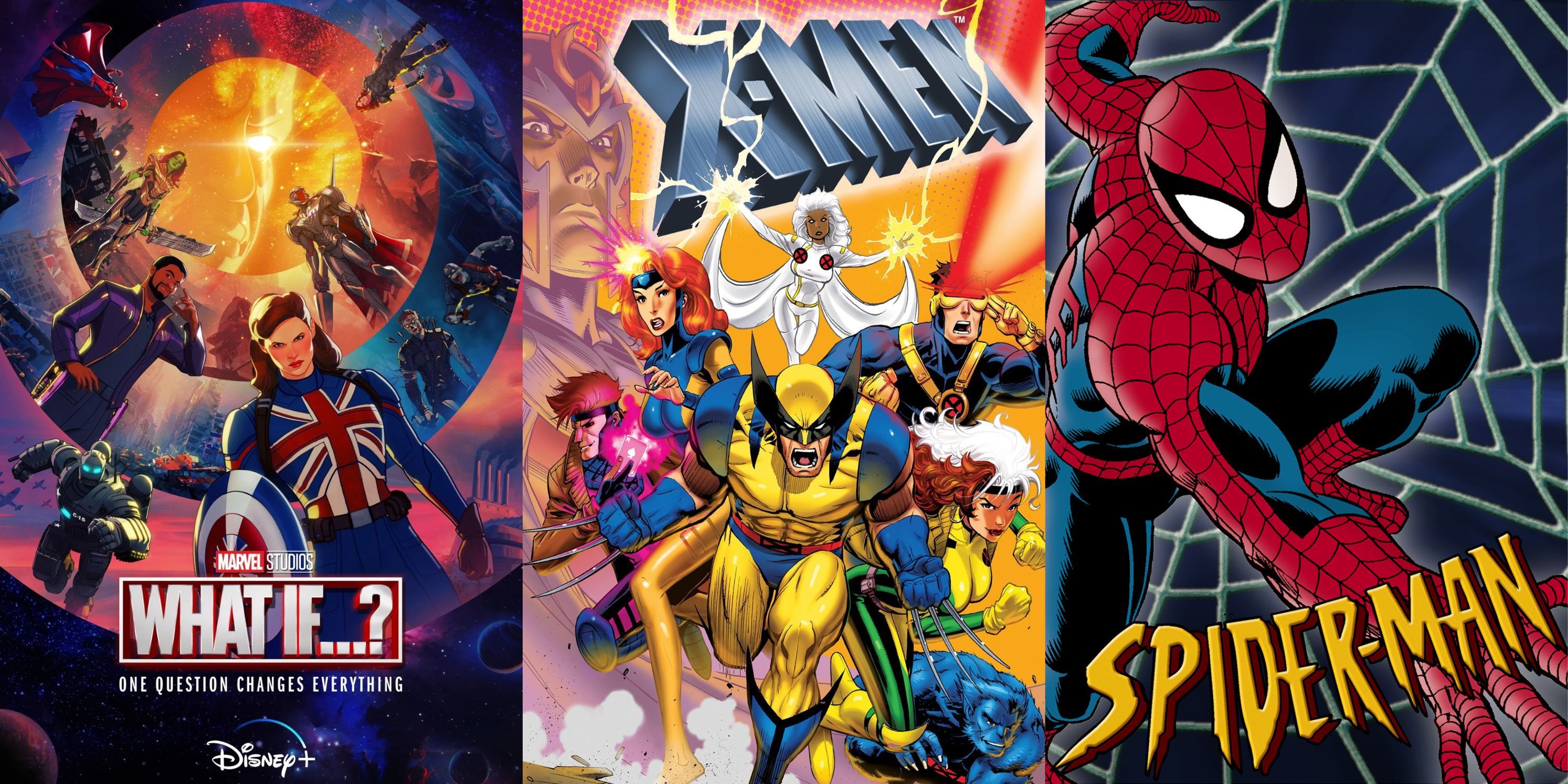 Recently, at San Diego Comic-Con, Marvel detailed some extraordinary new feats and projects that they're working on in comics, movies, and tv. Naturally, the bombardment of announcements made about the MCU and the Multiverse Saga took centerstage and dominated fans' attention.
However, also revealed were first looks at some upcoming animated series. Marvel Zombies is a spin-off of What If…? and will be part of the MCU's continuity. Spider-Man: Freshman Year was initially thought to be so too, but the news they provided now establishes it as an independent series with a beautifully distinct style. Finally, X-Men '97 will continue from where X-Men: The Animated Series concluded. All in all, these new shows look to be quite fun and could join the ranks of best-animated series from Marvel, of which this is the current ranking.
10

Spider-Man (1967-1970) – 7.3
As with all the greatest comic book characters like Batman, and Superman, Spider-Man has been the protagonist for many animated shows. That's why it's no surprise that the classic Spider-Man series from the 1960s finds its place here. It is rightfully best remembered for its theme song and the pointing meme parodied most recently in Spider-Man: No Way Home.
While it is a classic, Spider-Man was unfortunately highly restricted from being as great as it could've been. Season 1 did feature several iconic villains like Doctor Octopus and Green Goblin, but budgeting issues then forced the show to favor generic creatures instead. In fact, some episodes were completely recycled from Rocket Robin Hood with Spider-Man replacing Robin Hood. Nevertheless, it still ranks in the top ten, beating out over forty other titles.
9

Guardians of the Galaxy (2015-2019) – 7.3
2014's Guardians of the Galaxy did something remarkable compared to the rest of MCU. While characters like Iron Man and Captain America weren't as popular as Spider-Man or the X-Men, they were still far more well-known than the Guardians. The movie skyrocketed Star-Lord, Rocket Racoon, Gamora, Drax, and Groot to fan favorites, so it's not surprising that Marvel quickly developed their own animated series.
Though inspired by the movie, Guardians of the Galaxy is not connected whatsoever – but Seth Green does voice Howard the Duck as he does expertly in the MCU. It ran on Disney XD for three seasons and was part of a universe of its own, connected to other shows including Avengers Assemble and Ultimate Spider-Man. The show featured storylines closer to the comics than seen in the MCU like Star-Lord being the Prince of Spartax and Rocket's origins.
8

What If…? (2021-Present) – 7.4
Marvel made the intriguing choice to utilize an animated show in their early exploration of the Multiverse. What If…? stars Jeffery Wright as the Watcher – along with many returning MCU actors – and shows important and decisive moments in multiversal history. Though it might rank lower compared to the likes of Loki, WandaVision, or most recently Ms. Marvel for many fans, What If…? is quite a remarkable series.
Importantly, What If…? marks Chadwick Boseman's last performance as T'Challa and will be dearly remembered for that. It was recently announced at Comic-Con that season 2 will premiere as part of MCU's Phase Five next year. Some characters have already been revealed yet there are still more who also deserve their own episode, whether in season 2 or beyond.
7

X-Men: Evolution (2000-2003) – 7.8
Fans have been eagerly waiting for mutants and the X-Men to finally make it into the MCU. Doctor Strange in the Multiverse of Madness and Ms. Marvel both helped with their eventual arrival, but it will likely take some time. Until then, there are some great animated X-Men shows, including ­X-Men: Evolution. The show ran for four seasons on Kids' WB and established most of the X-Men as teenagers rather than adults like in the X-Men films.
There were the classic characters of Professor X, Wolverine, Storm, Jean Grey, Cyclops, and Rogue, but they were also joined by Nightcrawler, Kitty Pryde, Spyke, and plenty more. X-Men: Evolution really focuses on the characters not only being mutants but teenagers, giving equal attention to the struggles of high school on top of the systemic issues present throughout the comics.
6

Hit-Monkey – 7.8
Recently, Marvel made two animated shows for Hulu, M.O.D.O.K. and Hit-Monkey. M.O.D.O.K. was unfortunately canceled, and though no confirmation has been made, it looks likely that Hit-Monkey will be too. Nevertheless, it is still regarded as one of the better Marvel TV shows. The show is quite violent in a way still not yet seen in the MCU as Hit-Monkey is an assassin going up against Tokyo's criminal underworld.
The show unites stellar voice talents with Fred Tatsaciore in the titular role, alongside Olivia Munn, Jason Sudeikis, George Takei, Ally Maki, and Nobi Nakanishi. Perhaps interest will grow to allow for the show to return for a season 2 in the future, or maybe the MCU will see an opportunity available. They already made a cranky raccoon a fan favorite – they can probably do the same for an assassin Japanese Macaque.
5

Wolverine And The X-Men (2008-2009) – 8.0
Wolverine and the X-Men was another animated show that didn't make it to a season 2, yet still finds itself highly rated and well-liked. As is natural with their source material, X-Men shows have a serious undertone, but Wolverine and the X-Men tackles it in a unique way. This show finds the team after a horrific accident, thus the characters are dealing with trauma and regret on their own.
The main roster is also changed up – swapping in Emma Frost for Jean Grey and relegating Professor X to a future timeline. It follows several of the characters individually while showing unique perspectives on the team's dynamics. While it only lasted a single season and could set up a deserving second one, it still ends quite succinctly and is great to enjoy as it is.
4

The Spectacular Spider-Man (2008-2009) – 8.3
Due to legal issues regarding Spider-Man's rights many of his shows over the past two decades haven't been able to reach their full and final potential. That's the case for The Spectacular Spider-Man which only made it two seasons before getting canceled. Despite that, it was universally praised by critics and fans alike for mixing the mature elements inherent in Spider-Man's stories with a style geared towards young audiences.
Importantly, over the two seasons, many of Spider-Man's iconic villains were featured including several still missing from the MCU, like Black Cat, Chameleon, and Rhino. Its last episode aired in 2009 but it's still named as one of the best animated series of all time, hence the high rating on IMDb and high placement here.
3

The Avengers: Earth's Mightiest Heroes (2010-2012) – 8.3
Like Spider-Man and the X-Men, the Avengers have had plenty of representation in animation. The most recent series is Avengers Assemble, but their highest-rated is The Avengers: Earth's Mightiest Heroes. They consisted of Iron Man, Captain America, Thor, Hulk, Black Panther, Hawkeye, Giant-Man, and Wasp and were eventually joined by Vision and Ms. Marvel.
They went up against many classic Avenger villains like Loki, Hydra, and Doctor Doom. The show did draw from sources beyond the comic for design and story elements – even from the MCU – and was also part of an interconnected universe with Ultimate Spider-Man. The Avengers: Earth's Mightiest Heroes was classically canceled before it could reach its intended conclusion, but still what it was able to accomplish was quite impressive.
2

Spider-Man: The Animated Series (1994-1998) – 8.4
Frankly, the 1990s was truly the best time for comic animated shows. From DC there was Batman: The Animated Series and Superman: The Animated Series and Marvel helped the cause with Spider-Man: The Animated Series and X-Men: The Animated Series. In this case, the former takes the silver.
Over the course of five seasons, the show was able to showcase so many of Spider-Man's popular storylines including his black symbiote suit, his relationships with Mary Jane Watson and Black Cat, and even teams-ups with the X-Men. It's naturally made an impact on every subsequent portrayal of the hero in both animation and live-action. A new series, Spider-Man: Freshman Year, is in development and will showcase an origin and year-one story adjacent to the MCU. It's anyone's guess if it will be successful enough to take Spider-Man: The Animated Series' current crown.
1

X-Men: The Animated Series (1992-1997) – 8.5
Taking the top spot and rightfully so is X-Men: The Animated Series. It is still the definitive X-Men show – though it's actually the second after a failed pilot for X-Men: Pryde of the X-Men a few years earlier. Since it was able to run its course to the end, it last for five glorious seasons and devotedly adapted some of the best X-Men storylines.
Currently there's a resurgence in appreciation for the show, which is delightful to participate it. The memorable theme song has already been used a few times throughout the MCU to signal the arrival of a mutant like Professor X in Doctor Strange in the Multiverse of Madness. Additionally, the series is getting a revival on Disney+ next year. X-Men '97 reunites much of the surviving voice cast after 25 years away to continue where X-Men: The Animated Series left off.
NEXT: MCU: Every Major Announcement & Reveal From San Diego Comic-Con 2022
Share this news on your Fb,Twitter and Whatsapp