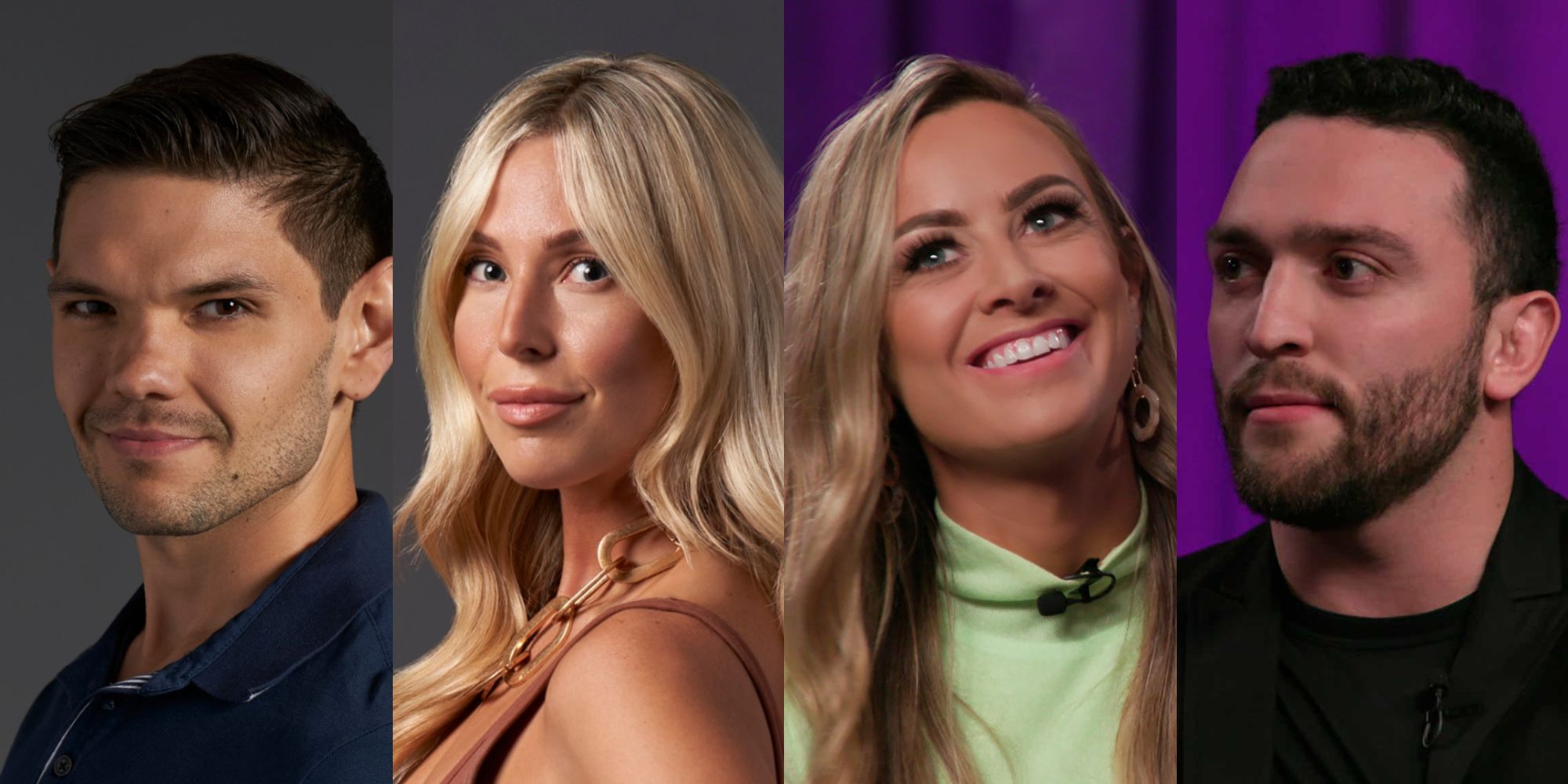 Love Is Blind season 2 couple Shaina Hurley and Kyle Abrams is already getting heavily compared to season 1 stars Jessica Batten and Mark Cuevas.
Warning! SPOILERS ahead for Love Is Blind season 2 episodes 1-5 below!
Love Is Blind season 2 is only getting started, but fans are already drawing comparisons between season 2 couples Shaina Hurley & Kyle Abrams and season 1 couple Jessica Batten & Mark Cuevas. In 2020, reality TV fans got to know Mark as a 24-year-old fitness trainer and Jessica as a 34-year-old regional manager. They bonded over being originally from Illinois and seemed to have nice chemistry in the pods, but Jessica had many reservations about having a relationship with Mark and appeared to have a crush on co-star Matthew Barnett.
Now, viewers are getting to know Shaina and Kyle over the course of Love Is Blind season 2. Shaina had a thing for Shayne Jansen, but he chose to propose to Natalie Lee in the pods instead. Kyle insisted on his potential relationship with Shaina and she gave him a chance, but they butted heads on Love Is Blind upon finding out that Shaina is a person of faith and Kyle is an outspoken atheist. Nonetheless, she still got engaged to Kyle and moved forward to their couples' retreat in Mexico.
Related: Love Is Blind 2: All Of Abhishek's Red Flags In The Pods
Shaina hesitated to commit to her relationship with Kyle but still moved forward in the process with him. Meanwhile, Shaina flat-out stated in a confessional that she was going to pursue Shayne outside of the pods even if Shayne had already gotten engaged to Natalie and Shaina was still officially with Kyle. This is obviously reminding a lot of fans of the situation that was portrayed between Jessica and Mark on Love Is Blind season 1. After the show, reports came out that Mark had been allegedly cheating on Jessica all along, which is apparently why she had so many doubts about him. For the time being, though, fans are struggling to connect with Shaina as she puts Kyle to the side and talks about wanting to go after Shayne.
In season 1, Jessica was shown giving Mark a hard time since the very first time they met in person after getting engaged. Their time during the couples' retreat was extremely awkward, and things only got worse once they moved back to Atlanta and started living together. The show portrayed Mark as trying to pursue Jessica at all costs, all while Jessica appeared to find just about any excuse to split from Mark. In the end, Jessica said "no" to Mark at the altar. While it is still too soon to know what will happen to Shaina and Kyle over the course of Love Is Blind season 2, things aren't looking great for the couple as of episode 5.
With that said, viewers still have to see how Shayne will react if Shaina ever approaches him about her feelings. In season 1, Barnett clearly never corresponded in any way to Jessica's apparent crush on him on the show. At this point in season 2, Shayne is engaged to Natalie, so Shaina could potentially create complications to that relationship if she actively pursues Shayne.
More: Love Is Blind: Trisha's Claim To Instagram Fame Doesn't Make Any Sense
Love Is Blind season 2 airs Fridays at 3 a.m. ET / 12 a.m. PT on Netflix.
Star Wars: Ahsoka Show Casts Ray Stevenson As Villainous Admiral (Not Thrawn)
About The Author
Share this news on your Fb,Twitter and Whatsapp