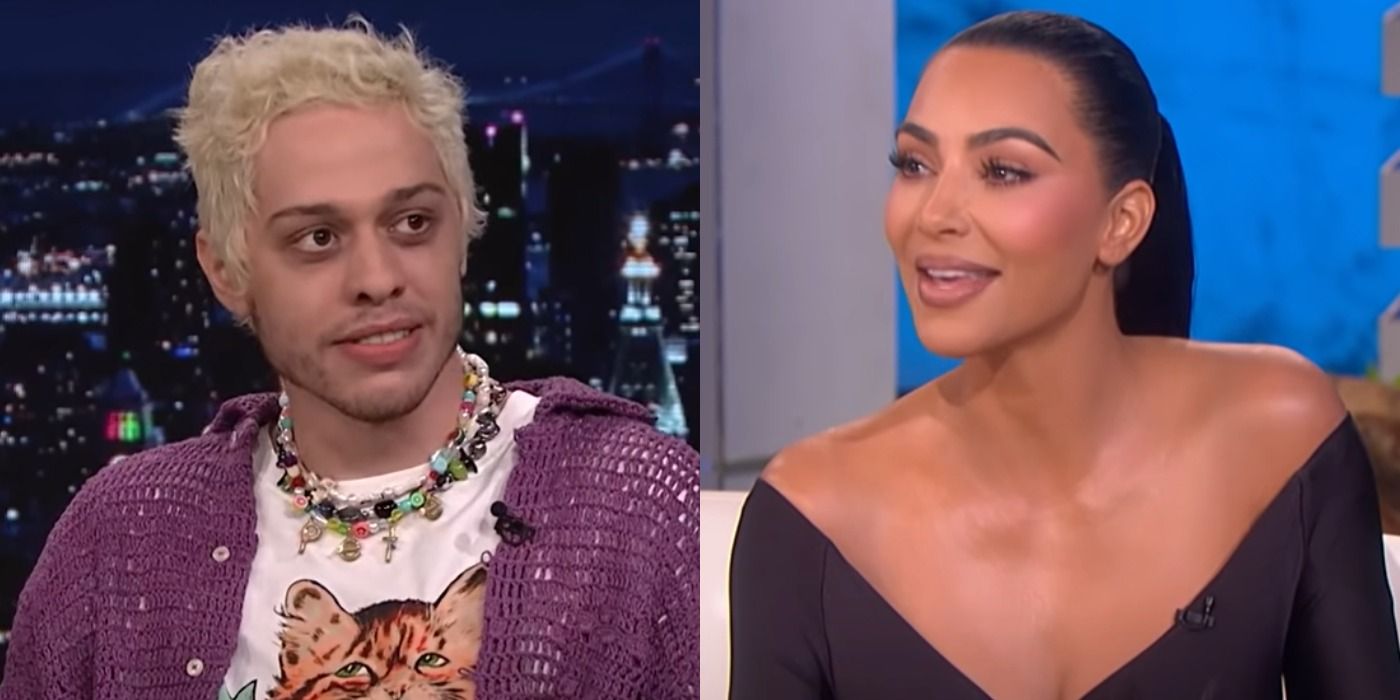 Kim Kardashian loves that beau Pete Davidson lets her be herself, unlike ex Kanye West. KUWTK fans will remember how he picked out all her clothes.
Kim Kardashian is reportedly happier and more herself than ever now that she's with Pete Davidson. The Keeping Up With The Kardashians star has been dating the comedian for several months. It is her first public relationship since filing for divorce from Kanye West. Meanwhile, Kanye's dating actress and Kardashian fan Julia Fox.
While many were surprised to see Kim dating the Saturday Night Live star, their budding relationship is only going from strength to strength. The two have been nearly inseparable since going public with their romance. Now that Kanye's dating Julia, the 41-year-old has seemingly been trying to get Kim's attention. Almost all of his dates with the No Sudden Move actress are the opposite of private, with grand gestures and tons of press coverage. But the mother of his children is focused on her own relationship instead. Kim is reportedly over-the-moon for Pete and appreciative of all the ways he's different than her ex.
Related: KUWTK: Fans Question if Kim Unfollowed Miley Cyrus Over Pete Davidson
A source told Page Six that Pete "brings out the best" in Kim. They continued, "She's super happy and relaxed with him. Pete is super humble, down-to-earth…he doesn't care about appearances or being cool." Because of this, the insider added, "Kim feels zero pressure to be anything but herself." The anonymous individual made sure to add that this extends to Kim being able to dress however she wants. The source also claimed Kim "admires" Pete for his more "grounded" lifestyle. The SKIMS founder has been seen in her beau's native Staten Island numerous times, worlds away from her lifestyle with Kanye. Even while filming numerous projects, the source gushed that he still manages to see Kim "as much as he can." The Set It Up actor has a long list of famous ex-girlfriends. But this relationship with Kim is reportedly the most important to Pete yet. The couple has already spent a lot of time with each other's families. Kim was spotted having dinner with his mom, while Pete was apparently a big hit with her four kids.
Beyond Pete's down-to-earth personality and lifestyle, Kim dressing how she likes is surely refreshing. Viewers of her family's hit reality show will remember this wasn't the case with Kanye. Instead, Kim's entire closet was emptied out so that he could replace it with clothes he wanted her to wear. For years after this, the musician would often brag about the way he styled his then-wife. And this pattern has clearly continued in his new relationship. When Julia wrote about her date with Kanye, she mentioned he brought a wardrobe's worth of clothes, and picked out her outfits. In her article, the actress seemed more impressed than annoyed by the gesture.
The Uncut Gems star is one of several women the Yeezy designer has dated since splitting from Kim. Despite his constant PDA with Julia, though, Kanye is reportedly still convinced that he can win his ex-wife back. Their divorce has not been finalized yet. But the KKW beauty founder did have herself declared legally single after the rapper publicly begged her to reconcile. The businesswoman may be feeling happy and free in her new romance, but her estranged husband's inability to move on is concerning. Especially as Kanye appears to be following Kim and Pete around.
Amidst her ex's still-controlling behavior, the former Keeping Up With The Kardashians lead has made it clear she's moved on. Kim's relationship with Pete is heating up fast and shows no signs of slowing down. It remains to be seen if Kanye will ever accept this and finally let her go.
Next: KUWTK: Kim & Pete Reportedly Didn't Spend NYE Together Because Of Kanye
Source: Page Six
1000-Lb Sisters: Why Fans Think Tammy Slaton's Nurse Tisa Quit
Share this news on your Fb,Twitter and Whatsapp