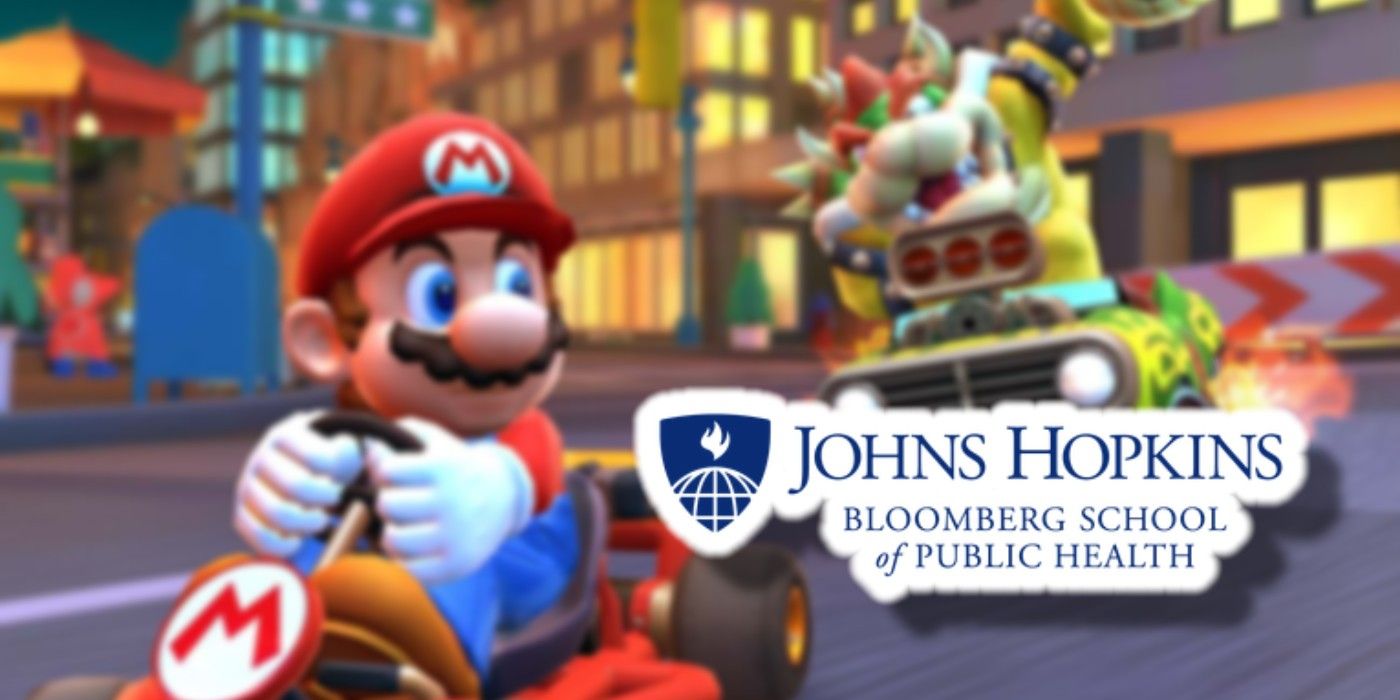 Johns Hopkins University's Bloomberg School of Public Health used a Mario Kart video to encourage gamers and others to get the COVID-19 vaccine.
In a bid to appeal to the gaming demographic, Johns Hopkins University's Bloomberg School of Public Health uploaded a video using Mario Kart 8 to demonstrate how boosters stop COVID-19. With the pandemic still going, many outlets are trying various marketing strategies to convince people to get the vaccine, and different ads target different groups. Clearly, this is an attempt to get gamers to get vaccinated.
While the pandemic remains an ongoing concern, vaccines have proven effective in lessening the number of COVID-19 infections, as well as the severity of symptoms in those who do get infected. While many gaming events have already felt the effects of the pandemic—E3 will be an online-only event again this year—informing gamers about the benefits of the vaccine using media and references they understand could help make in-person gaming events a reality again sooner rather than later. That seems to be a strategy Johns Hopkins is considering, at least, judging by the ad they put out the other day.
Related: Mario Kart 9 "In Development," Reveal Could Be This Year, Says Analyst
Addressing the widespread omicron variant of COVID-19, Johns Hopkins University's Bloomberg School of Public Health used its Twitter account to promote the benefits of the vaccine booster through a race in Mario Kart 8. The video shows Mario racing to stay ahead of the Omicron variant and warding it off with a booster shot, symbolized by the orange boost pads familiar to Mario Kart fans. It's worth noting, too, that the race is labeled as part of the "COVID Cup," a riff on Mario Kart's cup arrangements of races. The video is well-edited, showing that effort was clearly put into this video.
There's evidence that a booster dose reduces a person's likelihood of being infected with SARS-CoV-2.

That's super like Mario, but less likely doesn't mean impossible.

In general, boosters reduce symptom severity and duration, and reduce transmission: https://t.co/rF2sQBDdNM pic.twitter.com/x1ybm0bCXy

— Johns Hopkins Bloomberg School of Public Health (@JohnsHopkinsSPH) January 13, 2022
Fan reception on the video has been pretty split. Some think it's fun, but others say it's cringe-inducing. Some even go so far as to call for Nintendo to hit the university with a cease and desist letter. This is not outside of the realm of possibility, given that Nintendo is famously litigious when it comes to the company's IP. Gamers have always been a tricky audience to target, with many seeing earnest attempts at connection from big brands to be stupid or embarrassing. Johns Hopkins University definitely made an attempt at it, and, divisive though the video may be, it's certainly getting attention, so it may yet do some good.
This isn't the first time video games have been used in unexpected ways for marketing, and it won't be the last. It may seem strange, but when dealing with a public health crisis, organizations will use any method they think might work to get people's attention, including using popular franchises like Mario Kart. Plus, whoever edited this video clearly had a great time, so perhaps it was worth it. Hopefully, gamers pay attention to it, even if just to mock it.
Next: Mario Kart 8: Best Ways to Avoid a Blue Shell
Source: Johns Hopkins University Bloomberg School of Public Health/Twitter
90 Day Fiancé: Why Memphis Smith's Real Height Has Shocked Fans
About The Author
Share this news on your Fb,Twitter and Whatsapp