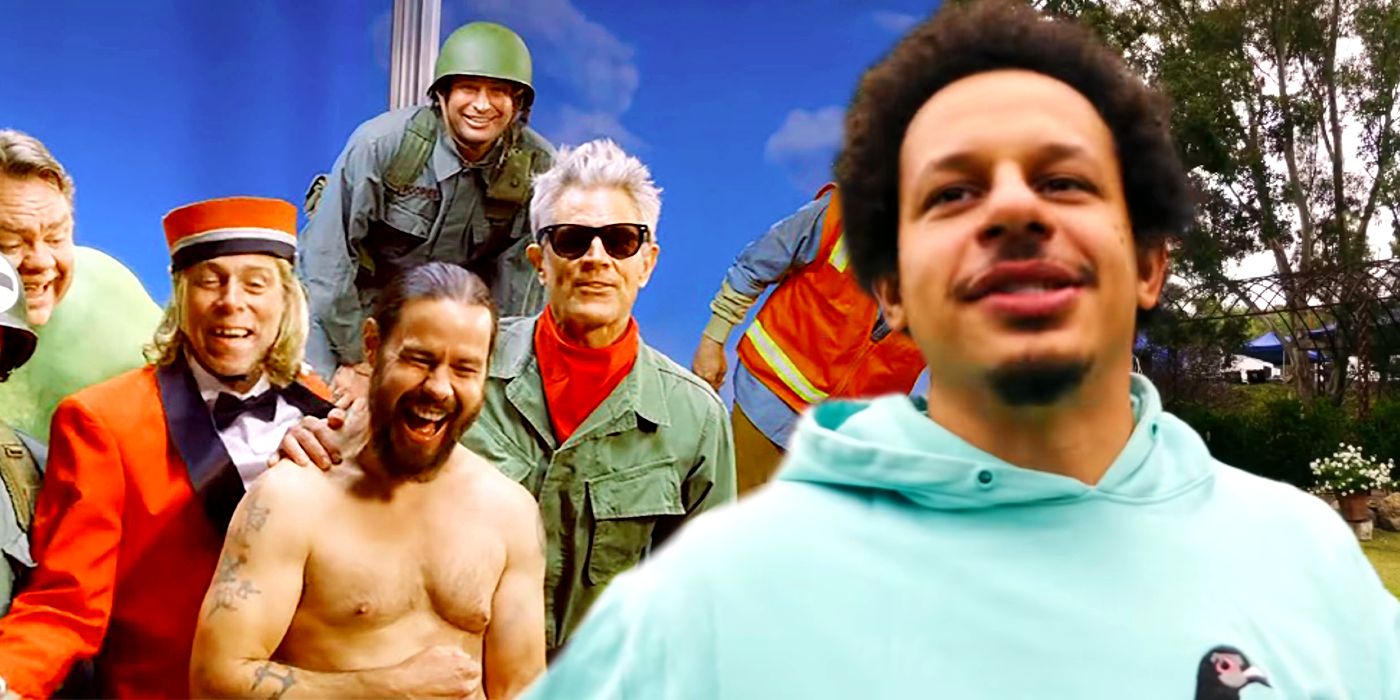 To cheer up a COVID-positive Eric Andre, Johnny Knoxville toilet papered his house on Xmas, not knowing that the comedian was high, paranoid, & armed.
While most people might bring their sick friend chicken soup, Johnny Knoxville is no ordinary friend. Instead, the Jackass star opted to toilet paper the house of his COVID-positive pal Eric Andre on Christmas Eve. Such tomfoolery can be expected from the Jackass co-creator, who's made a name for himself running from bulls and getting shot out of cannons. Following three seasons of Jackass on MTV, Knoxville and co. launched the reality stunt series into a successful film franchise, releasing three–soon to be four–Jackass movies and other Jackass-adjacent projects. 
Jackass director Jeff Tremaine teamed up with Eric Andre to produce Bad Trip. Inspired by the Jackass franchise and the work of Sasha Baron Cohen, Bad Trip received acclaim upon its release in March 2021. The film is credited with pushing the boundaries of the hidden camera subgenre, as Andre's film combines a scripted narrative with pranks on an unsuspecting public.
Related: Jackass: Every Injury The Cast Has Sustained (Including On Jackass 4)
In an appearance on Jimmy Kimmel Live, Eric Andre recounts what happens when one commits to a high-octane friendship with fellow prankster Johnny Knoxville. When Andre was stuck at home with COVID over Christmas, Knoxville thought the best way to cheer up his friend would be to toilet paper his house. Unbeknownst to Knoxville, however, Andre was stoned, paranoid, and armed. His antics also triggered the alarm system, causing the cops to flock to the scene. Upon nearly getting caught and shot–all the while, by the way, donning a platinum Andy Warhol wig–Knoxville reacted as only he could: "Dude, how good publicity would it have been if you had gotten me arrested and shot me right before Jackass comes out!" Read about Andre's eventful Christmas Eve below: 
"I'm trendy so I got Omicron over Christmas…I just sat at home and watched Bad Santa over and over and smoked pot…And Knoxville broke into my house on Christmas Eve. He was like, 'Well, I gotta cheer Eric up.' He had toilet paper and an Andy Warhol wig and he started toilet papering my house. My alarm goes off, I'm stoned by myself, paranoid, and I open the window and my alarm is going off…I don't know it's him, so I'm just yelling out the window, 'I'm calling the police! I have a gun! I'm calling the police! I have a gun!' I'm terrified, and I'm really calling the cops…So the cops are on the way–I didn't get the gun out just yet. He's videotaping me, which is driving me nuts, and he presses his face against my window, and I'm like, 'Who is this guy? Oh my god, it's Knoxville.' I open the door and I'm like, 'I'm gonna kill you, man. I have a gun and the cops are on their way!' He goes, 'Dude, how good publicity would it have been if you had gotten me arrested and shot me right before Jackass comes out!'" 
Andre is likely no stranger to Knoxville's hijinks. The pair recently collaborated on Jackass Forever, the fourth installment of the film series. Based on the Jackass Forever trailer, even the prank-savvy Andre can't anticipate the Jackass crew as the unsuspecting comedian gets walloped while attempting to order a coffee. In addition to the cast of Jackass usuals, Andre is part of a notable roster of guest stars, including Shaquille O'Neal, Machine Gun Kelly, and franchise favorite Tony Hawk.
According to Andre, filming Jackass Forever was an anxiety-inducing experience. The Jackass cameras are famously always rolling, leaving every cast and crew member alike vulnerable to explosives, gut punches, and rogue hair clippers. Still, Andre couldn't have imagined that the chaos would come into his own home, on Christmas Eve no less. Maybe he'll bring some of Knoxville's reckless ingenuity to Bad Trip 2. In the meantime, audiences can experience the notorious Jackass stunts from a safe distance when Jackass Forever premieres on February 4.     
More: Jackass Forever: Every Cameo & Guest Star Confirmed
Source: Jimmy Kimmel Live
Jackass Forever (2022)Release date: Feb 04, 2022
The Batman: Main Theme From Composer Michael Giacchino Released
Share this news on your Fb,Twitter and Whatsapp