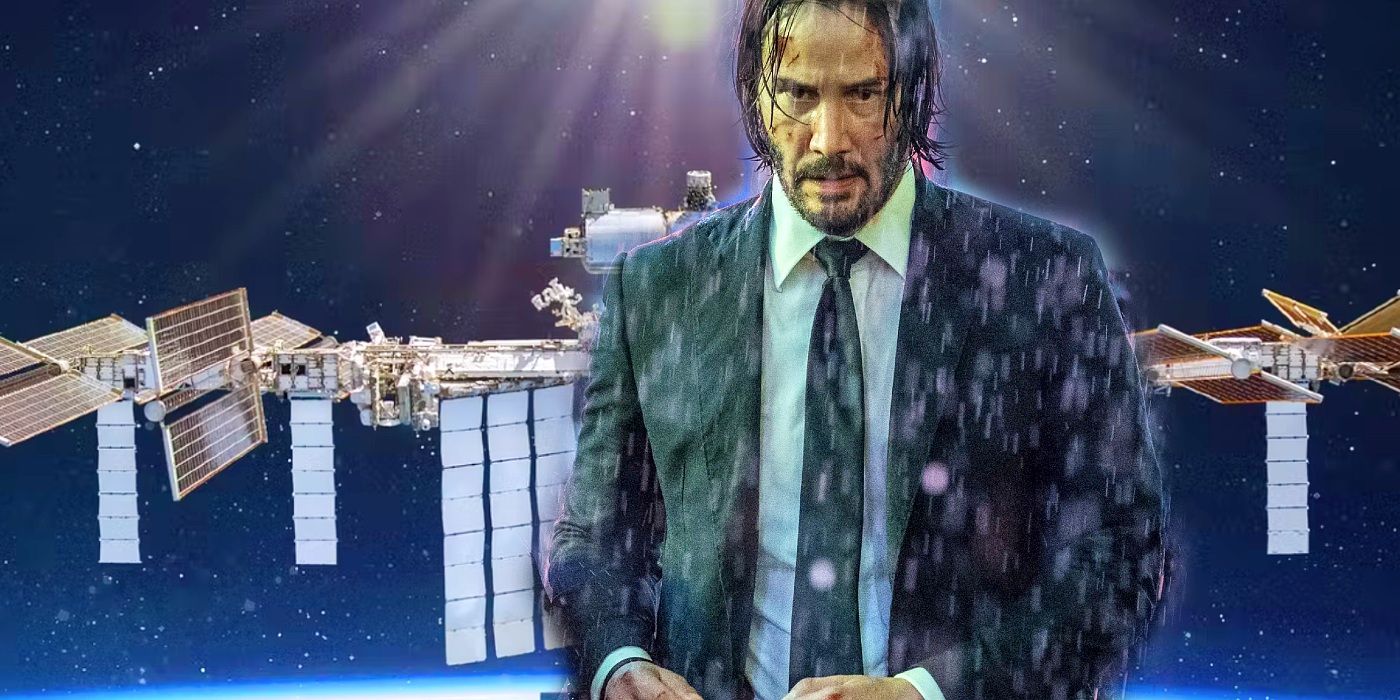 John Wick director Chad Stahelski addresses whether or not Keanu Reeves' titular assassin will ever go to outer space in a future installment.
John Wick director Chad Stahelski addresses whether Keanu Reeves' titular assassin will ever go to space in a future installment. Released in 2014, the first John Wick film was something of a surprise hit, introducing audiences to a shady world of international assassins and marking the beginning of a major comeback for Reeves. John Wick spawned two sequels, both of which are directed by Stahelski, and were both a big hit with audiences and critics alike.
Although the first John Wick was a more contained film, with action taking place mostly in New York City, both of its sequels saw Reeves' assassin traveling to various locations around the globe. John Wick: Chapter 2, for example, features an extended sequence that takes place in Italy, and John Wick: Chapter 3 similarly features a prolonged action scene in Morocco. John Wick: Chapter 4 is seemingly going bigger than any previous installment, with locations reportedly including Berlin, Paris, and Japan, in addition to New York City, a staple of the franchise. Where Reeves' character goes in John Wick: Chapter 5, however, remains to be seen.
Related: John Wick 4 Teaser Shows John's Biggest Personal Issue
In a new interview with ComicBook, Stahelski discusses where the John Wick franchise could see the character go in the future, specifically, whether Reeves' character will ever go to space. Surprisingly, Stahelski says that he can actually see that happening, although he might no longer be directing the films at that point. The filmmaker explains that, when it comes to John Wick, "the sky's the limit," citing the franchise's independence from any sort of IP or restrictive source material. For now, however, Stahelski is keen to focus on John's adventures on Earth. Check out Stahelski's full comment below:
"There's a distinct possibility it could. I don't know if I'd be piloting the ship, but could the character go? Even as a fan, I think the John Wick world is kind of fun and interesting. But the sky's the limit. We're not coming from an existing IP, so I don't have to follow Batman lore. I can do anything.

"If the producers, including myself in the studio somehow became very smart very quickly and we could continue to be smart about how we managed it and get the right people in to continue it long past my tenure. Yeah. Anything can happen. If Fast & Furious can, I'm sure we can. Might take a little longer, but let's stay earthbound for now and try to keep doing a good job down here."
While the John Wick franchise doesn't immediately sound like one that would be at home in space, boasting elaborate foot chases, car stunts, and heaps of "Gun Fu," Stahelski clearly believes anything is possible. It's not clear what circumstances would allow for Reeves' character to travel to space, but the director's comment suggests that it's likely something that, if it does happen, will be down the road when he's no longer directing the franchise. Whether Reeves will still be interested in playing the part when Stahelski departs is another question to consider, with John Wick: Chapter 5 already feeling like a logical endpoint for his involvement in the franchise.
Although Reeves' character going to space might be a stretch of the imagination, even within the elevated reality world of John Wick, a spinoff property might be able to craft a space-based story that's more believable. Stahelski cites the Fast & Furious as an example of a recent franchise that went to space, but F9: The Fast Saga largely seems to have mostly disappointed fans who deemed the space scenes a step too far. While Stahelski's comments suggest that the John Wick franchise could go to space, whether it should is certainly another matter entirely.
More: Keanu Reeves' John Wick Rewrite Saved The Movie
Source: ComicBook
John Wick: Chapter 4 (2023)Release date: Mar 24, 2023
Madame Web Set Photos Tease Emma Roberts' Mystery Character Details
About The Author
Share this news on your Fb,Twitter and Whatsapp