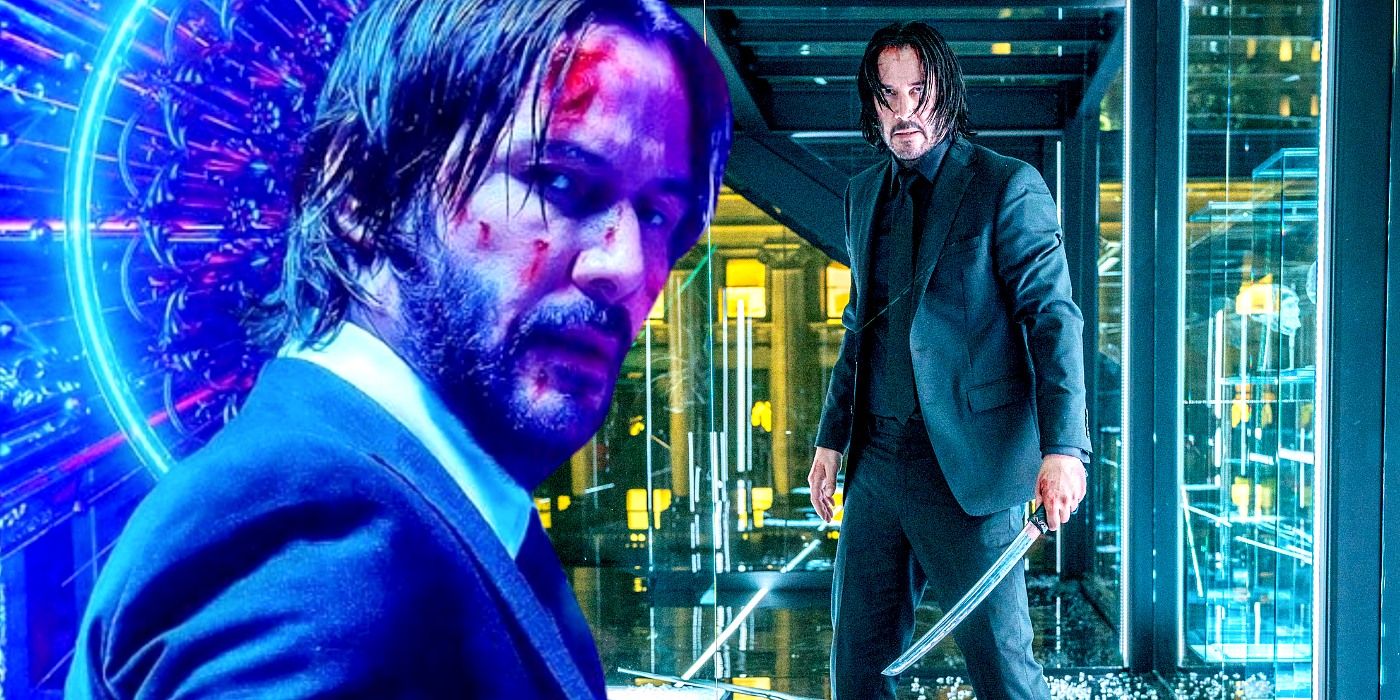 Director Chad Stahelski teases that the ending to John Wick: Chapter 4 will be emotional with a lot of cool visual elements. After the first film became a surprise hit upon its release in 2014, the John Wick franchise has only grown in popularity. Both John Wick: Chapter 2 and John Wick: Chapter 3 – Parabellum saw Keanu Reeves' titular assassin take on more and more enemies in a variety of exciting locations. The ending to John Wick: Chapter 3 – Parabellum, however, puts Reeves' Wick firmly on the back foot after he is betrayed by Winston (Ian McShane).
A short teaser for John Wick: Chapter 4 has already teased some of what's to come in the highly-anticipated sequel, including a look at many of the film's new cast members. In addition to Reeves and McShane, the upcoming sequel will feature Donnie Yen, Bill Skarsgård, Laurence Fishburne, Hiroyuki Sanada, Scott Adkins, and Clancy Brown, among others. The teaser also showed off some of the franchise's signature action, with Reeves' Wick facing off against Yen's Caine. Stahelski has already confirmed that John Wick: Chapter 4's runtime could be the longest for the franchise yet, and now, the director provides more details about the film's ending.
Related: John Wick 4's New Training Tool Secretly Reveals The Sequel's Dark Story
While not revealing too many details, Stahelski, in a recent interview with Collider, discusses the complexity of the film's ending sequence, promising that it will be emotional and have the franchise's signature visual flair. The director explains that they're still ironing out some of the ending's finer details in the editing room, admitting that the climactic sequence is "a little bit more of a puzzle than [he] thought." Ultimately, however, Stahelski is confident that the team will create a worthy ending to John Wick: Chapter 4. Check out Stahelski's full comment below:
"Well, a lot of things go into when you start messing with you want to do things that can't be like, "I can't control the sun. I don't even know, and I don't think we can control the sun." So, you start blocking and playing, and you want a certain look. So, we've tried to do something at the end that is emotional and has cool lighting and looks. And we took our best stab at it, how we shoot all the pieces. And now, putting them together, we're still like, "Yeah, it's a little bit more of a puzzle than we thought." But we have the right people, so I think we'll crack it."
As far as endings go, the John Wick franchise continues to one-up itself with each subsequent installment. From a relatively straightforward fistfight at the end of the first John Wick, to the mirror-hall shootout in its sequel, to the sword fight at the end of John Wick: Chapter 3 – Parabellum, the franchise continues to make each ending, if not bigger, then at least more elaborate and exciting. With John Wick: Chapter 4 set to take the franchise to a variety of locations around the globe, it remains to be seen where the climactic ending sequence will take Reeves' assassin next.
While the endings to all previous John Wick films have been exciting and action-packed, they've not exactly been extremely emotional affairs, suggesting that the upcoming sequel may be looking to change that. Whether that means that someone Wick is close to will die remains to be seen, but audiences can likely be relatively confident that Wick himself will survive since John Wick 5 is still reportedly moving forward. Although audiences still have a while to wait before John Wick: Chapter 4 releases in theaters, Stahelski's comments are already setting the sequel up to be bigger and better than ever.
Source: Collider
Share this news on your Fb,Twitter and Whatsapp