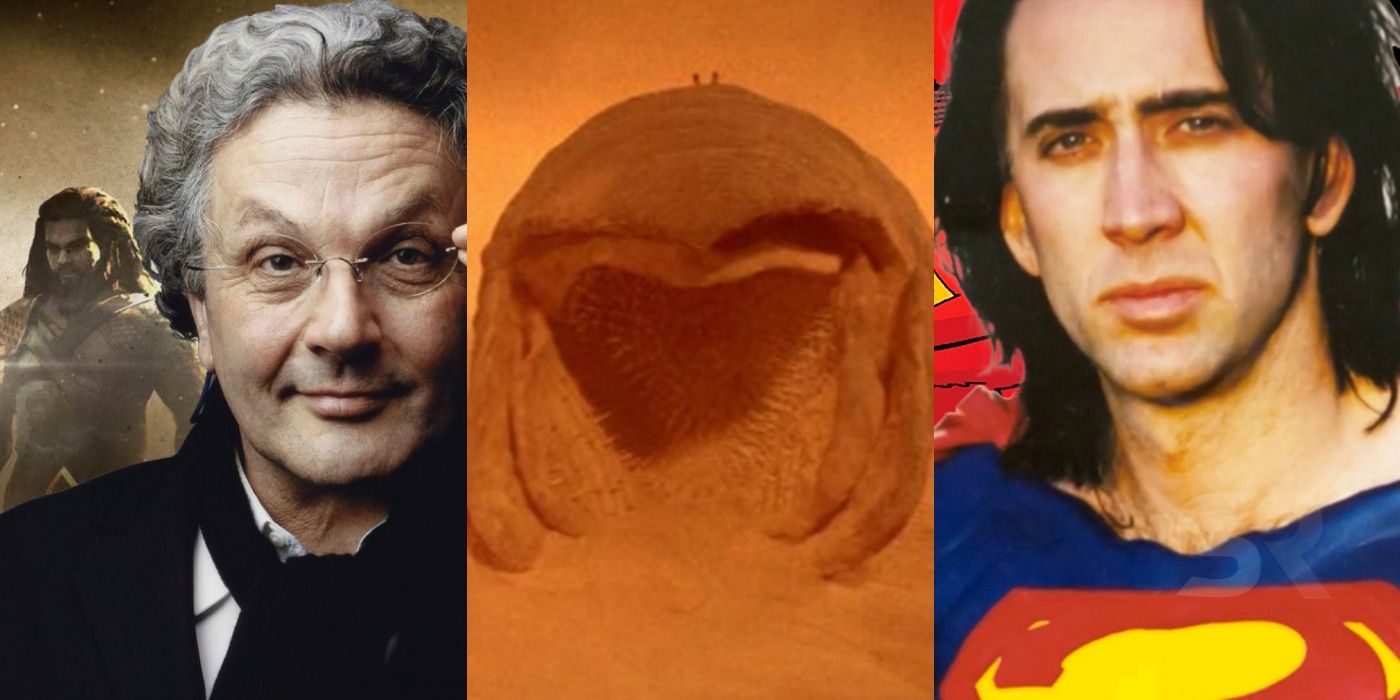 One of the most famous unmade movies in Hollywood history is Alejandro Jodorowsky's Dune, an adaptation of Frank Herbert's seminal science fiction novel. However, while that movie is the mythical unicorn that film lovers talk about to this day, it is not an unusual occurrence. Some of the world's greatest directors have unmade movies that fans can only dream about.
RELATED: 10 Movies That Seem Inspired By Frank Herbert's Dune
These movies were passion projects of Oscar-winning directors. Some were based on historical figures and superheroes, and there were even some remakes and original ideas that never made it to the big screen. Others made it to the script stage and underwent years of work and planning, only to never reach theaters. In the end, fans can only imagine what they could have looked like.
Alejandro Jodorowsky's Dune
Alejandro Jodorowsky was a cult favorite filmmaker, with movies like El Topo and The Holy Mountain proving his talent. However, when he wanted to adapt Frank Herbert's classic sci-fi novel Dune, it ended up as one of the most famously unmade movies in history.
Fans talked about it so much that a documentary was released in 2013 called Jodorowsky's Dune. It all started in 1974 when a French consortium bought the rights for Jodorowsky to direct. What resulted was millions spent before the movie went into production and a script that would result in a 14-hour movie. In 1982, he lost the rights and David Lynch made Dune in 1984.
Darren Aronofsky's Batman: Year One
Darren Aronofsky is the last person movie fans would expect to make a blockbuster tentpole. In 2000, he already made the sci-fi movie Pi and the intense drug movie Requiem for a Dream. However, in 2000, he wanted to make a comic book movie and was attached to Batman: Year One.
This was supposed to reboot the Batman franchise after Batman & Robin ended it. Aronofsky was going to make Alfred a partner to Batman, James Gordon would be trying to get out of Gotham, Catwoman would be a huge part of the movie, and Joaquin Phoenix would play Batman. He lost the rights and Christopher Nolan stepped in.
James Cameron's Spider-Man
James Cameron has made some of Hollywood's most successful movies. His Titanic sat on top of the box office world and then he beat it with Avatar. Comic book movies have since moved up to share those top spots, and at one time Cameron was supposed to make one of his own.
It was 1998 when Blade proved to Marvel they could make successful movies, but eight years before that, Cameron wrote a treatment for his own Spider-Man movie. This would have been like nothing anyone has seen, as Cameron wanted it to be R-rated, sharing themes with monster movies, and star Leonardo DiCaprio as Spider-Man.
Tim Burton's Superman Lives
One of the most discussed unmade movies based on a comic book property was when Tim Burton set his sights on Superman Lives. Not only was Burton going to make the movie, but Kevin Smith wrote a script for it. This was after Burton left the Batman franchise and Smith had hit it big with Clerks.
RELATED: Superman Lives – 10 Best Pieces Of Concept Art Fans Need To See
It also would have starred Nicholas Cage as Superman and he would have had the black costume teased in comic books of that era. This was going to follow The Death of Superman and feature his return to life and a new world. It also would have featured Lex Luthor, Doomsday, and Brainiac as the villains.
Quentin Tarantino's Star Trek Movie
One of the more recent unmade movies surrounded Quentin Tarantino making his own Star Trek movie. This talk started a few years back with Tarantino wanting to make a movie in its own world, separate from the J.J. Abrams reboot movies.
There were a lot of things possibly holding the movie back, including Tarantino's desire to make it Rated-R. However, there were a lot of problems outside of that, and scheduling issues seemed to get in the way and Tarantino appears to have moved on from that dream.
Guillermo Del Toro's At The Mountains Of Madness
Guillermo del Toro has made lots of his dream movies, from working on the Hellboy franchise to making his robot vs kaiju movie in Pacific Rim. However, the one dream movie del Toro worked on was At the Mountains of Madness, and it remains an unmade movie for the Oscar-winning director.
Based on the novella by H.P. Lovecraft, del Toro wrote the script but Warner Bros. kept turning it down. Universal picked it up with Tom Cruise in the lead role, but del Toro refused to censor the movie and wanted $150 million to make it, so it was never made.
Steven Spielberg's Night Skies
Steven Spielberg struck it big with his third feature-length movie Jaws and then he made the critically beloved Close Encounters of the Third Kind. His next movie was the critically panned 1941, but it was supposed to be very different, a sci-fi horror movie called Night Skies.
RELATED: Close Encounters 2 & 9 Other Unrealized Steven Spielberg Projects From The 70s
The movie was described as Straw Dogs with aliens and Spielberg had a horror tale of a family at an isolated farmhouse terrorized by malicious aliens invading the planet. The movie was also supposed to include John Sayles as the screenwriter and Rick Baker doing special effects.
Neill Blomkamp's Alien Movie
Neill Blomkamp impressed science fiction movie fans everywhere when he made the movie District 9. As soon as he hit it big with this movie, he had a chance to make the next movie in the Alien franchise. However, it never happened and Ridley Scott returned to make Prometheus and Alien: Covenant.
Blomkamp had lots of Alien concept art and Sigourney Weaver was also interested in returning for the director. It also would have been a sequel to Aliens and ignored the next two movies in the series. After Chappie flopped, though, Blomkamp found his Alien movie canceled.
Christopher Nolan's The Prisoner
Christopher Nolan is a money filmmaker and his Dark Knight Trilogy was a massive success. He then made Inception, Interstellar, and Tenet and proved himself a brilliantly creative filmmaker. However, he has several projects he wanted to make that remain unmade movies.
This includes bringing the classic TV show The Prisoner to the big screen. In 2009, Nolan announced that he wanted to follow up Inception with The Prisoner, but he left the project to make Dark Knight Rises instead. He even had a script from the screenwriters of 12 Monkeys.
George Miller's Justice League: Mortal
George Miller made one of the best action movies of the last decade in Mad Max: Fury Road. While Miller doesn't make many movies, he had an idea and wanted to be the first director to bring the Justice League to the big screen. The movie was Justice League: Mortal.
Jay Baruchel would have played Maxwell Lord and the rest of the cast would have included Armie Hammer as Batman, Wendy Gale as Wonder Woman, Adam Brody as The Flash, D.J. Cotrona as Superman, Common as Green Lantern, and Anton Yelchin as Wally West's version of The Flash.
NEXT: Justice League Mortal – 10 Awesome Pieces Of Concept Art You Need To See
Rob Zombie Shares BTS House of 1000 Corpses Pics With The Office's Rainn Wilson
About The Author
Share this news on your Fb,Twitter and Whatsapp