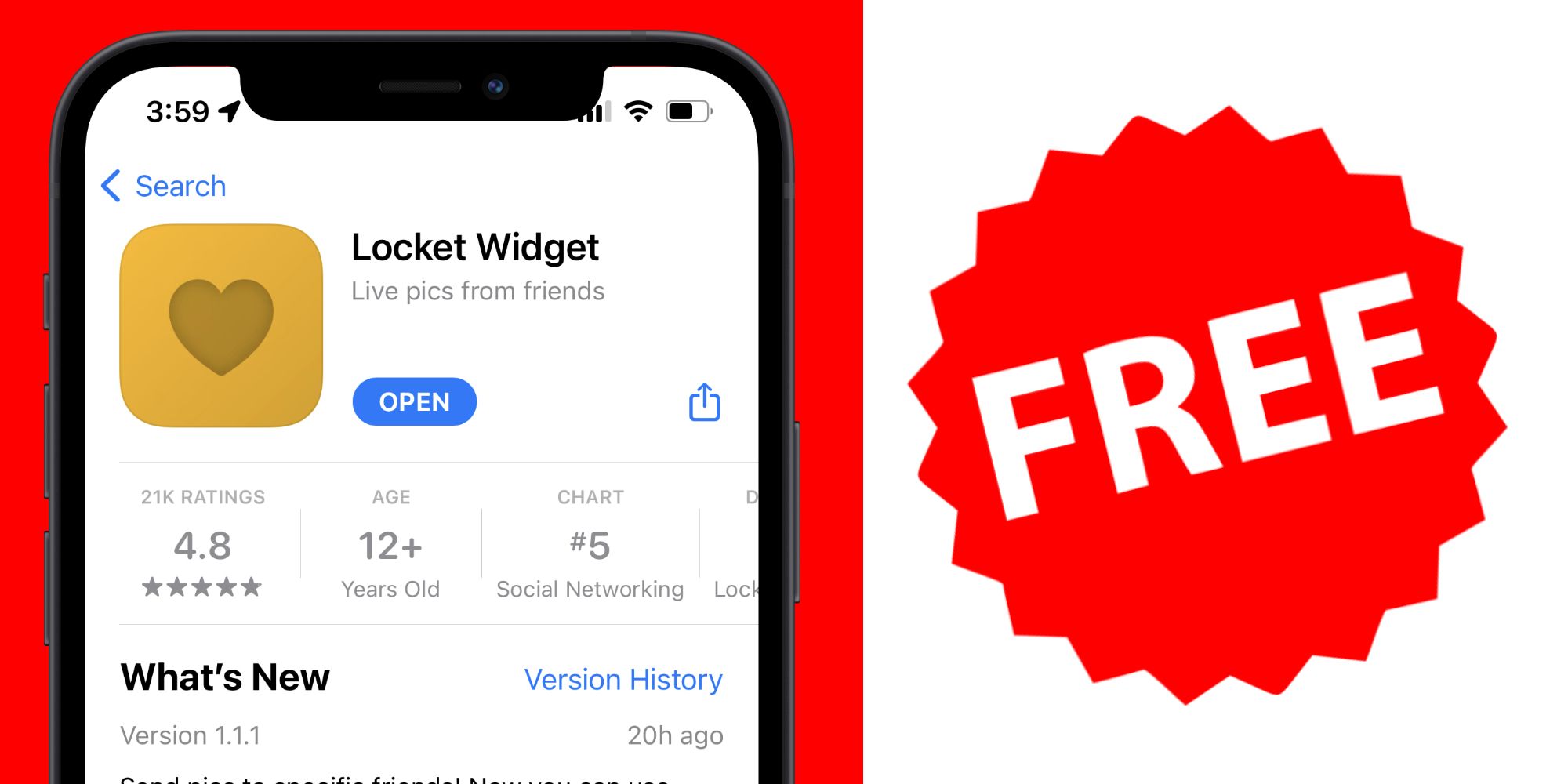 Locket Widget is one of the biggest iPhone apps in 2022, and it's also totally free to download. However, that could very well change in the future.
Locket Widget has topped the charts as one of the most popular iPhone apps, and it's managed to do so as a 100 percent free application. Since its launch in January 2022, Locket's proven to be an app people can't get enough of. It allows users to share photos with each other similar to Snapchat or Instagram. Unlike those apps, however, Locket users can only interact with up to five other people at a time. Furthermore, photos are shared directly to other people's home screens — making the experience much more personal and unique.
At the end of the day, though, Locket is still just another smartphone application. And as is the case with most smartphone applications, they exist to make money. This can be done in a multitude of ways. Companies show in-app advertisements, charge recurring subscriptions, or require a one-time payment before people can use their app. It's not difficult to rake in dollars with a popular app like this, so how does Locket do it?
Related: How To Add Friends To Your Locket Widget (And Why It Isn't Working)
Surprisingly, Locket Widget doesn't have any of these things. The app is free to download, doesn't have any sort of ongoing subscription, and doesn't show in-app advertisements. It's a completely and totally free app every way you slice it. It's something that has become increasingly rare these days and gives Locket Widget yet another way to stand out from the crowd.
Locket Widget Is Free Now, But That Might Change
At least that's how Locket Widget operates today. It's still very early days for the popular iPhone app, and that means its pricing structure could very well change down the road. Plenty of apps have launched as free downloads and then added subscription options later on. There's currently no confirmation that Locket Widget will do the same, but it's always a possibility. What seems more certain, however, is that Locket Widget won't always be ad-free. Looking at Locket's terms of service, part of the document reads as follows: "We, our affiliates, and our third-party partners may place advertising on the Services, including personalized advertising based on the information you provide us, we collect, or we obtain about you. Advertising may sometimes appear near, between, over, or in your content."
In other words, when someone signs up and uses Locket, they give the app permission to place personalized ads wherever it sees fit. That could be in the Locket app when taking a picture, on the settings pages, or even on the home screen widget that shows photos from your friends. These advertisements aren't present at the time of publication, but Locket's terms mean it's prepared to start doing this at a moment's notice. The free price and lack of advertisements are great today, but don't be surprised if that changes with Locket in that not too distant future.
Next: Is Locket Widget Safe For Kids?
Source: App Store
Star Wars: The Old Republic Trailer Teases New Legacy of Sith Story
About The Author
Share this news on your Fb,Twitter and Whatsapp