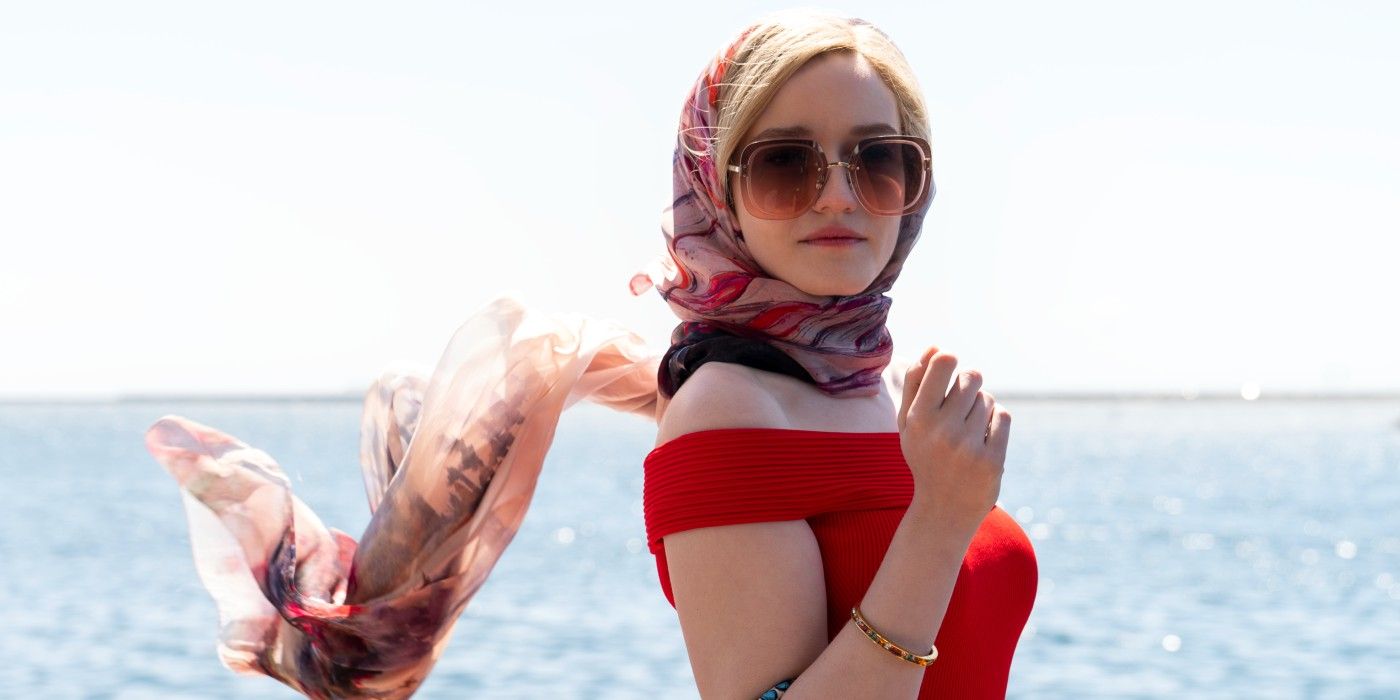 In the official trailer for Shonda Rhimes' miniseries Inventing Anna, Julia Garner dazzles socialites and investors as infamous scammer Anna Delvey.
Julia Garner dazzles socialites and investors as Anna Delvey in the official trailer for Inventing Anna. Based on Jessica Pressler's New York article, "How Anna Delvey Tricked New York's Party People," the miniseries will follow the rise and fall of Anna Delvey–real name Anna Sorokin–the infamous scammer who posed as a German billionaire heiress. Inventing Anna is the latest project from Shonda Rhimes, the television powerhouse behind Grey's Anatomy, Scandal, and Bridgerton. 
Now, Netflix has unveiled the official trailer and a February release date for Inventing Anna. Anna Chlumsky cuts to the chase as a reporter looking to break the Delvey story: "She's either a rich German heiress or she's flat broke." The trailer shows the faux-socialite jet-setting around the world and convincing banks to dole out $40 million loans. The luxe scenes are offset by interviews between an imprisoned Anna and Chlumsky's reporter. Still, Delvey doesn't appear particularly remorseful. "I hear I'm famous," she says from behind the partition. Check out the full trailer below:
Related: How Bridgerton Can Survive Losing The Duke (Will Simon Return?)
Click Here to Watch the Video on Youtube
Julia Garner is known for her Emmy-winning performance as Ruth on Ozark, as well as appearing in The Americans, Dirty John, and The Assistant. Chlumsky received six Emmy nominations for Veep. Additional cast members include Arin Moayed (Succession), Laverne Cox (Orange is the New Black), Anders Holm (Workaholics), Rebecca Henderson (Russian Doll), and Anna Deavere Smith (The West Wing). Shondaland alums Katie Lowes (Scandal), Jeff Perry (Scandal), and Kate Burton (Grey's Anatomy) also star. Inventing Anna premieres on Netflix on February 11. 
More: Ozark: Ruth Will Kill Darlene In Season 4: Theory Explained
Source: Netflix
Batgirl Movie Set Photos Reveal Barbara Gordon's Red Hair
Share this news on your Fb,Twitter and Whatsapp