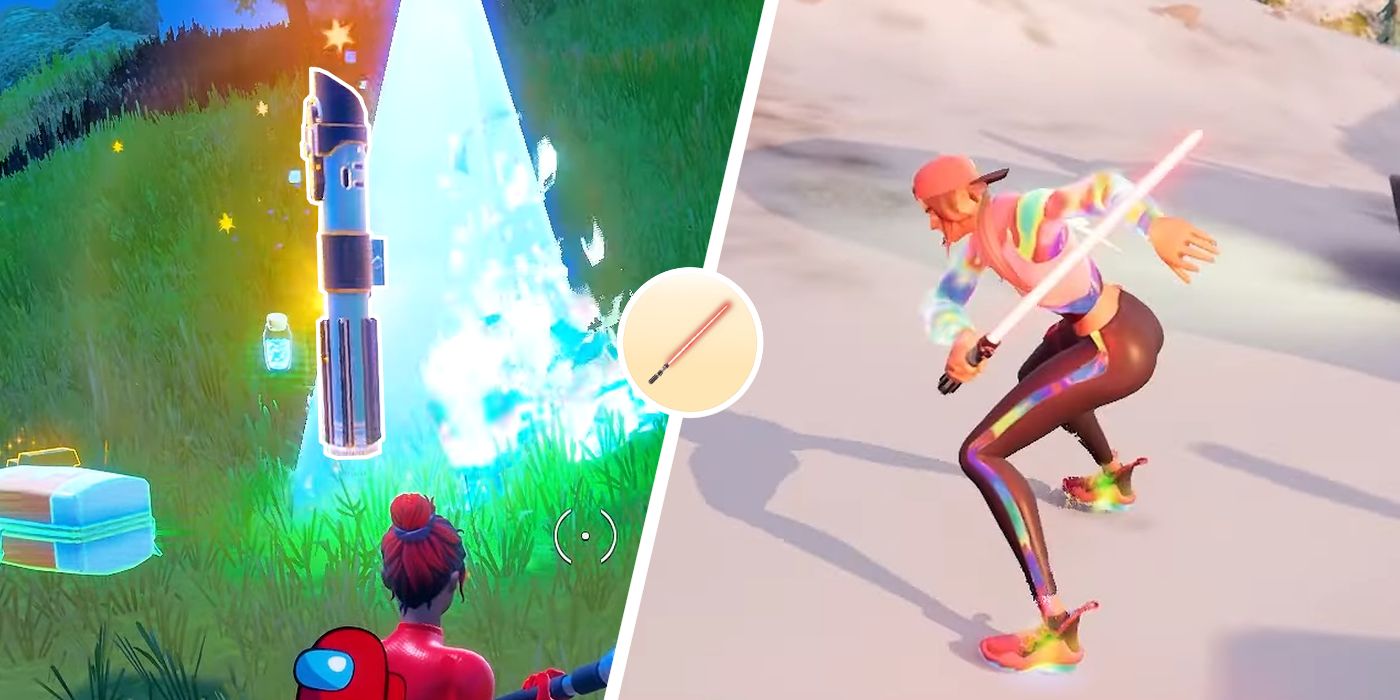 To get Darth Vader's Lightsaber in Fortnite Chapter 3 Season 3, players must face the Sith Lord in combat after tracking down his Imperial Shuttle.
Darth Vader's Lightsaber is a Mythic Melee Weapon in Fortnite Chapter 3 Season 3 that functions identically to other Lightsabers, but the player can also throw it to deal ranged damage. Those wielding this Mythic Melee Weapon can perform several spin attacks and an overhead slam. Moreover, Darth Vader's Lightsaber can block up to 30 shots of projectiles. By holding the aim down sight button, combatants can temporarily negate frontal weapon damage in Fortnite Chapter 3 except for explosive attacks.
To get Darth Vader's Lightsaber in Fortnite Chapter 3 Season 3, players must first keep a close eye on the Sith Lord's flying transport at the start of the match. The Imperial Shuttle, also known as the Lambda-class Shuttle, will briefly fly around the Battle Bus at the beginning of a game and proceed to land at one of five Imperial Docking Bay found across the map. After docking, Darth Vader will exit the spacecraft accompanied by two Stormtroopers. Accordingly, Fortnite fans must pursue or go to where the Imperial Shuttle landed and face the iconic Sith Lord in combat.
Related: How to Swing 50 Meters or More in Fortnite
As mentioned above, there are a total of five Imperial Docking Bays located on Artemis Island. Darth Vader and his crew will randomly land at one of these locations, and participants must race to reach the Fortnite NPC first to obtain his Mythic Lightsaber.
Unlocking Darth Vader's Lightsaber in Fortnite
Here are the five locations of the Imperial Docking Bays where players can encounter Darth Vader in Fortnite Chapter 3 Season 3:
Imperial Docking Bay Vega: located east of Washout Wharf and Choppin' Chateau and north of Shell Or High Water
Imperial Docking Bay Alpha: located south of Seven Outpost II and west of Logjam Lotus
Imperial Docking Bay Deimos: located west of Dirt-Cut Circuit and southwest of Coney Crossroads
Imperial Docking Bay Eclipse: located west of Overtaken Outpost and southeast of Greasy Grove
Imperial Docking Bay Radar: located in The Perch northeast of The Joneses and south of Seven Outpost VII
After reaching Darth Vader's location in Fortnite, head for one of the tents to grab an E-11 Blaster Rifle from an Imperial Chest. Before starting the boss battle, check the area for any other players attempting to compete for the Lightsaber. To defeat Darth Vader, keep moving and firing from an angle to dodge his Lightsaber throws and prevent him from blocking. He will occasionally Force Pull the player towards him, after which players should quickly maneuver away and continue firing rounds at his head. Once defeated, the Sith Lord will drop his Lightsaber.
Next: How to Enter a Wind Tunnel in a Baller in Fortnite
Fortnite is available on PlayStation 4, PlayStation 5, Xbox One, Xbox Series X|S, and PC.
How to Play The Fortnite Subway Surfer Map (Creative Codes)
About The Author
Share this news on your Fb,Twitter and Whatsapp