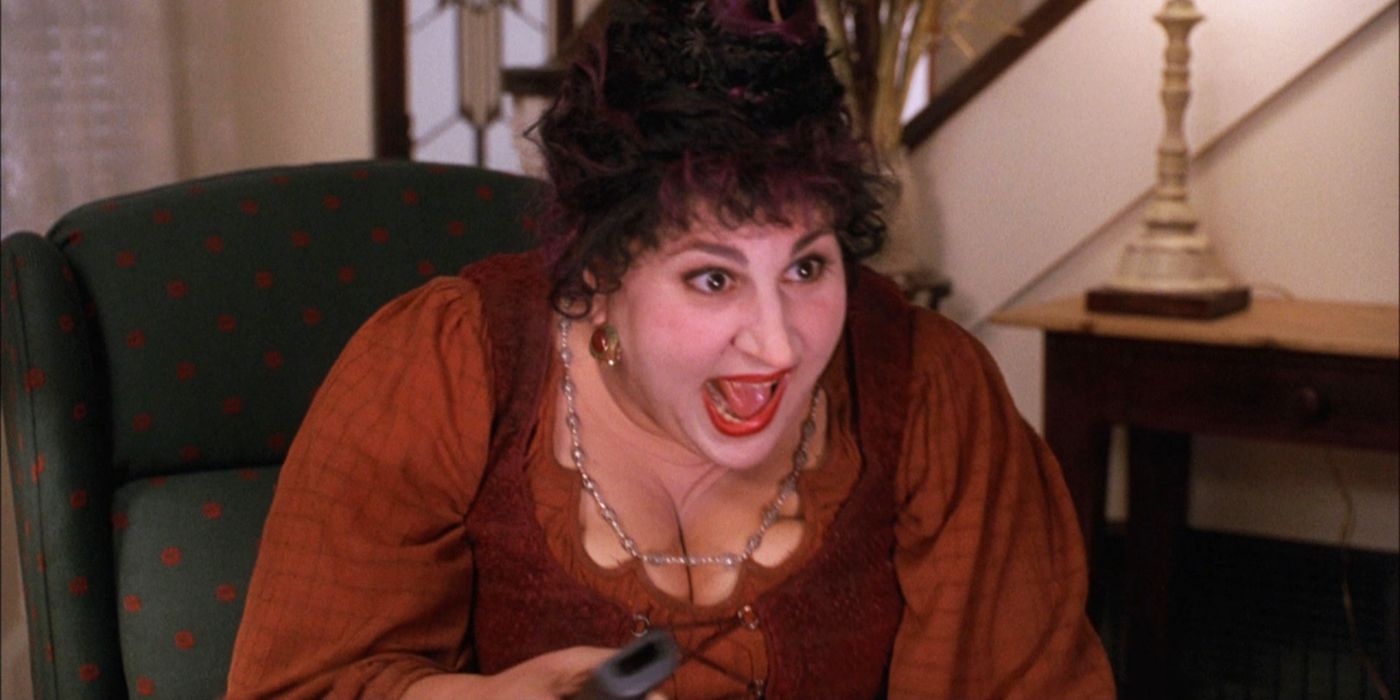 A new behind-the-scenes photo for Disney's Hocus Pocus 2 shows Kathy Najimy in the hair and makeup trailer for Mary Sanderson before filming.
A new behind-the-scenes photo for Disney's Hocus Pocus 2 shows Kathy Najimy in the hair and makeup trailer undergoing her transformation into Mary Sanderson. The veteran performer is back for the highly-anticipated sequel to Hocus Pocus. Though the family flick initially flopped at the box office upon its 1993 release, it has grown to Halloween cult classic status in the decades since. Hocus Pocus centers on the malevolent antics of the Sanderson sisters, three witches hellbent on staying young forever played by Bette Midler, Sarah Jessica Parker, and Najimy.
Much to audiences' delight, Disney greenlit the follow-up film in 2020, promising that all three original stars would reprise their iconic roles. Buzz grew as production started up in the fall of 2021 and onlookers began to snap photos and videos of outdoor scenes. This time around, shooting is taking place in Rhode Island, where a fabricated Salem has been erected. Midler, Parker, and Najimy have all been spotted back in their signature colonial garb as they film the new project alongside new cast members. Seeing the trio in costume once again nearly three decades later is something fans are relishing.
RELATED: Hocus Pocus: SJP, Bette Midler, and Kathy Najimy Ages, Then & Now
The franchise's unofficial Instagram companion Hocus Pocus Guide shared yet another behind-the-scenes gem. Najimy was all smiles in a selfie that captures her sitting in the hair and makeup trailer onset. Surrounded by masked-up crew members, Najimy seems to have had her makeup freshly done (plus a little digital filter) and is in her Mary Sanderson costume. Check out the photo below:
Click Here to View the Post on Instagram
Najimy is of course missing her quirky twisted wig in the gram, which was no doubt plopped on top a wig cap before she films. Out of all the witches, it seems like Midler may spend the most time in the chair, between her own booming wig and famous prosthetic teeth. Many fans have marveled at the fact that her and co-stars Midler and Parker look exactly the same from when they shot the original in the 90s.
It's a great reaction to be getting from fans as the witches' motivation hinges on the fact that they want to stay young forever. Of course, audiences and storytelling has evolved since the first flick, making it likely that the sequel will dive a bit deeper into the Sandersons' vanity. Though Najimy plays Mary to perfection in Hocus Pocus, the fast-paced romp doesn't quite allow for much complexity in the characters' arc. It would be wonderful for Hocus Pocus 2 to stay true to the colorful character that Najimy created while also grounding her in higher emotional stakes.
NEXT: Hocus Pocus 2 Can Deliver On The Original's Dark Original Draft
Source: Hocus Pocus Guide
Why Book Of Boba Fett Episode 3's Bike Chase Was So Bad
About The Author
Share this news on your Fb,Twitter and Whatsapp